If you're a woman traveling alone, you may experience a range of feelings in the days leading up to your next trip, from enthusiasm to anxiety. Going on a solo trip isn't for everyone. It can be frightening at times, particularly for women.
Women, on the other hand, can also use apps to make their travels safer, smoother, and more fun. Read on and discover the best apps and websites for women traveling solo.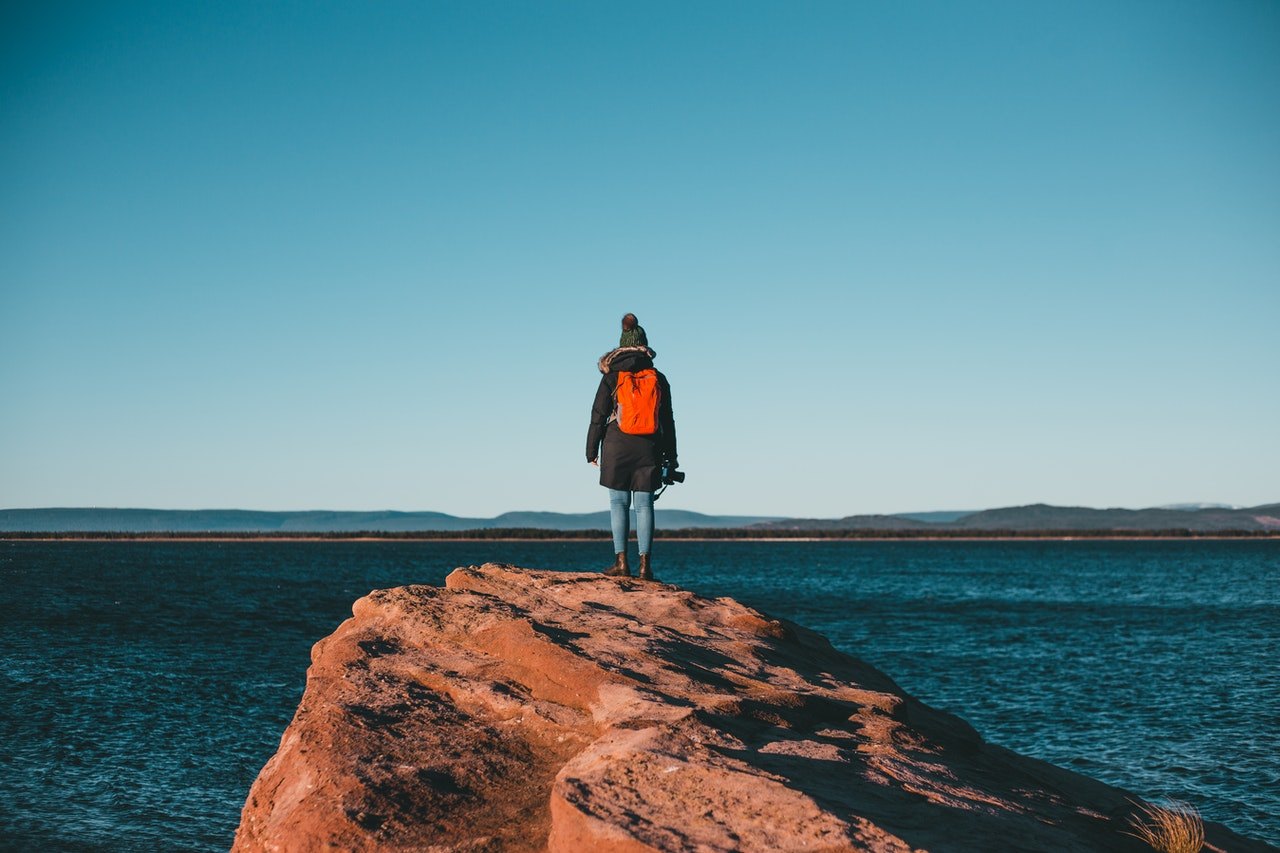 Rescuer — A Women Safety App
Nearly every single woman has feared being mugged or robbed while walking home alone, even in their own city or town. Everything becomes even more complicated when a woman is traveling solo in a foreign land.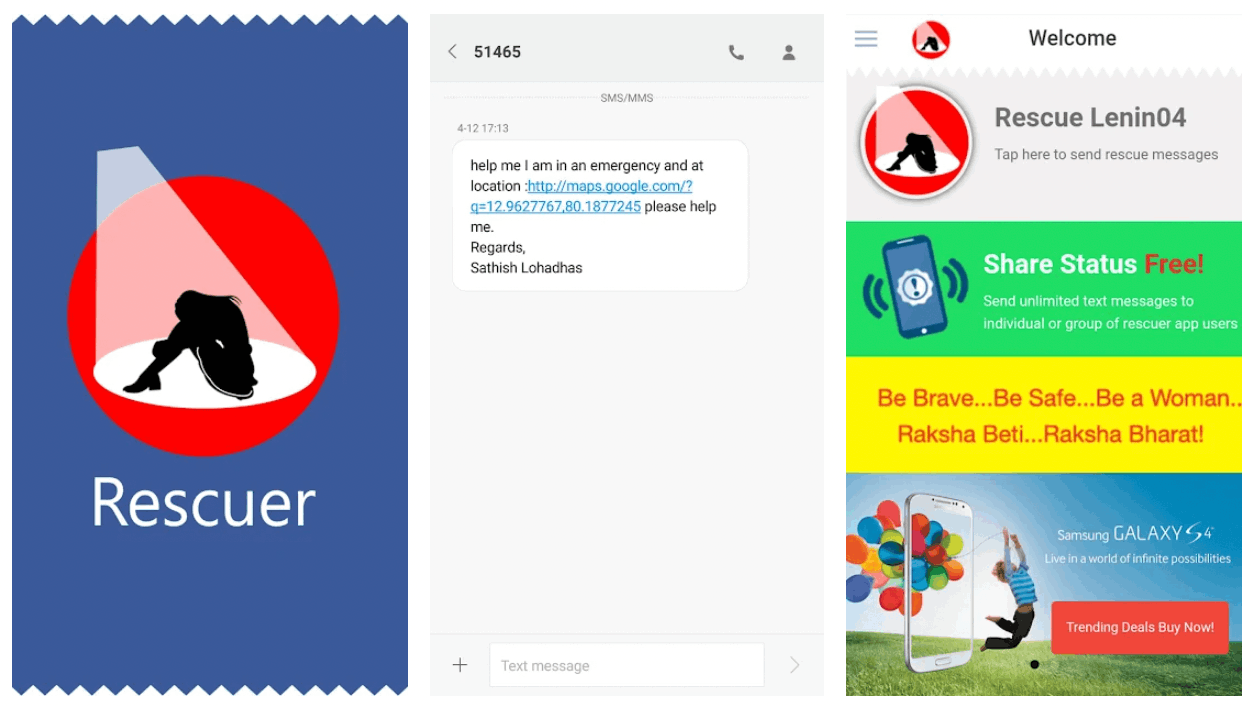 With a single tap of a button, the Rescuer app sends an alert to five trusted contacts and Facebook friends, along with an exact pinned location. The app also sends a phone call to two contacts, instructing them to notify the police or hurry to the user's rescue.
When you have access to your phone, the app can also work with voice commands. You may create a customized key phrase that will send notifications and phone calls to your trusted contacts when you utter it. You may also set the app to automatically send photos and audio recordings of the scenario captured by your phone.
Where Is Public Toilet
Women can get detailed information about the location, proximity, completeness of toilet facilities, as well as their cleanliness by using the Where Is Public Toilet app. Women will have no problem locating a bathroom to use thanks to the app's database of over 280,000 public restrooms.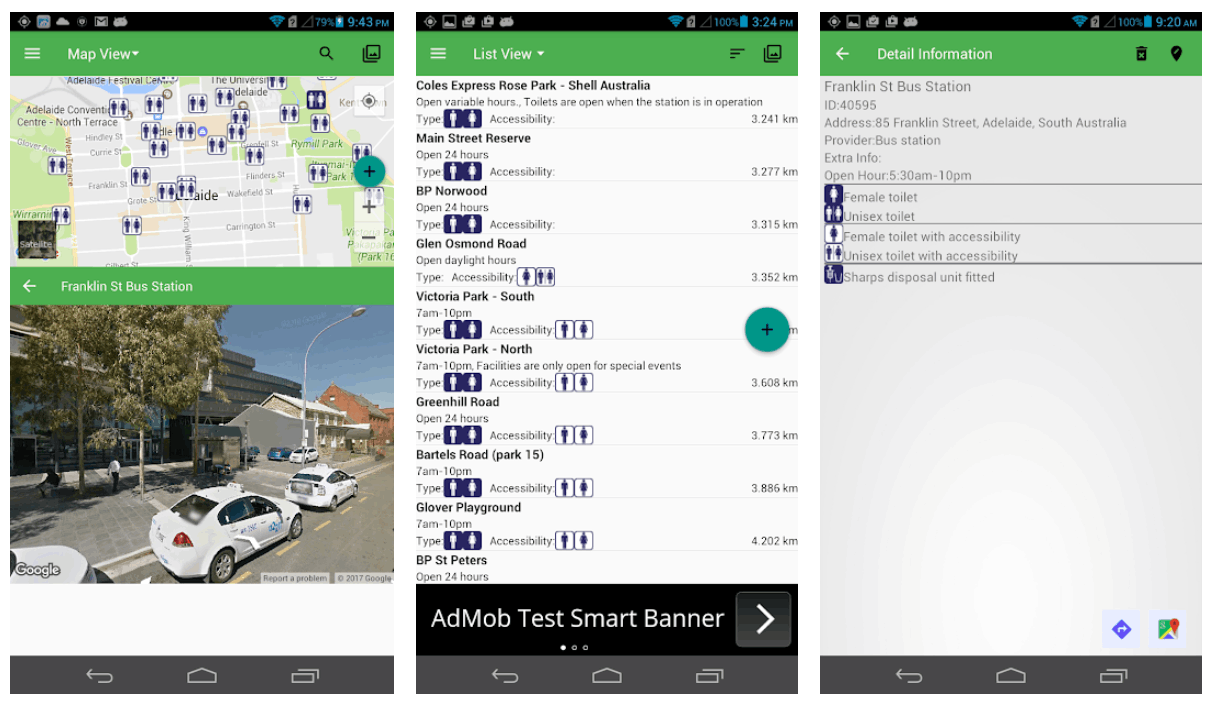 This app will appeal to women because it allows them to filter toilets based on toilet types, facilities (baby changing, shower, sanitary), and accessibility (unisex, male, female, etc.). There is also a cleanliness rating, which seems to be a significant consideration when considering whether or not to use the restroom.
The Map Mode allows users to discover the closest restroom based on their location. You don't need to install a third-party application to use the map function because it uses the Google Route function on Google Maps. Users can obtain information such as opening hours, parking, location, and accessibility using List Mode.
PackPoint — Travel Packing List
PackPoint is a travel checklist maker that will undoubtedly assist ladies in creating a checklist tailored to their own needs. Gender, trip duration, weather, travel destination, and events planned during the trip are all used by the app.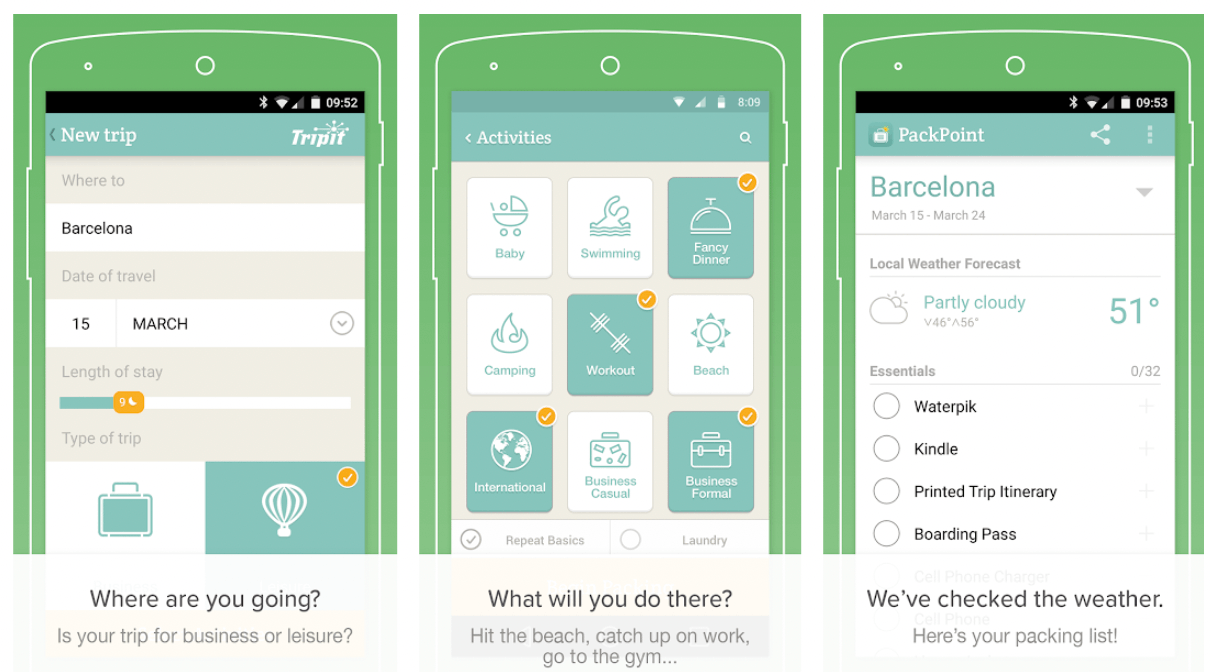 By tapping and holding on to the things listed on the packing list, you can change and rearrange them. You can cross off each item packed on the list to make it disappear, but you can easily make them reappear for double-checking once everything is completed.
Swipe to the left to delete an item, then tap the plus symbol to add or eliminate items. These features can improve your packing list, making it more practical and suited for your trip. Given the things that a female needs on a journey, this app is truly a woman's best buddy!
GeoSure — World's Most Trusted Safety Scores
For any lone female travelers visiting a new place for the first time, this app is a must-have. GeoSure gives a safety rating to a city, area, or neighborhood (on a scale of one to one hundred).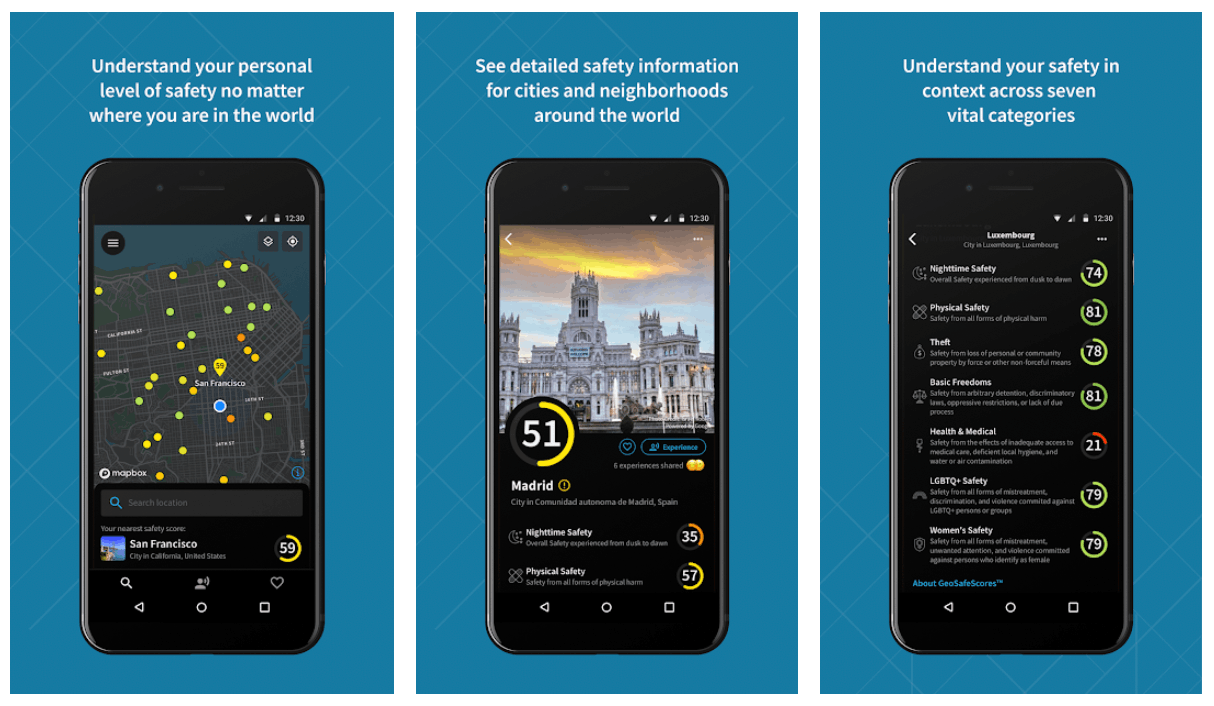 Solo female travelers can use GeoSure to plan their trips and consider concerns about safety when visiting a foreign area. They can look up specific safety conditions and thorough information on overall safety, as well as seven other categories, in the supported cities or regions.
The app generates reliable and data-backed safety rankings by integrating geospatial and artificial intelligence, ground reporting, and big data. GeoSure is also the only app that offers LGBTQIA+ community safety scores. Individuals and groups can use this app to work to make their neighborhoods safer for everyone.
Tourlina — For Women Only
Looking for travel companions in an unfamiliar place is a risky decision, especially for solo female travelers. The Tourlina app, fortunately, has a solution to this issue. Tourlina is a female-only social app that connects you with other women in your vicinity and allows you to schedule activities together.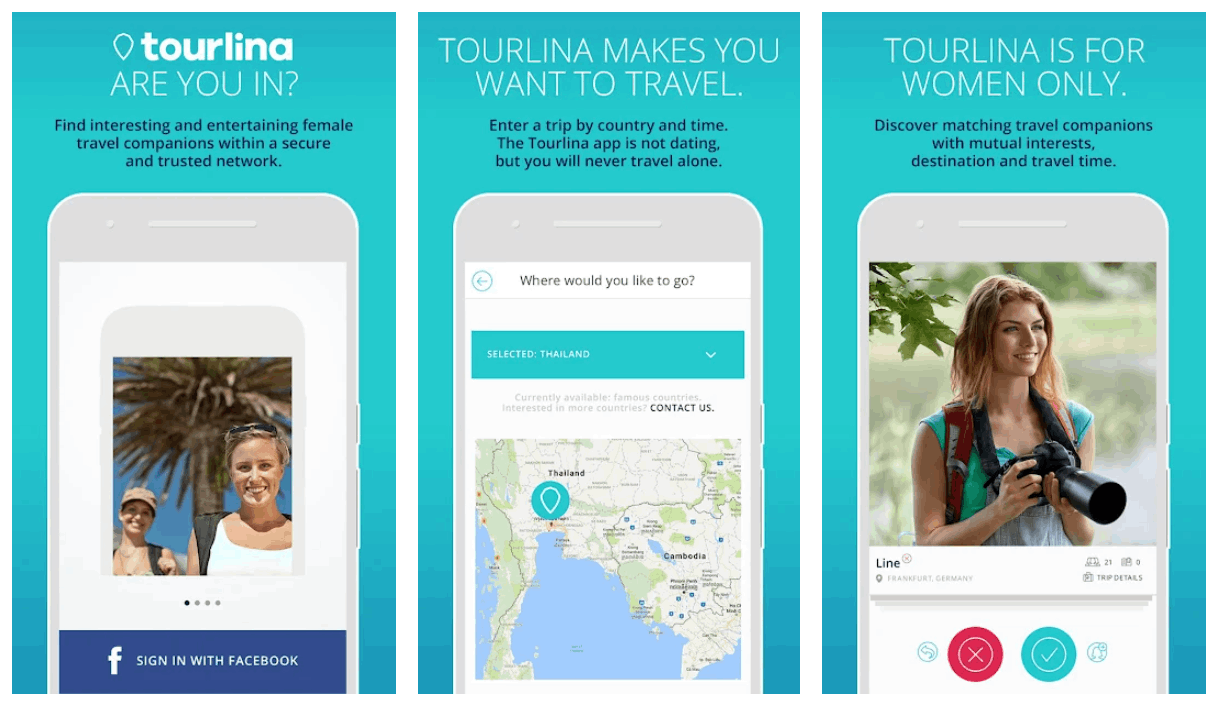 It's important to understand that Tourlina is not a Tinder-style dating or hookup app. The app contains advanced security features to verify that you are conversing with real women, as well as to safeguard you from catfishing and males pretending as women in order to meet you. Users' identities are verified and checked by the team.
You can subscribe to the premium version for additional features like having multiple travel companions or matches. While the app is currently only available in tourist hubs and well-known vacation places, it is expanding its network in order to reach more people.
Mayday Safety — Get and Give Help Fast
Mayday Safety is an app that allows you to immediately alert and tell your loved ones and trusted contacts of your location and whereabouts. This app makes use of cutting-edge technologies to share one's whereabouts using only cellular signals or Internet connectivity.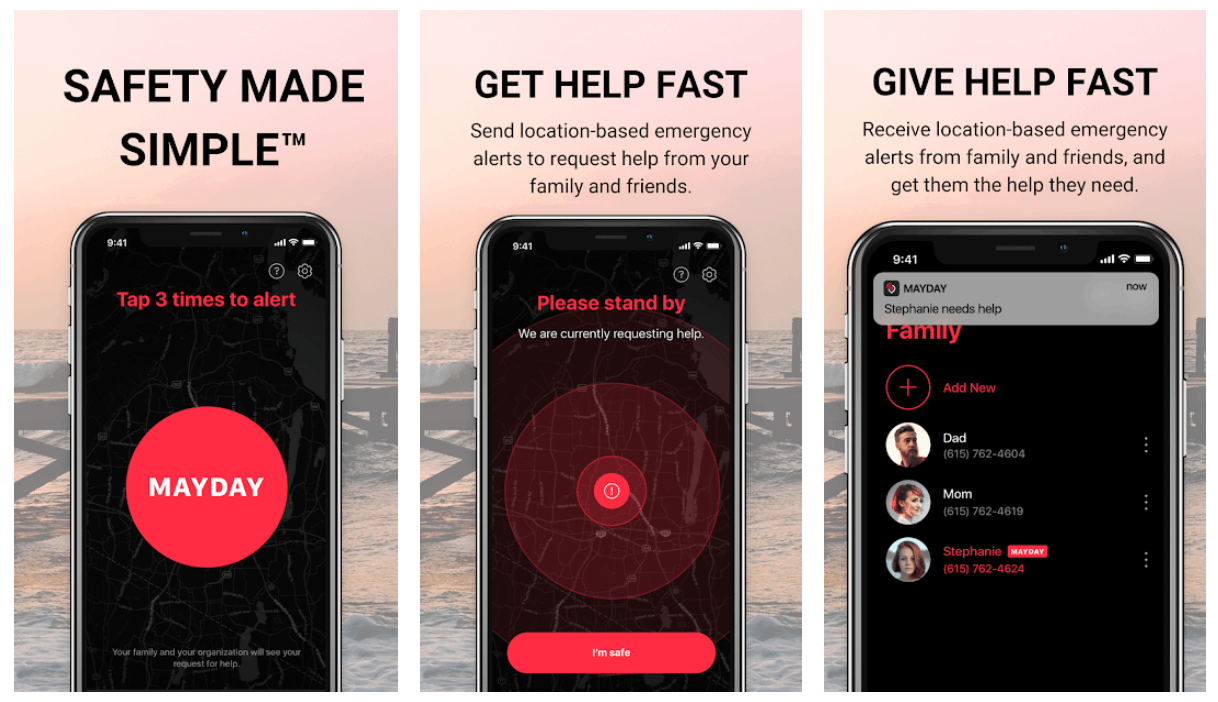 Mayday Safety, unlike many other apps, allows two-way communication and feedback. Depending on the user, this can be used as a communication tool to reach a large number of contacts, individuals, and organizations.
The app also sends special alerts to family members to guarantee that everyone picks up and checks their phones, rather than disregarding a call for help and dismissing it for a typical text message or alert.
World of Wanderlust
Brooke Saward, a twenty-something Australian explorer, created World of Wanderlust as a platform to encourage young people to travel more and independently. World of Wanderlust is a renowned publisher of solo travel content around the world.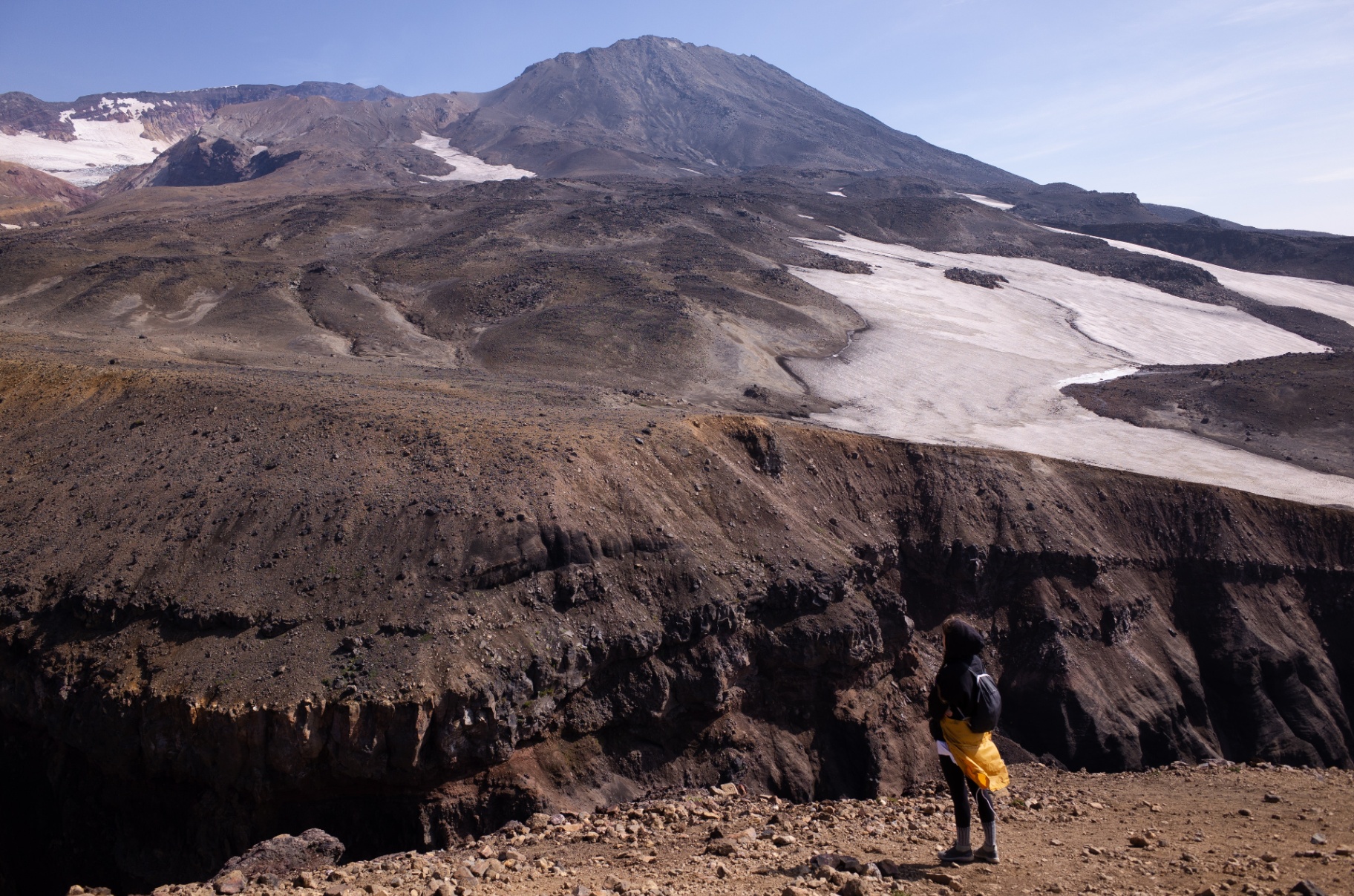 The goal of World of Wanderlust has been to encourage women to travel far and often. They believe that life was not intended to be lived in a fixed place. You'll find travel inspiration as well as information on how to live and work abroad and how to work for yourself while traveling the world.
Since 2012, they've been providing uplifting and educational articles that help their readers book and plan their vacations. This site has become a haven for lone travelers looking for inspiration and assistance as they plan their next adventure.
Wanderlust and Lipstick
Wanderlust and Lipstick is a website and collaborative blog founded by Beth Whitman that provides ideas and information for female travelers. It offers a variety of posts, articles, and advice. The company's various tours of fascinating destinations are also detailed on the website.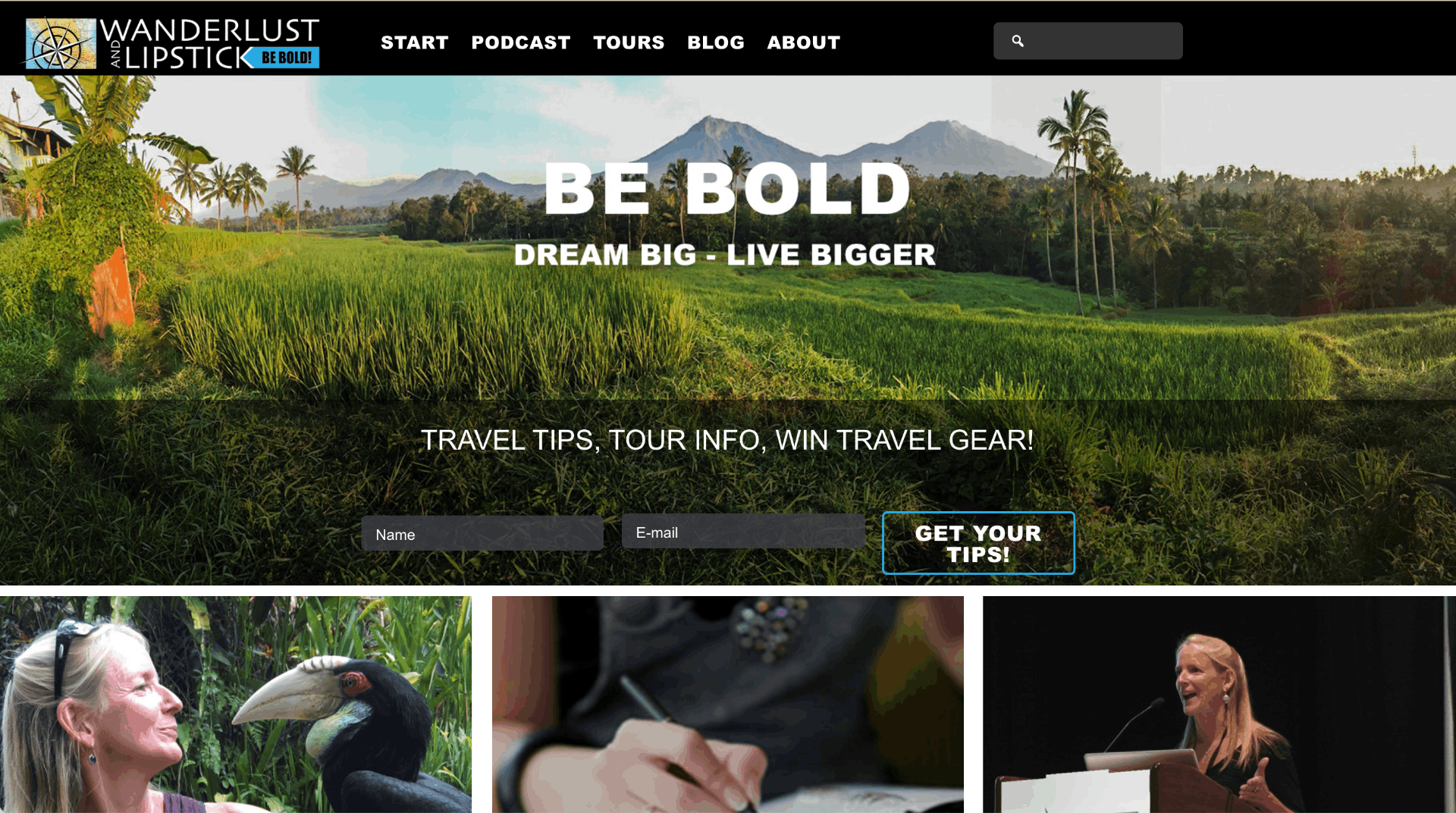 Whitman has built a reputation as a women's travel expert over the course of nearly 30 years of travel. She did a lot of her early traveling on her own, but she understood that not many women have the courage or know-how to do so.
She wrote Wanderlust and Lipstick: The Essential Guide for Women Traveling Solo to push more women to travel alone. Since 2008, she has been guiding WanderTours which are small group expeditions to off-the-beaten-path destinations.
Be My Travel Muse
Kristin Addis is a solo female traveler who has been traveling nonstop for the past five years. With tips on packing, interesting reads, and country guides, Be My Travel Muse is aimed towards the adventurous, culturally curious, and off-the-beaten-path traveler.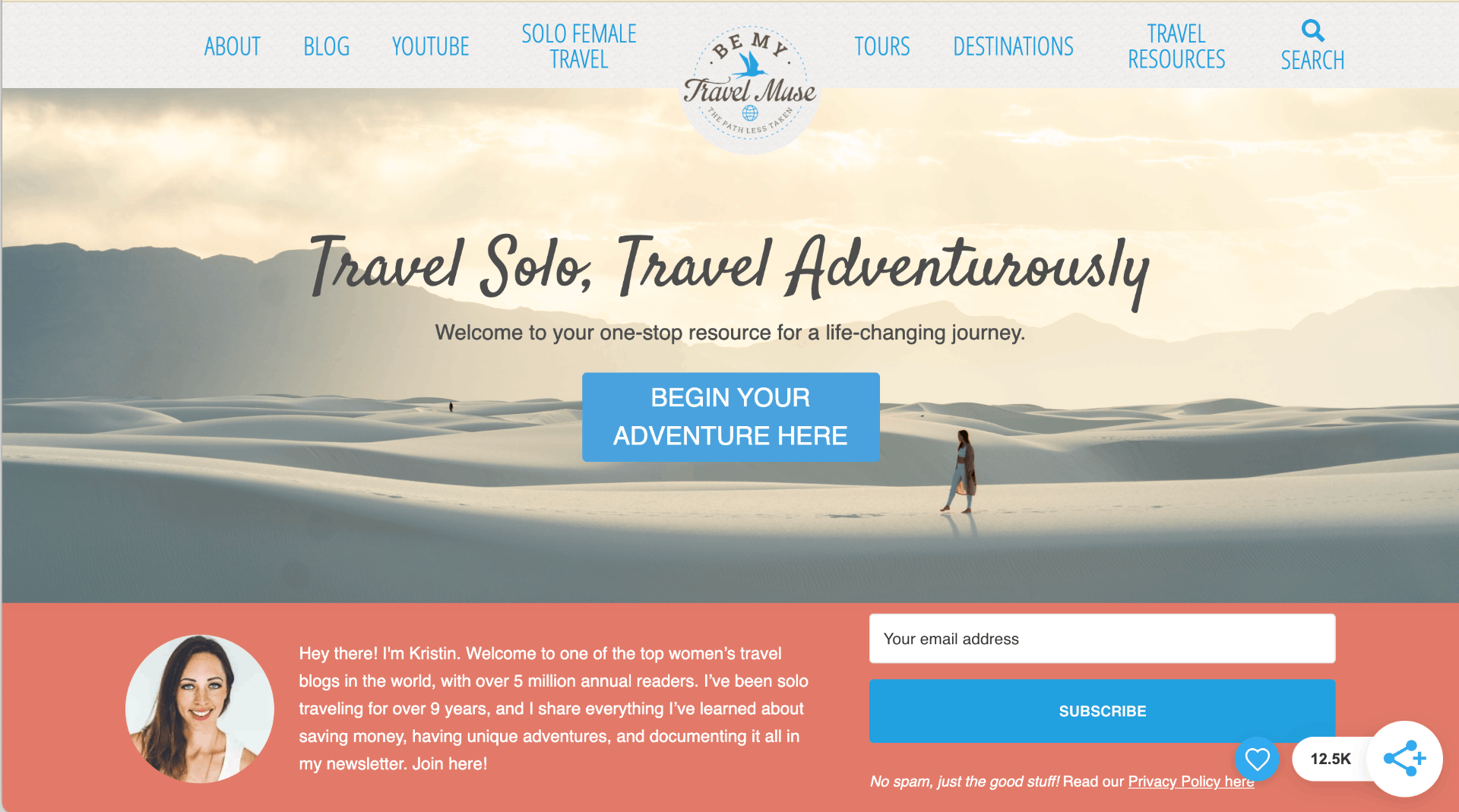 Kristin's idea of a better world is one in which more women are powerful, fearless, and confident in their skills. A world where women travel to different places, spend more time in nature, and develop a greater love for the world.
She offers resources on her website to make traveling more practical, bold, and immersive for women, as she has discovered that solo travel is the greatest way to encourage these attributes. Check out this site if you want a once-in-a-lifetime experience that only explorers get.
Travelettes
Since August 2009, Travelettes is composed of a group of female travelers, writers, and photographers who have been sharing their travel adventures online. They come from all over the world, and their mission is to encourage, educate, and empower young women to travel more.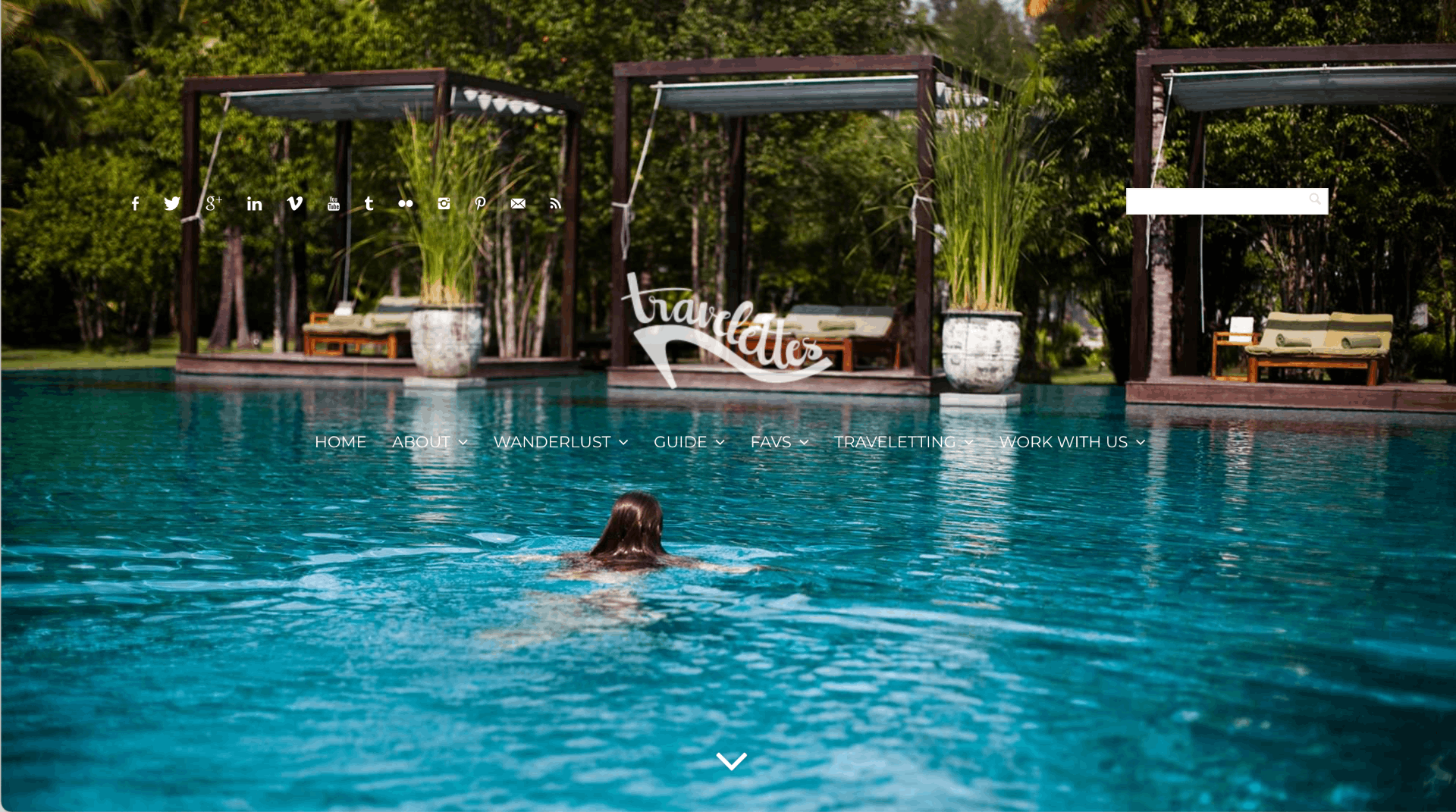 The Travelettes are your girlfriends that have been there, done that, and are always eager to give advice. They strive to continue providing women with instructions, suggestions, and their own experiences on all things travel.
This is a fantastic website that serves as a one-stop shop for all you need to know about traveling alone as a woman. It includes lists of the greatest destinations to travel alone, photography guidelines for the finest Instagram selfies, culinary guides, and a wealth of information on various road trip routes throughout the world.
Conclusion
While your trip may be exciting, and of course, we want you to have a blast, there are several precautions you should take accordingly to ensure your safety, sanity, and well-being.
If you are a lone female traveler, you can download these apps and bookmark these websites to keep you safe, accounted for, confident, and happy on your next solo trip.