Need funds to cover an unexpected expense? Or maybe you're itching to travel but don't quite have enough money at the moment.
The good news is, there are ways to address your personal financial needs with Santander. You can work your way through life with a Santander Personal Loan. You can apply online and get a response within as little as 24 hours.
Wondering what else you could benefit from with this loan? Read on to find out the answers regarding how you can apply for a Santander personal loan today.

Benefits and Features of a Santander Personal Loan
In order to understand how a Santander Personal Loan works, we're going to dig deeper into the perks, requirements, and fees that come with it.
Probably the best reason to choose a Santander Personal Loan is the minimum interest rate. Enjoy as low as a 3.0% representative APR. You are also free to request a higher loan amount but note that Santander will have to check your financial portfolio.
Santander is fast when it comes to arriving at a decision, whether an applicant is qualified for a personal loan or not. For online applications, decisions can be available within 24 hours or less. Given this fast response, urgent issues can be attended to right away.
Need help repaying on time? Santander allows clients to use Direct Debit to pay for monthly repayments.
It's easy, hassle-free, and lets you pay on time to avoid recurring fees. This is perfect for those who are occupied with other aspects of life and want to still address their balances in a timely manner.
Now that you're familiar with this loan, read on to find out the rules of eligibility and how you can apply for one today.
How to Apply for a Santander Personal Loan
Some of the eligibility requirements for this loan include having a minimum yearly income of £6,000, being at least 21 years old, and not having declared bankruptcy within the last 6 years. For the success of your application, note that you must have a good credit rating, the ability to pay with Direct Debit, and you must permanently reside in the UK.
The loan amount can be between £1,000 to £20,000 for new customers or up to £25,000 for existing Santander customers. Note that approval will be based on your financial capacity and portfolio. Hence, you are free to indicate the loan amount, but you have to see if Santander will approve the request or not.
You can apply online and get a decision in as little as 24 hours via the Santander website.
Santander Personal Loan Fees and Charges
Note that this is not a comprehensive list of fees and charges you might incur with this loan. Specifics will be based on your borrowing amount and time frame, which you can discuss with a loan adviser to learn more details.
Take a look at these representative fees, based on an example loan borrowing of £10,000 over 60 months.
Representative APR – 3%
Monthly repayment – £179.51
Overpayment fee – £0
Early loan resettlement – a charge of 30-days interest will be applied
In general, there is a 3.0% APR on loans from £7,500 to £15,000 for new and existing customers. However, APR computation for personal loans depends on the term length, borrowed money, and credit rating.
New customers will have to pay bigger interest compared to existing customers because of the risk factor. However, borrowers can still enjoy low interest, as compared to loans from other banks.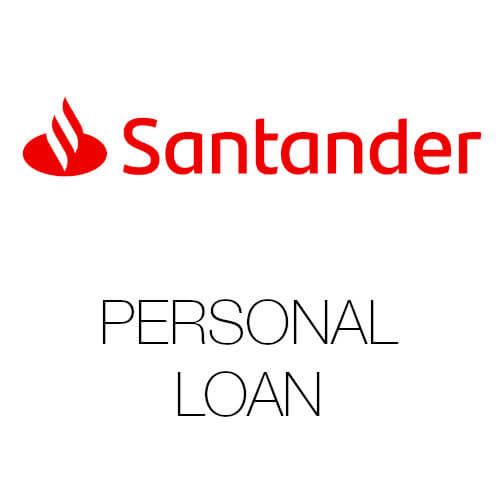 Contact Santander Bank Today
If you would like to contact the bank you can find their main address at 212 Main St, Rutherglen, Glasgow G73 2HP, United Kingdom. You can also call 0800 9 123 123.
Conclusion
Borrowing money is made easy with Santander. With competitive rates, you can surely make your dreams happen and even save money throughout the repayment term. Visit the website to get started with your plans for a Santander Personal Loan.
Note: There are risks involved when applying for and using credit. Consult the bank's terms and conditions page for more information.