Want to purchase big-ticket items with 0% interest? Need a credit card that's accepted worldwide? If you are looking for an everyday credit that gives you cashback rewards, stick around and take a read.
With a Santander Credit Card, you will be given practical and essential privileges like no other. Aside from 0% interest rates on balance transfers and new purchases, you also get cashback on all your purchases and more.
If you'd like to learn more about Santander credit cards, including their features, benefits, fees, eligibility and how to apply online, this article will show you.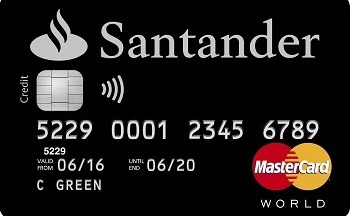 Santander Credit Card Features and Benefits
To help you understand the perks that come with owning a Santander Credit Card, let's focus on one of the most popular offerings: The Santander All in One Credit Card (MasterCard).
The All in One Credit Card offers 0% interest on all your new purchases. This is your chance to buy big-ticket items such as airline fares, electronics, appliances, and other essential items within 30 months from account opening. This rate also applies to balance transfers made within 30 months of getting your credit card. After this, you will be given the regular interest rate.
Another benefit you can enjoy is NO foreign transactions fees on purchases you make abroad in your local currency. This means you can shop to your heart's content when you travel abroad, without worrying about high fees.
Best of all, you are entitled to receive 0.5% cashback on ALL your purchases. Earn up to 15% cashback with retailer offers at partner establishments. As a welcome gift, you will receive a 25% cashback with other introductory offers! Simply activate the Retailer Offers on your card within 60 days of receiving it.
Applying for a Santander Credit Card
Applying for a Santander Credit Card is fairly straightforward. All you need to do is fill out the online form on the Santander website and you can see if you are eligible within 10 minutes.
To apply, you need to be at least 18 years old and must have an annual income of at least £7,500. You also need to be a permanent resident of the UK.
After submission of your application, the bank will determine if you are eligible for their credit card. Should you be approved, your credit limit could be anywhere from £500 to £3,000 for the All in One Credit Card.
Santander Credit Card Fees and Charges
Owning a Santander Credit Card comes with its own set of responsibilities. Let's take a look at the fees of the All in One Credit Card…
Monthly Fee: £3
Annual Percentage Rate: 15.9% (variable)
Balance Transfer Charge: 3% or a minimum of £5
Late Payment Fee: £12
Over-limit Fee: £12
Santander Address & Contact
2 Triton Square, Regent's Place, London, NW1 3AN
Conact: 44 87 0607 6000, 44 80 0389 7000
Conclusion
Overall, if you're looking for a credit card that can perfectly compliment your everyday needs, the a Santander credit card, particularly the All in One Credit Card, is your best match. Apply now and get yours today! Note: There are risks involved when applying for and using a credit card. Please see the bank's Terms and Conditions page for more information.