Still in search of a credit card that offers reliability, whilst ensuring your security? With Capitec Bank's offers, you are sure to find a card that caters to your needs. Not sure where to start? Read on to find out more about your Capitec Bank credit card options.
Capitec GLOBAL One Credit Card Features and Benefits
If you are looking into the Capitec GLOBAL One Credit Card, you are in for a treat as it offers security at a low cost. People who have credit loans with the bank can get credit insurance coverage. The bank requires this for credit terms of 7 months or more. With this, you are covered should death, permanent or temporary disability, unemployment or inabilities to earn occur. For any of these occurrences, you and your family will get payouts corresponding to the type of event.
Travellers can also avail of travel insurance, giving you the protection you need even when abroad. This insurance has you covered should you experience unexpected medical expenses up to R 10 million depending on the benefit schedule. Just make sure that you pay your ticket using your MasterCard, your age is not more than 75 years and your trip should not be more than 89 days.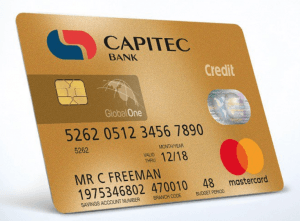 Getting a Capitec GLOBAL One Credit Card
If you are interested in getting this card, you can check the Capitec Bank website for details. The application process is quite simple. You just need to visit any Capitec Bank branch and present your documents.
Make sure to bring any original identification document showing that you are 18 years old or above. You should also be a legal resident of the country. You can bring proof of residential address including municipal rates and taxes that is registered in your name (it must show your street address and within three months of issuance).
To prove that you will be able to pay your dues, you are required to bring your latest salary slip bearing a minimum salary of R 3,000. Lastly, bring a stamped bank statement that shows 3 latest salary deposits.
With this card, you can get up to R 150,000 credit limit.

Capitec GLOBAL One Credit Card APR and Charges
Initiation fee: R 100
Monthly fee: R 35
APR: 10.25% to 20.75%, depending on your profile
Another thing you should also keep in mind is that cash advance fees and late payments fees can and may be charged.
Capitec Address & Contact Details
Address: 1 Quantum Street, Techno Park, Stellenbosch, Western Cape, South Africa
To get in touch with Capitec, call 0860 10 20 43 (or +27 21 941 1377 from outside South Africa).
The Bottom Line
With a card such as Capitec GLOBAL One Credit Card, you can rely on your card for security and access. By getting one for yourself, you are covered with the right insurance whilst enjoying the best offers for your money.
Note: There are risks involved when applying for and using a credit card. Please see the bank's Terms and Conditions page for more information.