Looking for online jobs that allow you to work from the comfort of your own home? Want to work online, even while traveling the world? In the world of freelancing, you can try your hand at various tasks for different employers – all at the same time, from anywhere you wish! If your idea of working isn't the typical 9 to 5 job in the office, venturing into the world of freelancing might do you good.
If you're wondering where to find all these amazing online work opportunities, look no further. Fiverr is here to help you out. This platform allows you to generate income and grab every opening that comes your way. Here's how you can apply for online jobs on Fiverr.
Online Jobs on Fiverr
Fiverr is one of the best online job platforms which allows freelancers to promote their available positions and contracts online. Likewise, it allows employers and businesses around the globe to look through these job descriptions.
Should interested buyers/clients/employers find an appealing proposition, they can send in a proposal for a chance to work with the said freelancer. Most of these freelance jobs are typically hourly or contract based, starting at as little as $5 (hence the name). Some jobs may be on-going, while others may be one-off projects.
Your interests, skill set, and level of experience will help determine the type of online work you can offer on Fiverr. To give you a clearer picture, companies and businesses usually hire individuals who have a background in areas such as:
Digital marketing
Programming
Writing
Translation
Animation
Music
Audio
Graphics
Design
Business work
Tech
Other lifestyle-related work
To know more about the advantages of using Fiverr and the perks of working from home, read on.
Fiverr Features and Benefits
Fiverr aims to expand your growth and network through their online platform. It allows you to find more online work opportunities, connect with more clients, and to be successful on your own terms.
Here, clients post the type of jobs they need freelancers to do and they often provide excellent compensation for quality work rendered to them. The more visibility and success you have on your projects, the more you will be able to draw in clients.
Fiverr gives you the chance to work anytime and from anywhere in the world. Through this online platform, you are given not only the confidence and freedom you need, but you also have the chance to control the flexibility you deserve on the job. Communicating with the client is easy. You can send and receive files all on one platform.
All projects conducted on the website are given Secure Payment Getaways, making sure that you get paid for all the hard work you've put in.
How Much Can You Earn on Fiverr?
The amount varies from project to project, depending on the type of industry you are in. With that said, depending on your skill set and your experience, you may bring home anywhere from $500 to $10,000 a month.
You can receive funds via PayPal, Direct Deposit to your bank account, or credit your Fiverr Revenue Card.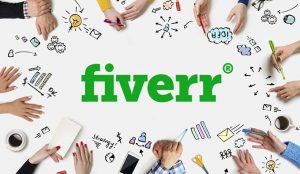 Online Jobs Application on Fiverr
To apply for online jobs on Fiverr, you must create an interesting and comprehensive Fiverr profile. After which, you should submit job proposals to clients whose projects you are interested in working on. Bear in mind that these proposals should be catered to the specific work you are applying for, showing off your skills and experience in the field.
Fiverr Fees and Charges for Freelancers
Some fees that are involved when using this platform include a processing fee of $2 per gig. PayPal also charges its customers 2% of the sum withdrawal amount, up to $1.
For your Fiverr Revenue Card, $1 is also charged to your account each time a payment is loaded within 2 days, while $3 is charged if payments come within 2 hours. ATM withdrawals are also charged at $3.15 per transaction.
To find online jobs that provide you with the freedom and flexibility you need, be sure to sign up as a freelancer on Fiverr today and begin sending out your proposals. Even if you're unsure about which services to offer, it can't hurt to create a profile and test the market!