They sit on the island of the eternal spring, Lanzarote Hotels can provide you an experience you an experience you didn't even know was possible. Lanzarote is one of the exotic Canary islands located off the coast of West Africa. The island is administered by Spain so you will experience Spanish culture in the food and architecture across the island.
Lanzarote is known for its year-round warm weather and out-of-this-world landscape. The volcanic structure of the island makes for some of the most interesting rock formations you are going to see in your life. You might be landing in earth, but you'll feel like you've travelled off into a whole new planet.
Lanzarote offers beach comfort as well as something for the explorer's heart. Our editors have looked into some of deals you can get into Lanzarote hotels to help you plan. Going out of this world doesn't have to be expensive and so read our list of the top 5 hotels on the island. It will save you time and hopefully help to reduce your holiday search frustrations.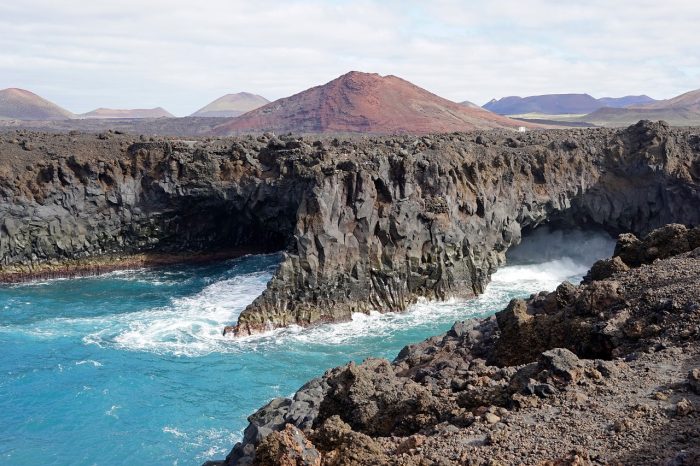 H10 Rubicon Palace
One of Spain's most popular and highest rated hotels, H10 Rubicon Palace, offers state-of-the-art rooms, complete with a flat-screen TV, a sofa bed, and a private balcony.
Just as you would expect, this modern hotel features a Jacuzzi, a sauna, tennis courts, water slides, miniature golf courses, and a swimming pool. Guests can also enjoy delicious meals and drinks at Janubio and Bistro Bar. Prices per night will depend on the season and type of room, but they generally range from around £89 to £310.
Barcelo Teguise Beach
Barcelo Teguise Beach is an adults-only accommodation facility that was designed with couples in mind. The resort features a sauna, swimming pool, Turkish steam bath, and a gym. The resort prides itself on the quality of services each couple receives, with its employees paying an unequaled level of attention to visitors during their stay.
Their contemporary rooms feature a flat-screen television, coffeemaker, free Wi-Fi, and a telephone. Guests can also enjoy meals at nearby restaurants and bars. Most of them are located within just a few minutes' drive of the property.
Prices are subject to change based on the booking season, as well as other factors like room size, but in general, they will range from around £100 to £450 per night.
Hesperia Playa Dorada
Hesperia Playa Dorada is on our top five list because it provides the best value for your penny. For a very reasonable price rate of around £81 to £321, visitors can enjoy an air-conditioned room, a Turkish steam bath, a Jacuzzi, and a sauna.
It is situated near Marina Rubicon. Also, the employees at the hotel are very friendly and available round-the-clock. So, if you want to enjoy your holiday in Lanzarote without burning a hole in your pocket, Hesperia Playa Dorada may just be the perfect place for you.
H10 White Suites
The H10 White Suites hotel accommodation is one of the best, if not the best, 4-star hotel in Lanzarote. With prices starting from £89 to £203 per night, you can enjoy the same comfort as you would at one of Lanzarote's most expensive hotels.
It boasts a contemporary spa, sauna, swimming pool, and wellness center. All the rooms at H10 White Suites are air-conditioned and offer gym and massage services. Restaurants and bars near this hotel are numerous.
Seaside Los Jameos Playa
Located in Puerto Del Carmen, Seaside Los Jameos Playa is one of the most recommended hotels to stay at when you are in Lanzarote. With a sauna, a Turkish steam bath, an outdoor pool, and a golf course, it is indeed one of the best paradises you can enjoy in Spain.
And like any other 5- or 4-star hotels, the rooms at Seaside Los Jameos Playa are air-conditioned and feature a telephone and minibar, among other facilities. Prices can vary based on the season and other factors, but will likely range from £109 to £254 per night.
Conclusion
We've just looked at our pick of the top five best hotels in Lanzarote. When it comes to choosing a hotel, always remember to pay attention to what matters to you most. The meal offerings could be important or maybe the location, choose what is best for you.
Filtering out the hotels that meet your needs is a great way to identify the best ones. Since there are so many, checking off your must-haves will make the hotel selection experience so much easier.  We hope this guide is helpful in saving you money and time as you book your trip to Lanzarote. Have an amazing time friends!