Looking for an every day credit card that you can use wherever you go? With the Karur Vysya Bank Credit Card, you have a flexible mode of cashless payment to use for shopping, dining, traveling and more. Aside from the regular use of the card, you can actually withdraw cash (cash advance) from ATMs within India when you're running low at the end of the month. The best part? The re-payment for this card is flexible, giving you more options to settle the bill. Read on to learn how to apply for a Karur Vysya Bank credit card…
Features of Karur Vysya Bank Gold & More Credit Card
There are two varieties of the Karur Vysya Credit Card. There's the Gold & More card and the Platinum card. In this article, we're going to highlight the Gold & More Visa Card and see how you can benefit from it.
Spend Rs 100 and you earn 1 reward point. But it doesn't stop there – this credit card gives you more than just your average reward points. Every time you use it for shopping, fuel or dining, you can double or triple your points! This way, you can earn a little something back for your spending. This powerful feature can help you redeem your points for a catalog of rewards, prizes and exclusive deals.
With this card you will also enjoy a waived 2.50% fuel surcharge on fuel transactions amounting to Rs 500 to 3,000. 
Worried about scams, fraud and unauthorized transactions? With the Karur Vysya Bank Gold & More Credit Card you can trust in enhanced security systems for online transactions. Cards verified by Visa get a One Time Password (OTP) for every transaction. This gives you security in monitoring the transactions being processed.
Value-added services like balance transfer and FlexiPay is possible with this card. Transfer credit card balances to your Karur Vysya Bank to easily track your money. The FlexiPay lets you convert big purchases into easy monthly installments. The card also has an Easy Money feature where you can instantly enjoy short-term cash loans whenever you need.
The utility bill payment feature allows you to link your bills directly to the card to save you from having to remember due dates. You have the freedom to pay in whatever method you want, like Visa bill pay, Pay fast and Register & Pay.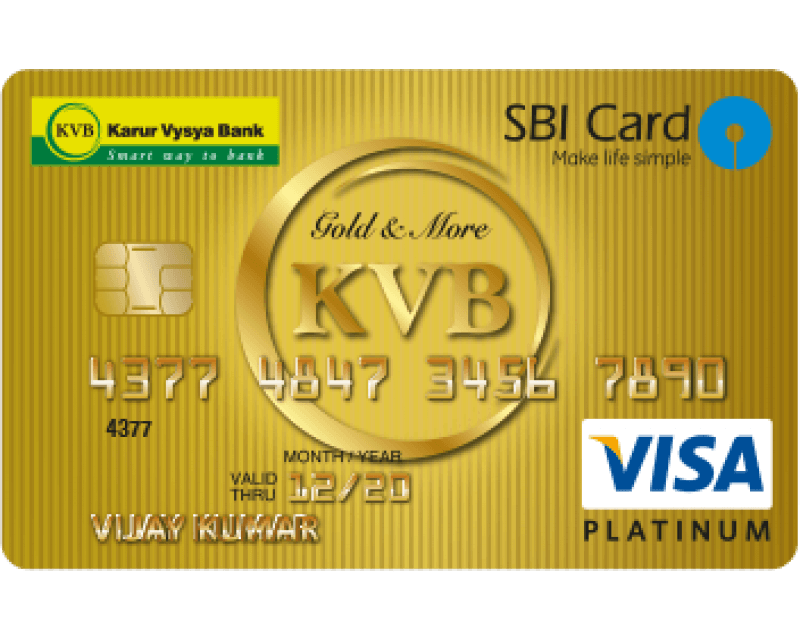 Apply for Karur Vysya Bank Gold & More Credit Card
You can get your hands on the Gold & More Credit Card by submitting a credit card application at your nearest Karur Vysya Bank branch. Minimum requirements include residency in India, age bracket of 18 to 70 years of age and a fixed monthly income.
Provide essential information about you, such as your complete name, residency, age and source of income. Supporting documents like identification cards, salary certificate and address are needed for your application to be processed.
For more information regarding requirements, see the Karur Vysya Bank website.
If your application is approved, the bank will determine your credit limit based on your financial standing. Depending on which card you apply for, this may be anywhere from Rs. 10,000 to Rs. 200,000.
Karur Vysya Bank Credit Card Fees and Charges
As a reference, the following fees are for the Gold & More Credit Card…
There is a Rs 499 joining fee for this credit card. After the 50-day grace period, you will be charged 3.35% interest of the total balance so make sure you settle the amount on time. Replacement of the card amounts to Rs 100.
Give yourself more freedom to shop using a Karur Vysya Bank credit card. Apply now to enjoy more perks and exclusive deals!