Are you a frequent traveler looking for a credit card with comprehensive insurance coverage for you and your family? By applying for a Bank Negara Indonesia (BNI) Credit Card, you can avail full life insurance protection.
This feature is on top of the usual credit card privileges such as hassle-free online or in-store purchases, travel, dining, and hotel bookings around the globe. Bank Negara Indonesia offers a comprehensive line of credit cards that cater to different people.
It ranges from the banks' entry-level Visa or Mastercard Silver to its high-end Visa Platinum. For simplicity, this article will focus on the features, benefits, requirements, and fees of the Visa Silver. Read on to find out how you can apply for a BNI credit card.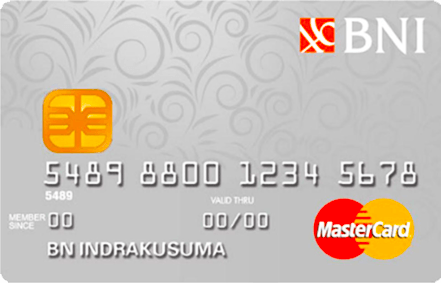 BNI Credit Card Features
At Bank Negara Indonesia, you can choose the card type that suits your financial capacity and needs. By availing of any of their credit cards, you can make cashless and hassle-free transactions with merchants and business establishments all around the world.
You can even earn reward points to redeem for gifts and huge discounts on your next purchases.
The BNI Visa Silver (also available in Mastercard) is great for everyday use and especially for overseas trips. With an annual fee of IDR 240,000, cardholders can enjoy tons of perks.
BNI Visa Silver Benefits
Despite being the entry-level type, BNI Visa Silver cardholders can enjoy almost the same privileges as their elite counterparts. Firstly, cardholders will get premium-free travel insurance protection which gives beneficiaries up to IDR 1 billion for travel accidents.
Cardholders are also covered by life insurance. Bank Negara Indonesia has teamed up with many leading insurance companies in the country to give their cardholders access to different types of insurance products.
As a holder of this card, you can also access BNI TeleTravel which allows you to book tickets, accommodation, and tour packages at competitive and discounted rates.
How to Apply for a BNI Credit Card
Indonesians and foreigners with a monthly income of IDR 3 million can apply for the BNI Visa Silver card. You must be between 21 to 65 years old and submit proof of identity and proof of income for validation.
To apply, simply fill out the eForm on the BNI website. You will be prompted to upload copies of your supporting documents, such as a bank statement, payslips, recent tax return, utility bill, and ID. If you'd prefer, you can also fill out and submit a completed form and copies of the required documents to your nearest branch.
The bank will set your credit limit depending on your financial record and capacity. It may be anywhere from Rp. 10 Juta to Rp. 300 Juta.
BNI Credit Card Fees
As a BNI Visa Silver cardholder, you will need to pay an IDR 240,000 annual fee. Any supplementary cards are IDR 120,000 per year.
All credit cards offered by the BNI come with a 2% monthly interest rate (24% yearly). The same rate also applies to cash advances and withdrawals.
For late payments, there is a fee of 1% of the total balance or a maximum of IDR 100,000. When taking out a cash withdrawal, the fee is 6% of the transaction or a maximum fee of IDR 100,000.
If you happen to go over your credit limit, you will be charged a fee of IDR 150,000. Thankfully, all of this can be managed within the BNI mobile app.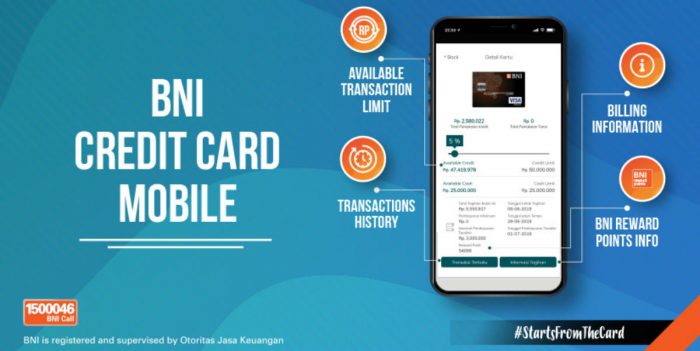 Contact Information
If you would like to talk to the bank directly for more information about this offer, you can contact the bank at the number +62-21-2511946. Alternatively, you can visit their head office, which is located at Gedung Grha BNI Jl. Jenderal Sudirman Kav. 1, Jakarta Pusat 10220 Indonesia.
Conclusion
If you are an active traveler, a BNI credit card, especially the Visa Silver, is ideal because it offers security and the best deals on your domestic or international tours. With this card, you can enjoy hassle-free travel & finances with total peace of mind.
Note: There are risks involved when applying for and using a credit card. Please see the bank's Terms and Conditions page for more information.