It's no doubt that world map watches are killing it as far as travel fashion accessories go at the moment.
Instagrammers, bloggers and avid travelers alike are making the web a whole lot more colourful with wanderlust-inducing photos of their world map watches against stunning turquoise ocean backdrops, teamed with wrists full of colourful boho friendship bracelets…
And we're loving it!
As you may or may not know, Dan and I recently launched SHOP STORYV, the go-to online store for wanderlust-inspired travel merchandise…
And guess what?!
We've added a range of amazing world map watches for you guys and gals so you can get the look without spending a fortune from your hard-earned travel fund!
Want to know what our world map watches look like? Of course you do!
Drum roll please…
World Map Watches: 4 Wanderlust-Inspired Watches You Can Get Your Hands On Right Now For Less Than $30
Pin this on Pinterest to share with your friends who are also obsessed with world map watches >>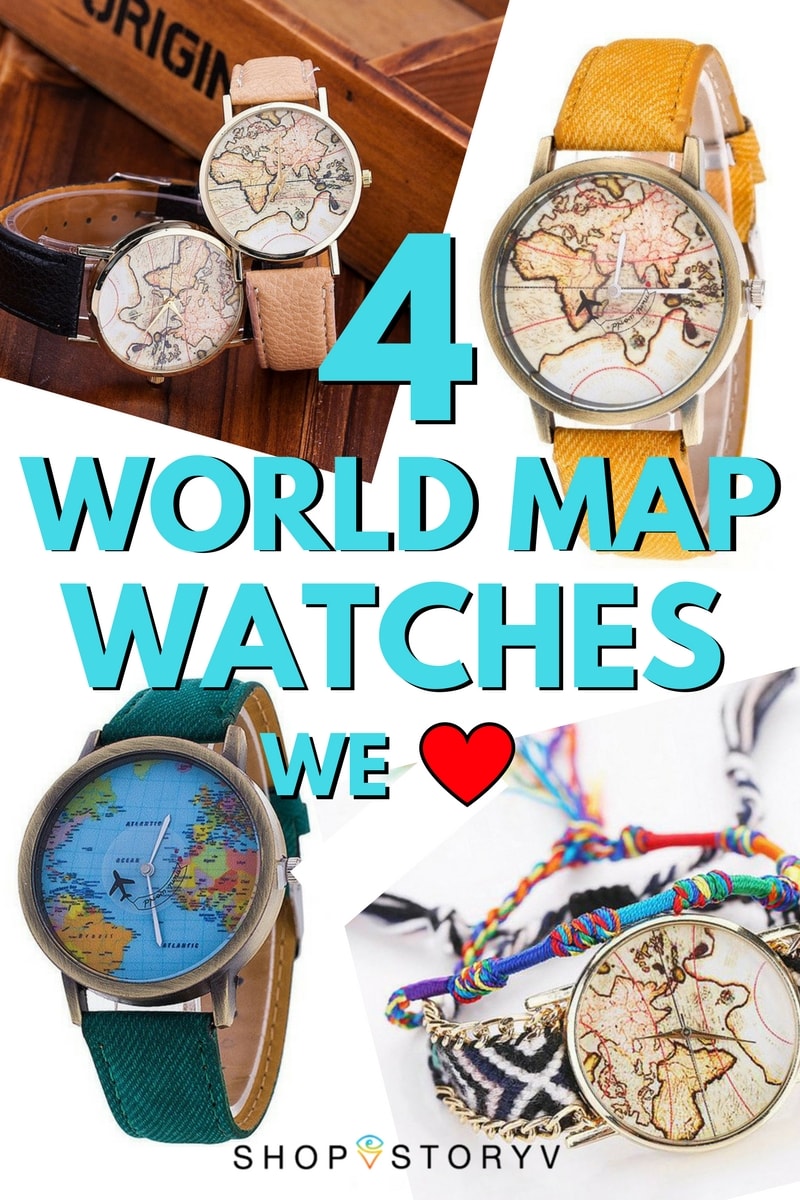 1. GLOBETROTTER World Map Watch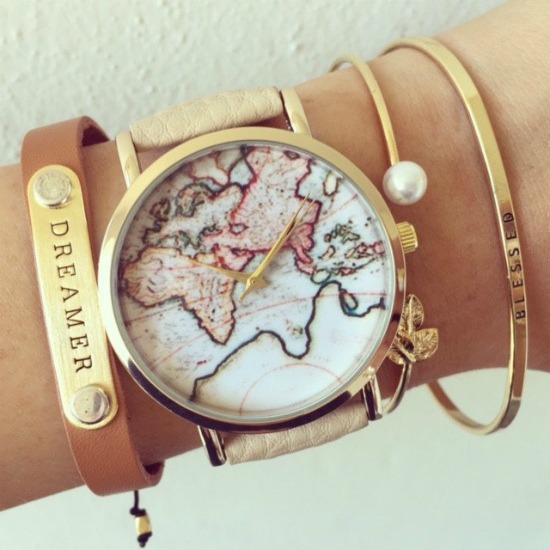 Yeahhh, kind of obsessed with this one.
With a leather-looking wristband which comes in beige, black or white and a 38mm dial diameter, this classic world map watch isn't too in your face, yet it definitely makes a statement.
I chose this watch for the globetrotters who like simple sophistication in their life but at the same time, don't mind using a squat toilet in the middle of Thailand if it means they get to experience a new country (I get it).
I also really like this one because you can dress it up with gold jewellery or dress it down and get the beachy boho look with a set of colourful friendship bracelets. Totally universal!
And for the price, you really can't go wrong.
To see more colours in the GLOBETROTTER world map watch, click the link below…
2. OCEANA World Map Watch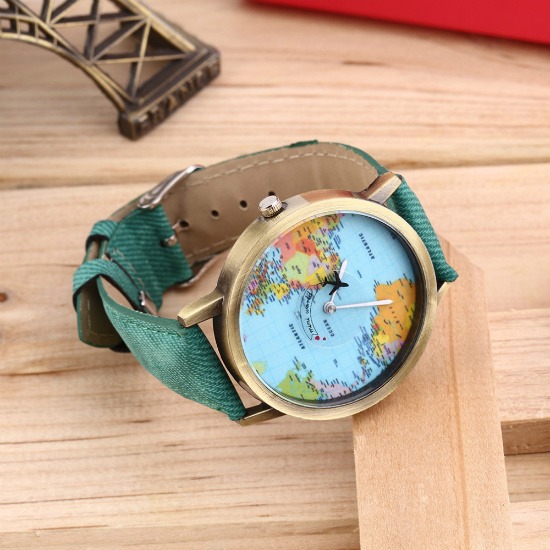 Now this watch is a little more out there with its blue ocean face and range of colourful straps but nonetheless, very cool.
Available in 6 different colours, the OCEANA is priced so that you can grab a few and mix it up, depending on your mood and itinerary each day.
If you're heading to the beach, you could go for the yellow or pink teamed with bright coloured jewellery but if you're heading into a tropical jungle, the green or brown would look amazing teamed with neutral colours.
I think this watch is the perfect way to add a splash of colour to your daytime outfit and serve as a reminder of your fondest travel memories each and every day!
To see more colours in the OCEANA world map watch, click the link below…
3. BEACHCOMBER World Map Watch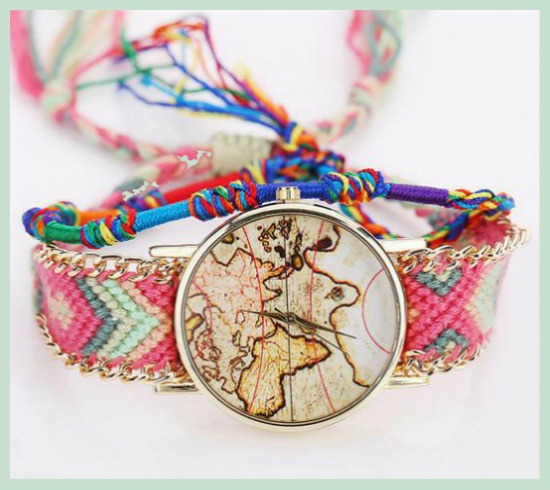 Now we're getting beachy!
This happens to be one of my favourite world map watches in our collection because it's so colourful and unique!
The BEACHCOMBER world map watch comes in a variety of colours including black, blue, purple and hot pink and is paired with an even more colourful friendship band.
If you want the boho-chic look that's oh so popular right now, this is how you're going to get it.
Imagine wearing this teamed with a cute off-the-shoulder bikini while on vacay to a picturesque tropical island in the Maldives…
Dreamy or what?!
To see more colours in the BEACHCOMBER world map watch, click the link below…
4. VOYAGER World Map Watch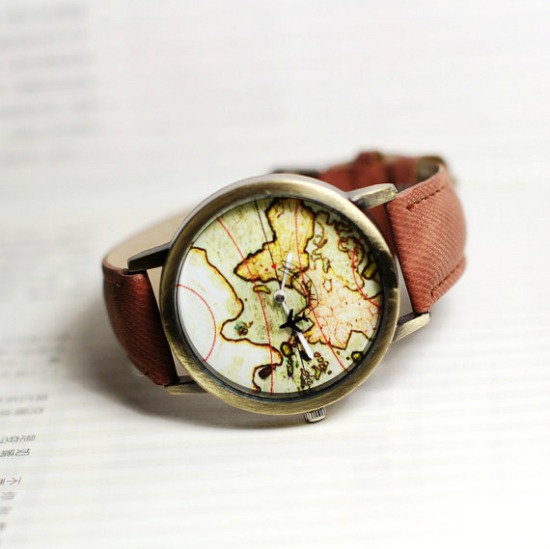 Last but definitely not least, we've chosen a vintage style world map watch for those of you who find pleasure in the simple aspects of traveling…
Like sitting outside an old bookstore sipping on coffee and watching how the local people go about their daily lives…
Or wandering around museums and art galleries to get a genuine feel for the history and culture of where you are…
Whether you're a sucker for all things old or simply love vintage fashion, the VOYAGER world map watch is the perfect accessory to fuel your wanderlust in between trips and see the world on trend.
Available in a range of colours, including brown, black, white, green, blue, yellow, pink, grey and red, you're a little bit spoilt for choice!
To see more colours in the VOYAGER world map watch, click the link below…
5. New Addition!

JOYRIDE World Map Watch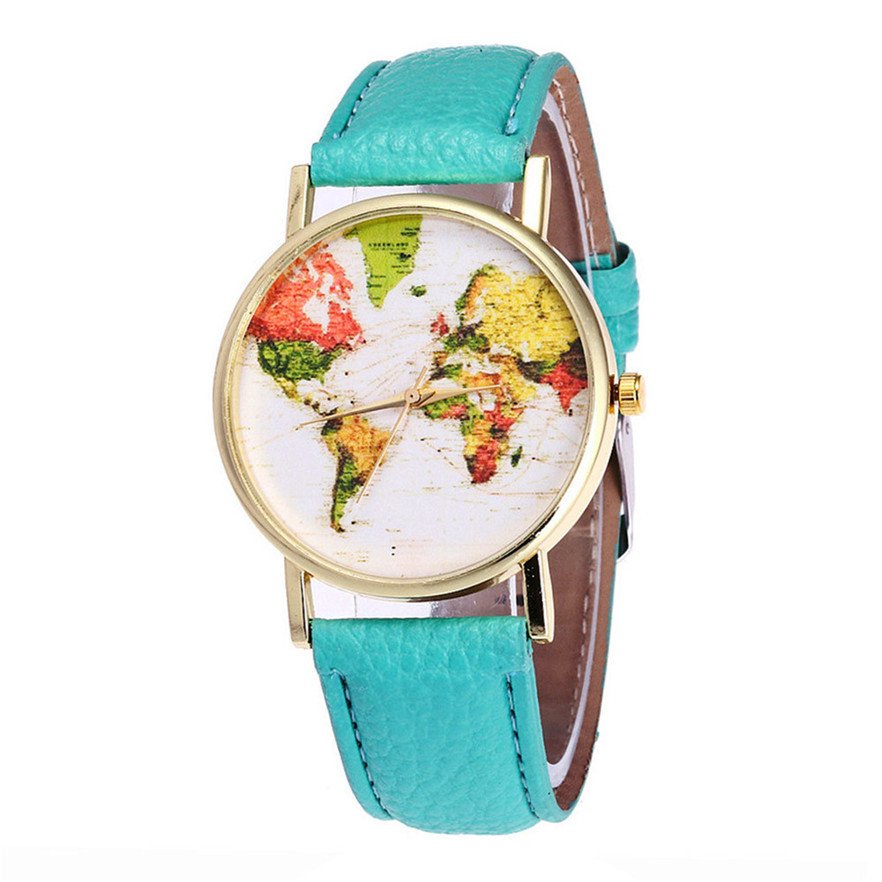 This lovely little world map watch had to join the collection just because it's so cute and summery!
With a colourful map watch face and watch straps available in bright, fun colours like turquoise blue, how can you not want to hit the beach wearing this baby this summer?
If you dream of dancing your way through festivals around the globe, and meeting inspiring people from all walks of life fills you with joy, this is the watch for you.
From the bustling streets of Delhi to the little green villages of China, the JOYRIDE colourful world map watch will keep your travel spirit high!
Match with wanderlust-inspired jewelry for the perfect boho-chic travel look!
Final Notes
Are you picturing yourself roaming all corners of the world in your wanderlust-inspired world map watch yet?
If you're not, you may want to take another look through (or check out our other colours)…
Because seriously, you can get your hands on every one of these babies for under $30 and GIVE BACK at the same time…
We've consciously chosen to send a portion of each sale to MAP International – one of the top 10 charities currently changing the world as quoted by CNBC.
This amazing organization works with partners in more than 115 countries to promote health and create hope in local communities.
Improving water supplies and educating communities to deal with health threats such as HIV/AIDS are just a few incredible missions you'll help to facilitate. 🙂
So now it's time to let your inner wanderer shine on the outside…
And I'll be right there doing it with you in my very own boho world map watch!
>> To get the looks, visit our world map watch collection on SHOP STORYV <<
Questions? Comments? Let's chat below!