The following is an honest review of our two night stay 28 Degrees Byron Bay, ideal boutique Byron Bay accommodation for couples and those expecting.
Our Tranquil Babymoon At 28 Degrees Byron Bay
Love this boutique Byron Bay accommodation and want to add it to your wishlist? Save this on Pinterest for quick reference >>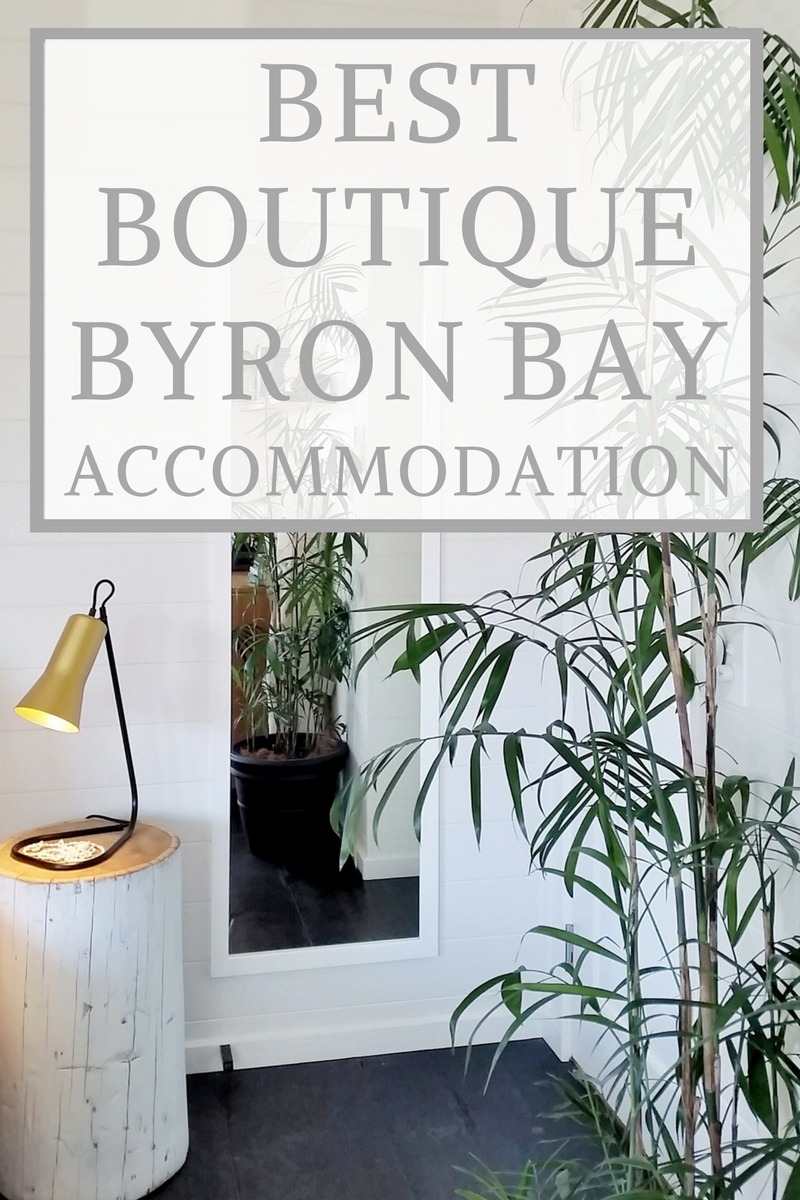 When Dan and I found out I was pregnant we were absolutely over the moon, however, after a previous miscarriage we were anxious to get past that first milestone – the long awaited 12 week mark.
To our relief 12 weeks slowly but surely graced us with its presence. It was as if a weight had lifted off our shoulders and we were now floating on a pile of feathers.
I'd been telling Dan for weeks that I'd bring him to one of my favourite places in the world – Byron Bay – and it seemed now was the perfect time to do so.
We called it our Babymoon.
Looking up Byron Bay accommodation I came across the most beautiful boutique guesthouse in the heart of town, 28 Degrees Byron Bay.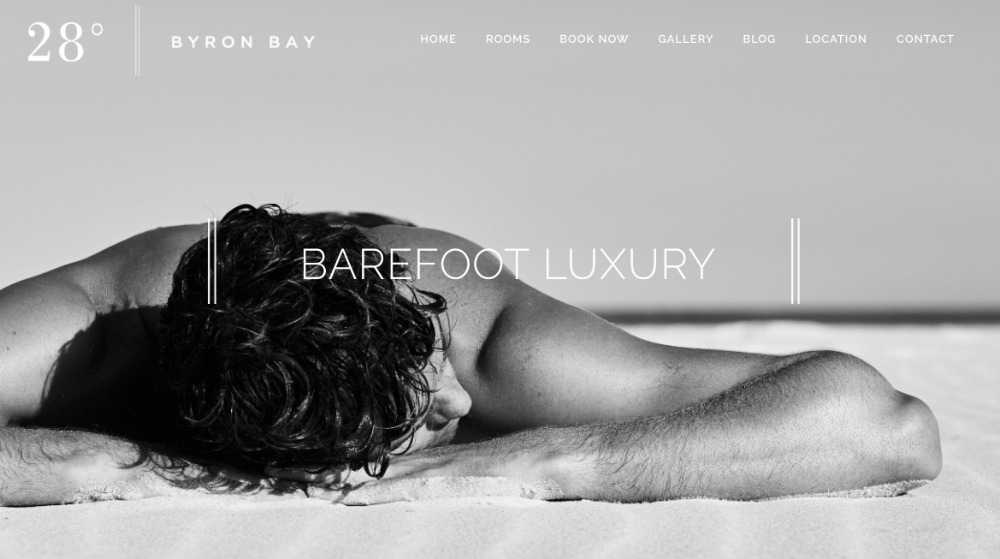 When I clicked through to the blog and discovered that they were offering a Babymoon Package, I knew this would be the perfect place for us to relax and celebrate together.
I booked two nights mid-week to avoid the Byron Bay weekend crowds and received a lovely welcome email from the owner, Debbie, introducing us to the guesthouse and neighbourhood.
Three days later we'd packed our bags and were on the road down to sunny Byron Bay.
Arriving At 28 Degrees Byron Bay
From where we were staying on the Sunshine Coast, the drive took us about 3 hours. If you're flying in, it is best to arrive in Brisbane, hire a car and drive the remaining 2 hours south to Byron.
At about 4 in the afternoon, just as the sun was beginning to settle and cast a soft warm glow over Byron Bay, we arrived at 28 Degrees Byron Bay.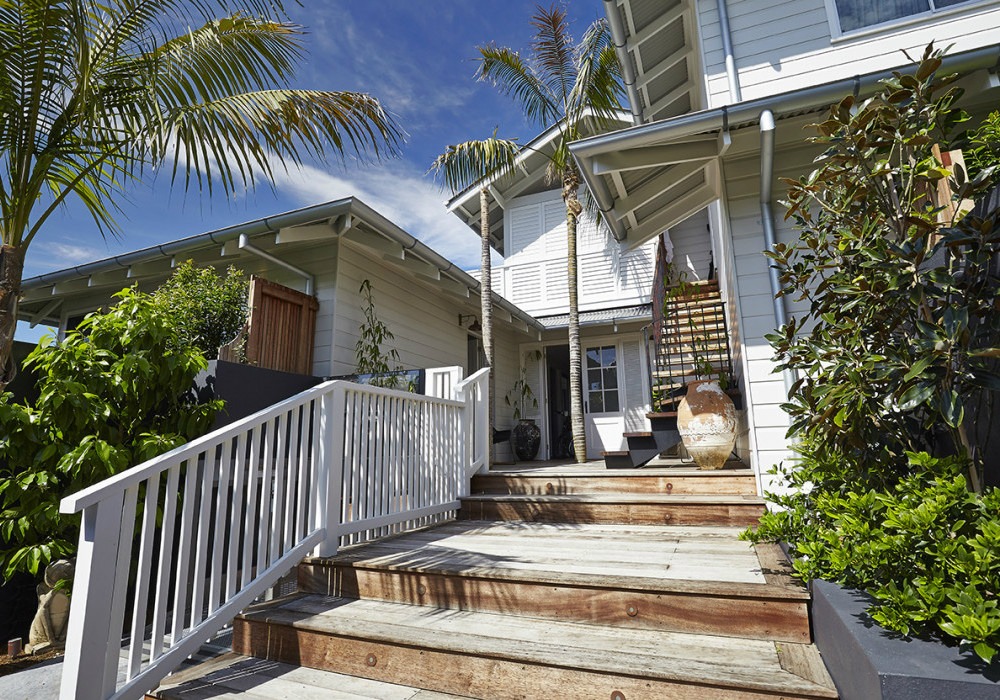 Warmly welcomed by Debbie at the front gate, it was almost as though we were visiting an old friend we hadn't seen in a long time…
She gladly offered to help with our bags and showed us through to our private Garden room.
What Was Our Room Like?
Entering the space was like stepping into a heavenly oasis…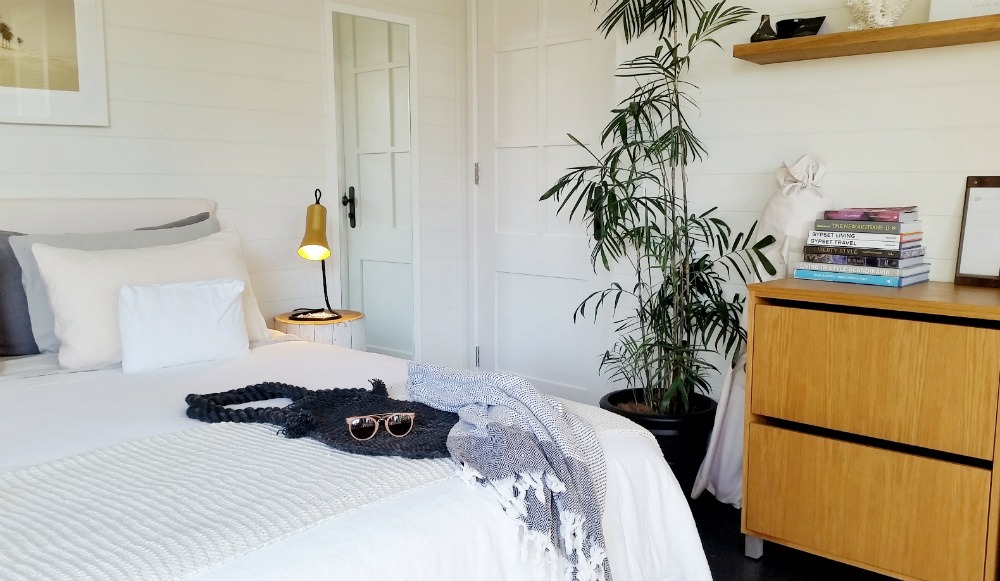 It felt crisp and fresh, yet gentle and soothing all at the very same time.
The combination of soft neutral tones, minimalist decor and warm lighting gave the illusion of space whilst simultaneously creating a sense of home, which I loved.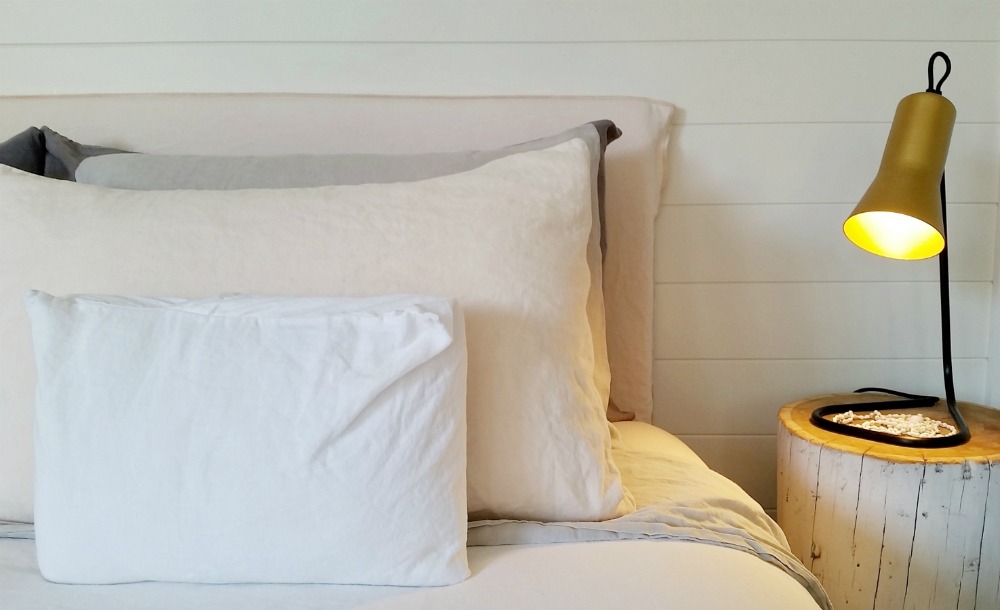 From our cosy bed, laden with pillows and wrapped in luxury French linen, we overlooked a private garden and plunge pool surrounded by vibrant greenery.
With only 1% chlorine, the plunge pool water was both safe to drink and rehydrating for the skin.
To enhance the tropical holiday vibe we also enjoyed the luxury of a refreshing outdoor shower set amid trees and plants, ideal for washing the sand away after a hot day at the beach.
For a more indulgent cleansing experience we stepped into a modern ensuite where we soaked under a rainfall shower head with soothing Milk bathing products. If only every shower could be so good…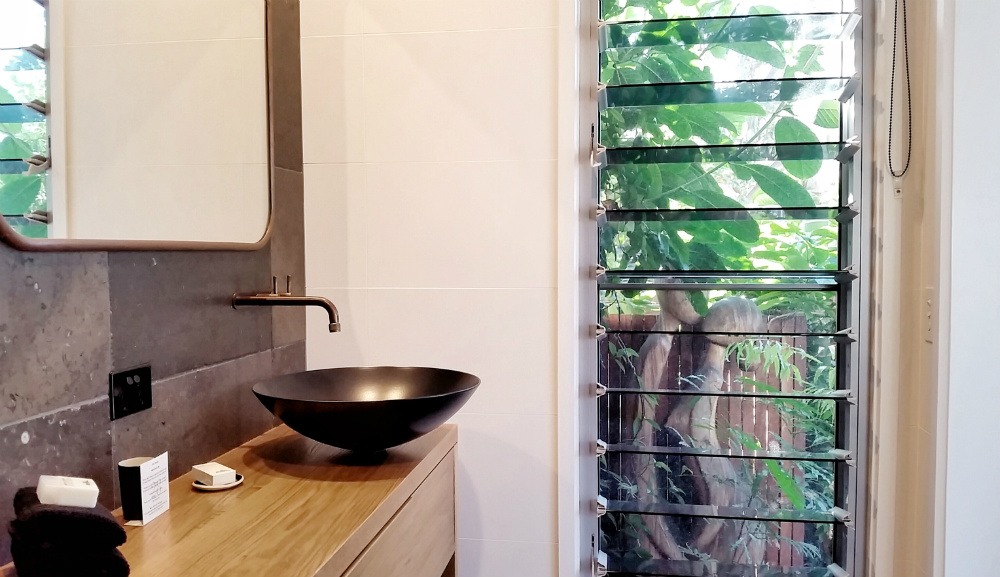 Being summer, Byron Bay experienced some heavy rain in the evenings, which I found to be particularly relaxing.
We would open up all the louvers, light our beeswax candle to clear the air and snuggle up on the bed listening to calming music as the rain pitter-pattered into the pool outside.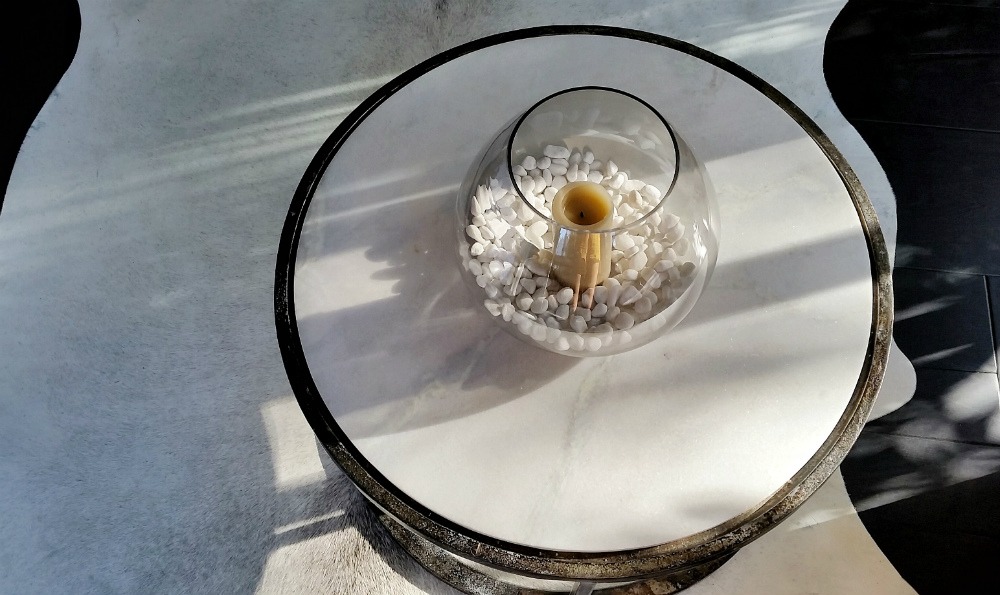 Neither of us usually have any trouble sleeping but being 13 weeks pregnant, I was still often experiencing hot flushes and regular trips to the bathroom throughout the night…
That said, I slept so well those two nights, I could have spent the next month there.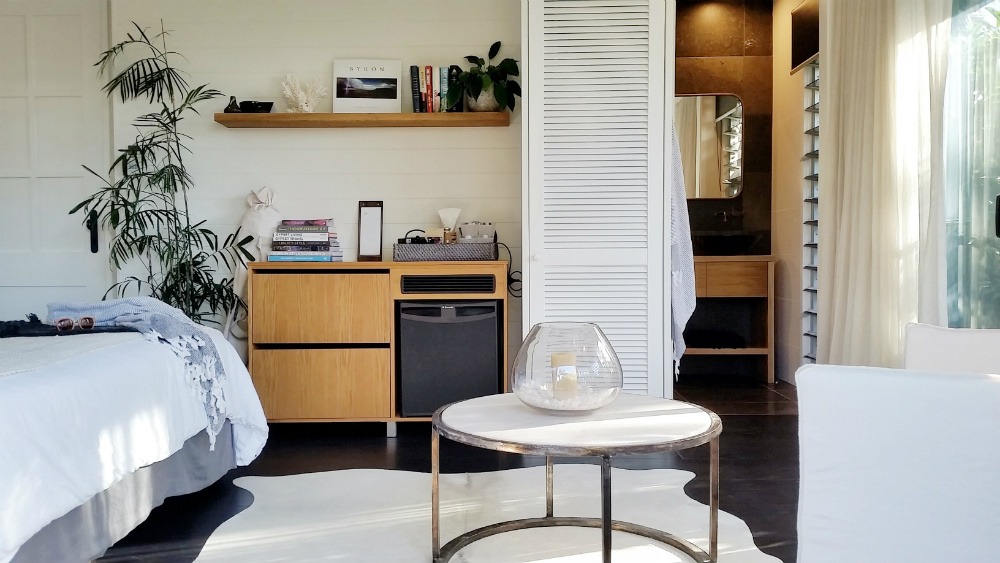 Come morning, it was difficult to wake Dan out of his deep sleep, even for breakfast in bed…
Complimentary Breakfast & Products
All of the breakfast ingredients were complimentary and either made in house or sourced locally.
We enjoyed delicious granola by The Belle General, Barambah organic yoghurt, Marvell Street coffee and herbal tea by Teashop as well as a fresh berry compote made by Debbie.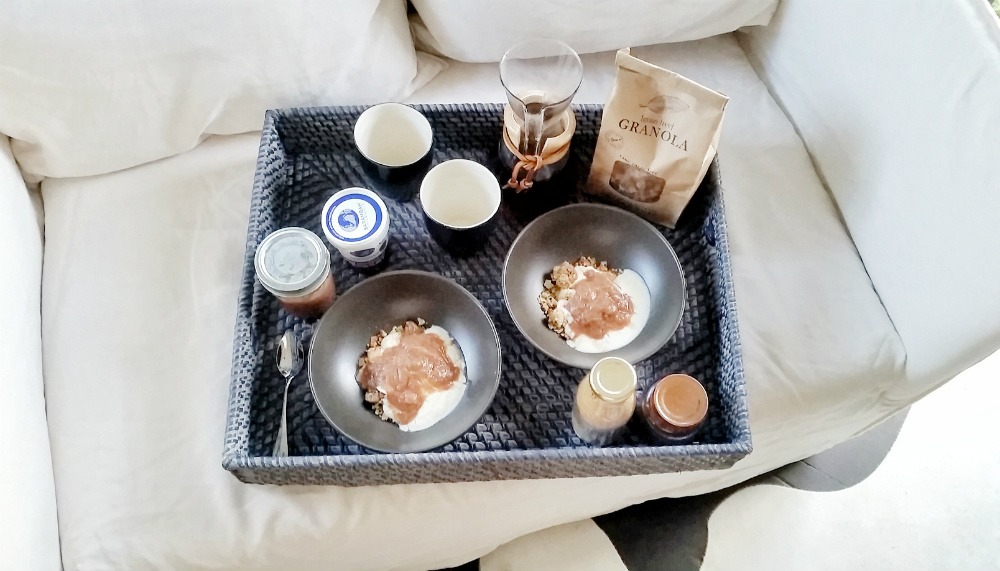 Not only were all the breakfast ingredients complimentary, we also had a fridge stocked with local Stone & Wood Byron Bay beer (for Dans enjoyment only), StrangeLove organic cola and Raw C coconut water as well as tamari almonds and organic chocolates.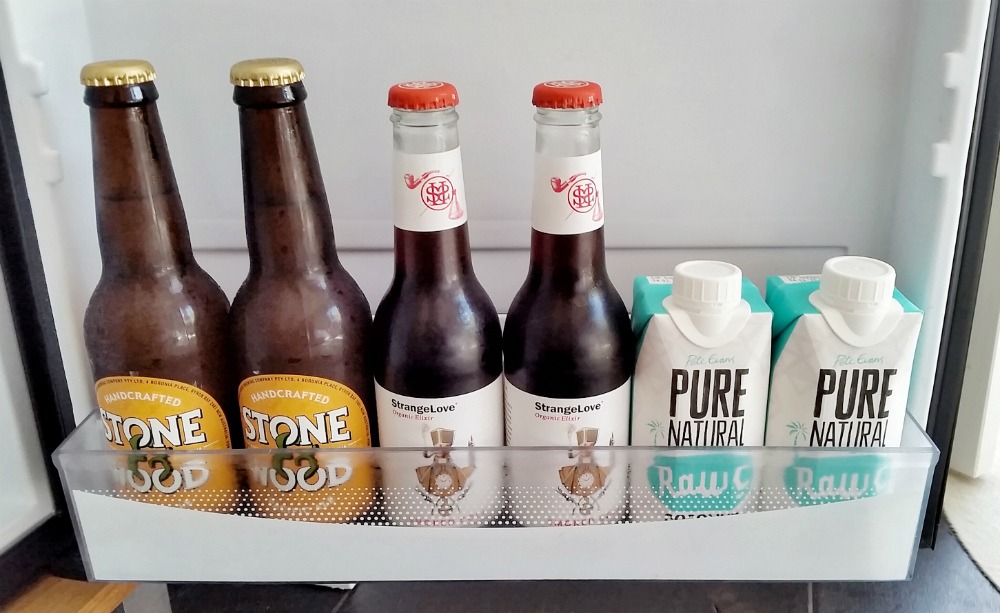 We honestly felt spoilt!
With bellies satisfied we eventually gained the energy to roll out of our cosy bed and get to know the area a little better.
We filled a string beach bag by The Dharma Door with beautiful Atolyia Turkish towels, coconut water and snacks, placed a Sunday Supply vintage inspired beach umbrella over Dans shoulders and headed for the beach in typical Byron style – on retro bicycles (baskets and all).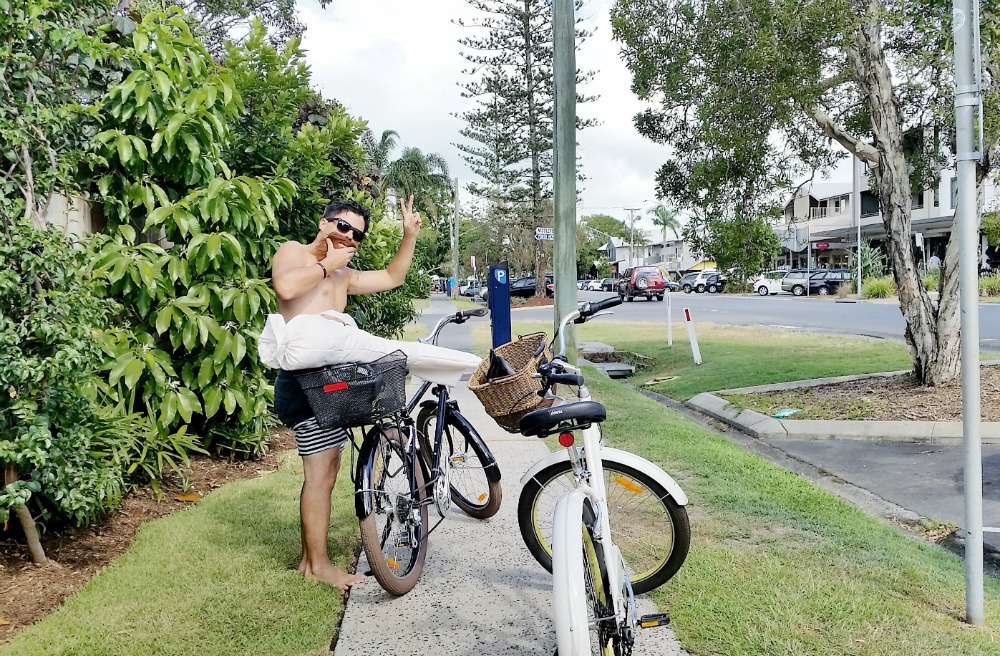 All products were provided to us by 28 Degrees Byron Bay for complimentary use during our stay and I must say, we were feeling totally boho chic.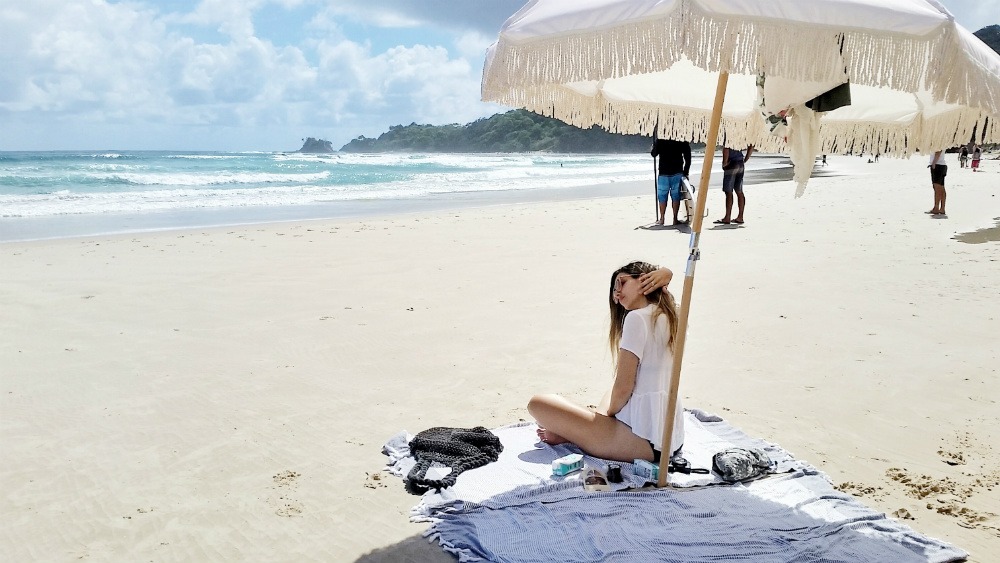 Location & Things To Do
Situated just 5 minutes bicycle ride from the beach and Byron town centre and surrounded by some great little restaurants and cafés, we only needed to use the car when we wanted to explore further.
You can even get to the top of the lighthouse in less than 30 minutes by riding most of the way along the beach and walking up the remaining few steep hills.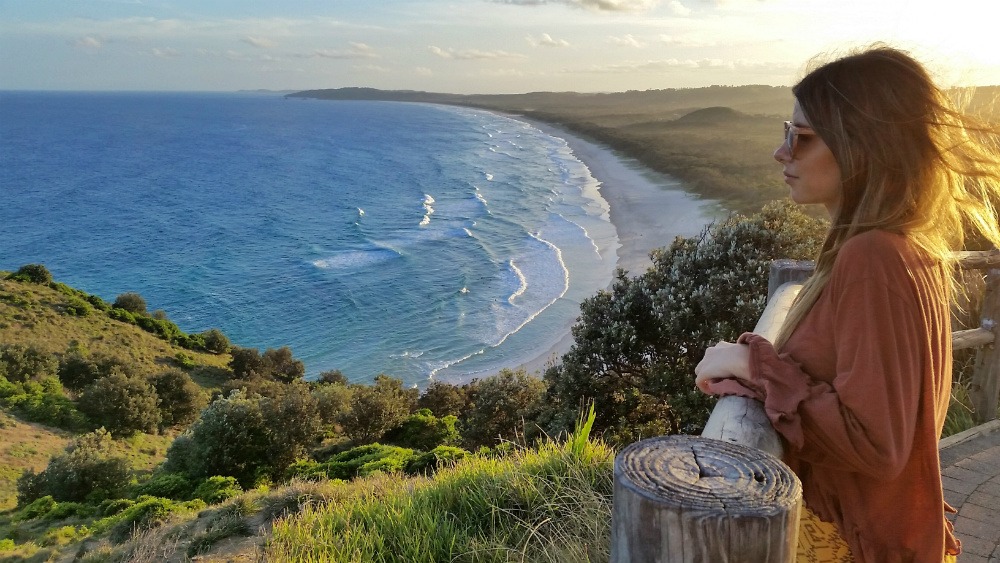 A visit to the lighthouse is something I highly recommend doing during your stay as well as dinner and mocktails at The Mez Club, which is just a couple of minutes walk down the road.
Debbie will give you all the information you need about the best places to eat breakfast, lunch and dinner in Byron Bay as well as what to see and do in the area.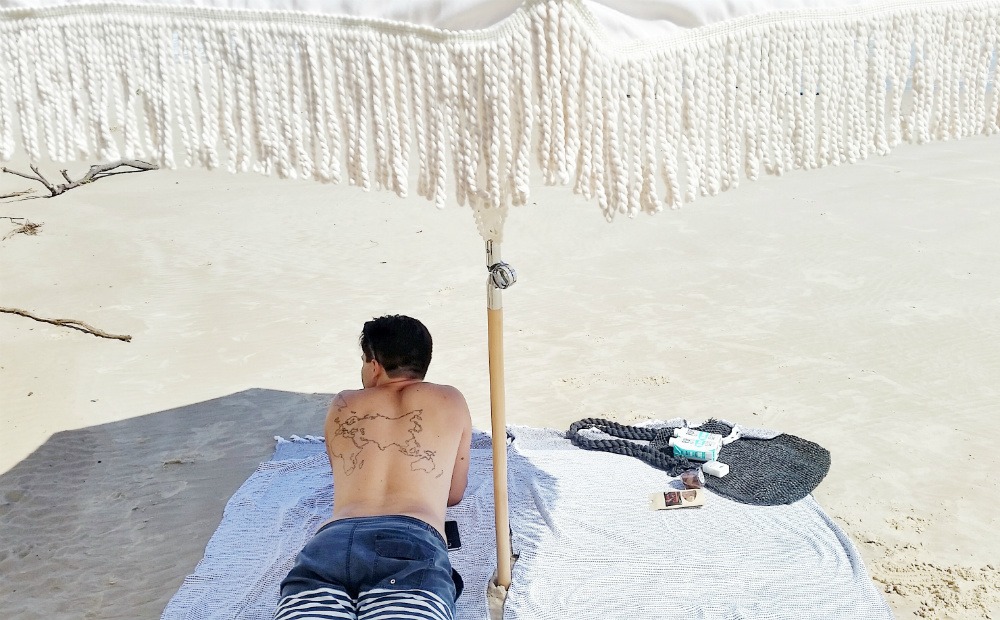 Related:
We made a travel vlog of our whole stay in Byron Bay, take a watch!
Check In & Check Out
Check in at 28 Degrees Byron Bay is at 2pm and check out is at 11am…
While we loved practically everything about this beautiful Byron Bay guesthouse, we could have done with an extra hour at check out, just because we were so relaxed in our private sanctuary (I know, we had to get out at some point).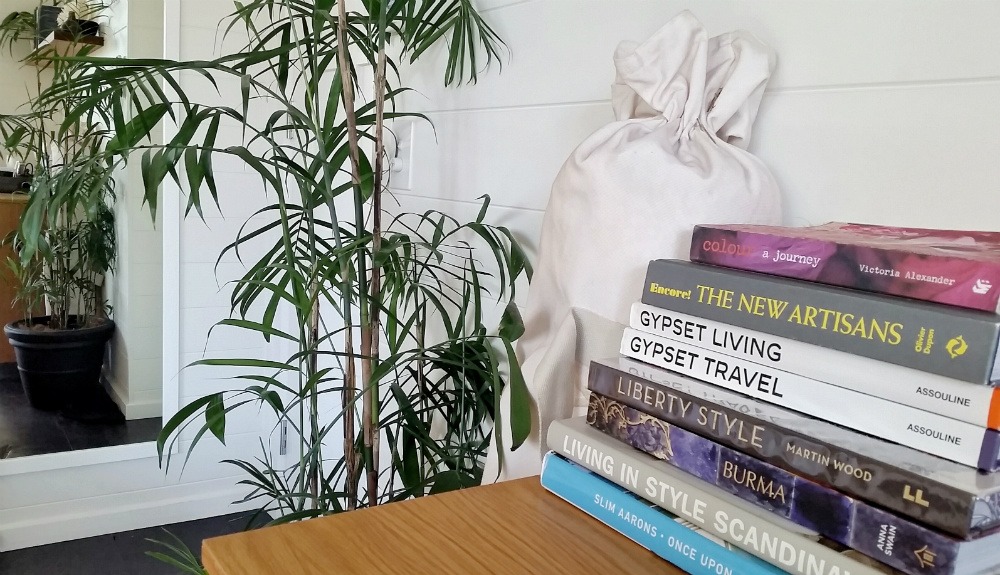 Proximity To Street
The property is also situated on the corner of a street, so you may not have complete silence all of the time.
The road isn't busy but every now and again we did hear people walking by from our front facing Garden room…
This wasn't an issue for us but if you are an extremely light sleeper or like to float into dreamland early in the evening, the back Garden room or one of the Lighthouse rooms may be a better option for you.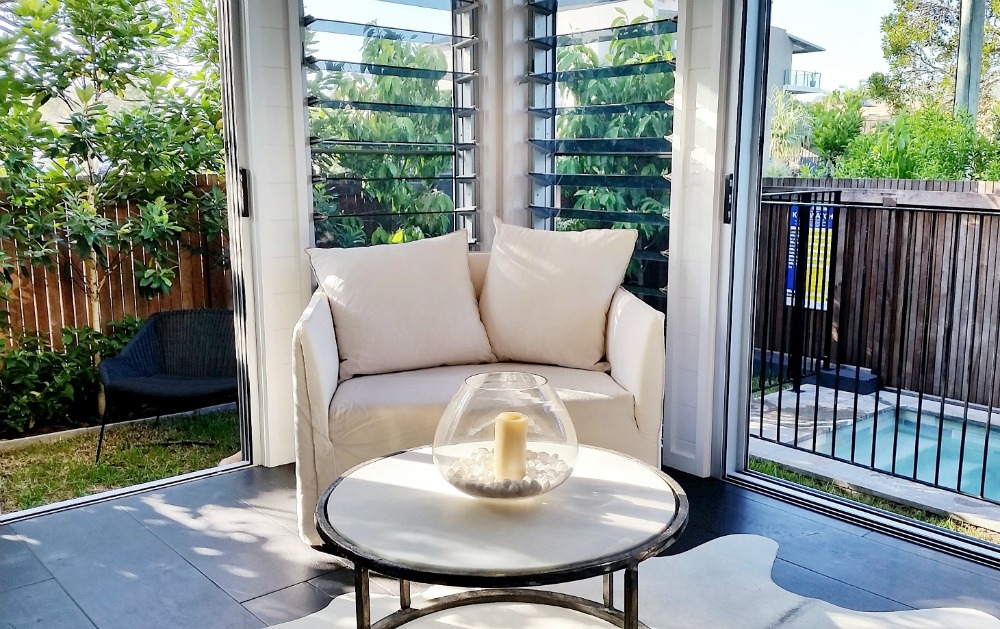 Relax & Unwind
If you are expecting, a few nights away for your Babymoon at 28 Degrees Byron Bay will do you, your partner and your bubba a world of good.
Not only will it help to rejuvenate your body and soul and prepare you for this exciting new chapter in your life, it will also bring you and your partner closer together during a time that can often feel stressful and nerve racking.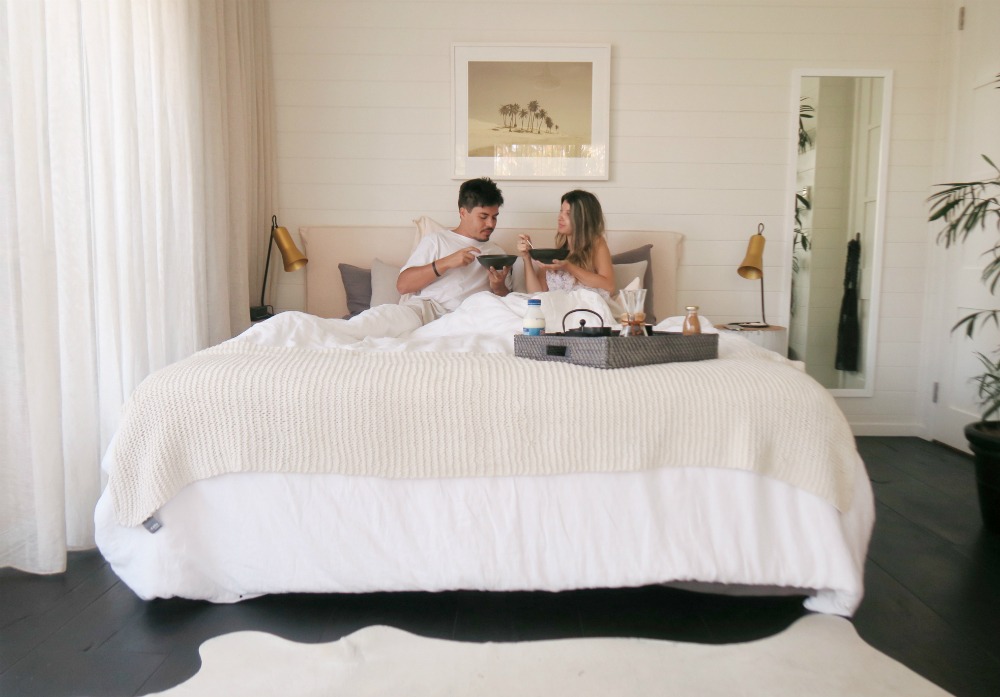 Relax, destress and find your bliss amid a private oasis in the heart of beautiful Byron Bay…
I highly recommend booking your couple's getaway or Babymoon at 28 Degrees Byron Bay and discovering the magical essence of this boutique Byron Bay accommodation for yourself.
To book your Byron Bay getaway and find out more about the Babymoon Package, visit www.28byronbay.com.au.
Room Tour Video
Want to see more? Here's our personal room tour…
I hope our review of 28 Degrees Byron Bay has helped you to make a more informed decision about which boutique Byron Bay accommodation you choose to stay in!
Have you got any questions? We'd love to hear from you in the comments section below…