Looking for a credit card that is reliable enough to be used both nationally and internationally and offers some of the best cost benefits in the entire market? Learn how you can request a credit card from BPI.
There are many beneficial credit cards from BPI and the BPI Blue Mastercard (nicknamed 'the sensible card') is one of them.
It offers all the functions of a basic credit card and more: purchases, installments, cash advances, free travel insurance, and some of the lowest rates on the market. Here's how to order the card.

BPI Credit Card
There are many credit cards from BPI and you can certainly request the card that best suits you, considering the benefits and also the costs, such as the annual fee. In order to better understand BPI's advantages, we're highlighting the BPI Blue Mastercard.
This is a start-up international card, which has all the functions of a common credit card, with a worthwhile difference – exclusive travel benefits and no annual fee for the first year.
This is one of the best credit card deals in the financial market. Before ordering the card, know that the annual fee after the first year is ₱1550.
As for the benefits, there are several, including: ₱0 Annual Fee for the first year, No interest on new purchases, Cash Advance of up to 30% of your credit limit in over 1 million Maestro/Cirrus ATMs globally, Rewards Points: ₱35 = 1 point, ₱2 million FREE travel insurance, contactless chip technology, the security of having a reliable day-to-day card and the fact that it is accepted in establishments worldwide.
You can also count on the BPI Mobile Banking app, which is free and allows you to access all the services of your card, such as balance, limit, purchases and everything that is important to help your financial budget, even while you travel. Now, learn how to order the card.
Request the BPI Credit Card
BPI makes the process of applying for a credit card fairly straight-forward. You can apply for your BPI credit card in all BPI Branches and online through the BPI 24/7 banking channels.
It is worth remembering that account holders may go through a simpler process since they already have a bank account, making the financial analysis shorter. But in all cases of credit card application you need to go through a financial analysis.
In addition, there is certain criteria you need to meet in order to be eligible for a BPI credit card. As a basic rule of thumb, you need to be at least 18 years old, meet the income requirement for the particular card you're applying for (this varies), and able to provide personal documents.
These may include: Proof of ID, Proof of Income and Proof of Address.
You can fill out the credit card application form and upload your documents on the BPI website.
BPI Credit Card Fees
There are several types of credit cards that BPI offers in the market, including their Express credit cards with No Interest on new purchases. To know a little more about the bank fees, when you apply for a credit card, we'll take a look at the BPI Blue Mastercard again.
This Express card offers ₱0 annual fee for the first year and then ₱1550 per year thereafter. The first supplementary card is free for life (for your spouse, partner, etc), however, there is a ₱775 annual fee for the 2nd to 6th supplementary cards.
Fees can also be incurred for late repayment, cash advances, and attorney support if the account is referred to a lawyer or collection agency.
Specifically, you will have to pay 3% of the cash advance amount or P500, whichever is higher. And when it comes to attorney fees, you will owe 25% of the amount due.
In addition, in the event of late payments, you will owe P850 or equivalent to the value of the unpaid minimum amount due, whichever is lower.
Your interest rate for this particular card is 3.50% with 0% on new purchases (purchases less than 1-month-old). However, you'll see BPI interest rates vary from credit card to credit.
In terms of your credit card limit for a card like this one, it could be anywhere from ₱10,000 to ₱300,000, and even higher for the more premium cards. The exact number will be decided by the bank based on a variety of factors, such as your financial status and creditworthiness.
BPI Credit Cards & Travel
If you're planning on traveling both nationally and internationally and you're looking for a reliable credit card to take with you, a BPI credit card, especially the BPI Blue Mastercard is a very sensible choice.
Benefits include: 1 rewards point for every ₱35 spent (which can be swapped into air miles and hotel stays), as well as free travel insurance and use of your card in establishments across the world. Note that your travel fare must be charged to your BPI credit card to receive these benefits.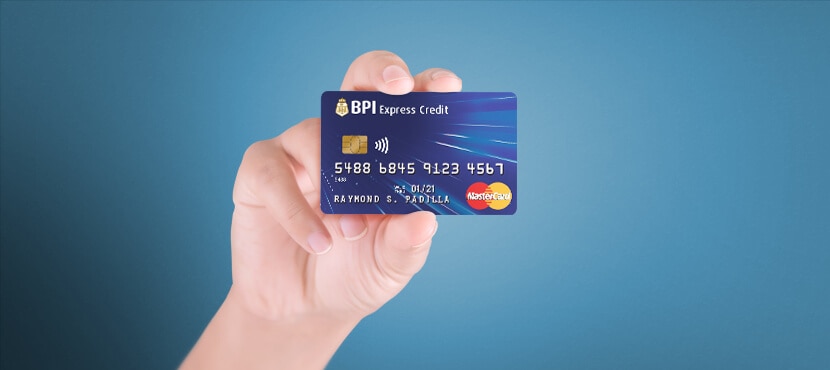 How to Contact BPI
If you would like to get in touch with the bank, you can call them at 1-800-188-89100. You can also locate their main office at 6768 Ayala Ave, Legazpi Village, Makati, 1226 Metro Manila.
Conclusion
We hope this article has helped you determine whether or not this is the right card for you! Remember, if you have more questions about this offer, reach out to the bank today!
Disclaimer: There are risks involved when applying for and using credit products. Ensure you consult the bank's terms and conditions page before agreeing to anything.