If you need a credit card that is going to give you points for stuff you already buy, an RBL Bank Credit Card might need to be on your radar. It can be difficult finding a credit card that perfectly suits your needs and lifestyle. In doing so, you want to look for one that fits your budget, offers good deals and gives valuable rewards.
Since there are a ton of credit cards out there looking for your business, you can decide what is right for you. An RBL Bank Credit Card is just one of the choices, it is more important that you figure out what suits your lifestyle. If you are in financial hardship, then you definitely need to think about interest rates and penalties.
But if you just want a new card to use for everyday purchases, then a card with big rewards might be right for you.Our editors have explored the RBL Credit Card and have compiled essential details for you. Make sure you read everything before moving on to the application section. With some patience, you will be abe to find the card that aligns with your lifestyle.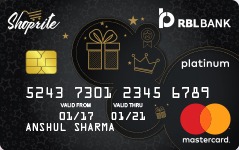 What are the Benefits of an RBL Credit Card?
To better understand the advantages of applying for an RBL Credit Card, let's take a closer look at the RBL ShopRite Credit Card (available in Mastercard). Most decent credit cards offer a rewards system and the ShopRite Credit Card has it. Upon successfully registering your account, you'll receive 2,000 BONUS reward points.
You can receive this gift just by paying the registration fee before the due date, making a purchase within 30 days of the account registration and installing the RBL MyCard app on your mobile phone. After this welcome reward, earning more points is easy. Just use your credit account for your purchases.
What are your Rewards?
Every Rs 100 merits 1 reward point. You can also enjoy a 5% value back guarantee for your groceries. In addition to this, every Rs 100 you spend on your groceries is equivalent to 20 points. With this, you can earn a maximum of 1,000 points monthly.
If going to the movies is your thing, use your ShopRite Credit Card for the transaction and you can enjoy a 10% discount (maximum of Rs 100) for the movie at BookMyShow. This perk can be used up to 15 times annually. For your fuel purchases, enjoy a 2.5 % value back and a 10-point reward for every Rs 100 spend, also for a maximum of 1,000 points per month.
What are the Fees for an RBL Credit Card?
Once your application is approved, you can expect to pay an affordable amount of Rs 500 for your first-year fee. For your second year of membership onwards, the annual fee is also Rs 500 which is reversible once you've made transactions amounting to Rs 1 Lakh or more.
Paying your fees has never been more convenient with the variety of options you have. You can use the MyCard mobile app, through online browsers and other easy and accessible modes of payment.
With the valuable rewards, exciting deals and extremely affordable fees you can enjoy, there is nothing better than having an RBL Bank Credit Card for your everyday purchases. This way, you have an easily accessible mode of payment, whilst also saving money and accumulating reward points which you can use for a wide selection of redeemable products and services!

How to Apply for an RBL Credit Card
It's easy to apply for an RBL Credit Card on the RBL Bank website. You just need to provide two photographs along with your accomplished credit card application form. A proof of identity, proof of residence and proof of income is also required. You can submit a copy of your ID including your driver's license, passport, and other government IDs. Proof of income can be shown via payslips or your most recent tax return.
After you fill out the online credit card application and provide the required documents, the bank will look into your financial position and determine the status of it. If approved, the bank will set your credit card limit based on your financial analysis.
How to Contact RBL Bank India
Head office
One India Bulls Centre, 841 6th Floor,
Tower B Wing, Lower Parel, Mumbai 
Maharashtra, India
Telephone: 2243020600, 
Note: There are risks involved when applying for and using a credit card. Consult the bank's terms and conditions page for more information.