If you are looking for a card that gives you the flexible payment terms, an ICICI Bank Credit Card might be for you. You can adjust payments to fit your lifestyle instead of adjusting your lifestyle to make payments. ICICI Bank offers a wide selection of credit cards that provide a variety of benefits that can fit many lifestyles.
One of the most accessible basic offerings includes the ICICI Bank Coral Credit Card (available in Mastercard, Visa, American Express and Contactless). Of course, there are a variety of reasons why you might be after a new credit card and it is best to be attuned to those needs. Before searching for one of the multiple credit card offerings out there, make sure you know what is most important to you.
What is most important for you could include interest rates, payback terms or even credit card rewards. This card provides all the standard offerings of a basic credit card with the added benefit of getting payback points every year and getting exclusive discounts on dining bills. Our editors have looked into the ICICI Bank Coral Credit Card and the details are below.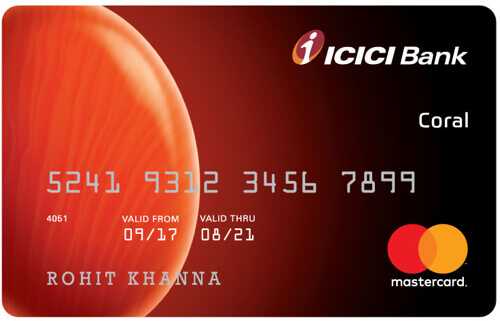 What are the Benefits of an ICICI Bank Credit Card?
Are you looking for a reliable every day credit card that rewards you with redeemable points and exclusive discounts? With the economy suffering from various political, environmental, and societal climates, it has become more essential than ever to be financially independent. To do this, having a reliable credit card is your best bet.
To explore the benefits of an ICICI Bank Credit Card, let's take a closer look at the ICICI Bank Coral Credit Card.  If you love to travel around the world, you'll surely get a bang for your buck with the ICICI Coral Credit Card. This card gives you complimentary airport and railway lounge access at select stations in India! Using your ICICI Bank Coral Credit Card, you can enjoy gourmet meals, comfortable seating, Wi-Fi, widescreen TV and unlimited beverage services before your flight.
You're also entitled to 2 free movie tickets per month and exclusive savings on dining with a minimum of 15% off from your dining bill at over 2,500 partner merchants across 12 major cities. This allows you to experience entertainment offerings like no other!
With their excellent rewards program, you can wine and dine with exclusive deals from luxury hotels, lifestyle stores, spas, restaurants, and more. For every ₹ 100 spent on dining, supermarket, and groceries, you can earn 1 point. You can then redeem these points for cash or premium gifts. You can earn up to 10,000 PAYBACK points every year. And to top it all off you can get 1% off your fuel every time you refuel.
What are the Fees for an ICICI Bank Credit Card?
The annual membership fee for the first year is ₹ 1,250. However, applicants can get a special 50% discount on their joining fee when they apply at their nearest branch. The annual fee from the second year onwards will also be ₹ 1,250. Meanwhile, supplementary cards will be charged at ₹ 250 per card.
Other charges you need to consider when getting an ICICI Bank Coral Credit Card include a monthly interest rate of 3.40% and the cash advance interest rate of 2.50% from the amount withdrawn. There is also a late payment fee between ₹ 100 to ₹ 700 depending on the total amount due.
Overall, it cannot be denied that the ICICI Bank Credit Card is a worthy contender in the market and a must-have if you're on the hunt for a beneficial every day credit card.

How To Apply For An ICICI Bank Credit Card
Applying for an ICICI Bank Credit Card is a simple process, you just need to be aware of some stipulations. Simply fill out their online application form on the ICICI website and wait for the bank's assessment. Applicants must be at least 23 years old and must have a minimum monthly income of ₹ 20,000. Other documents you need to present include proof of address, proof of income, one passport-sized photograph, and a valid ID.
The eligibility calculator located at the ICICI Bank's website can help you determine your eligibility within minutes. After your application, the bank will conduct a thorough assessment and if approved, they will determine your credit limit based on your financial standing.
How to Contact ICICI Bank India
Head office
Near Chakli Circle, Old Padra Road,
Vadodara 390007,
Gujarat, India 
Telephone: 1 860 120 7777
Note: There are risks involved when applying for and using a credit card. Consult the bank's terms and conditions page for more information.