Looking for a credit card that allows you to earn luxurious rewards and save money? It can be challenging to find a flexible credit card that suits the comfortable lifestyle you want to have.
With a Federal Bank Credit Card, you can enjoy all of these exclusive privileges and more at a budget you can afford.
Read on to learn how you can request a Federal Bank Credit Card today.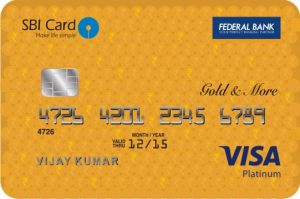 Federal Bank Credit Card Features and Benefits
To help you understand the perks of applying for a Federal Bank Credit Card, let's take a close look at one of their elite offerings: The Federal Bank SBI Visa Gold N More Credit Card.
Dubbed as an international credit card, this provides access to over 24 million establishments around the world, including all over India. This card offers all the basic functions of a regular credit card with the added benefit of exclusive deals and discounts!
The Federal Bank SBI Visa Gold N More Credit Card provides an outstanding rewards system. For every Rs. 100 spent, you can instantly earn 1 reward point. 1 point is also equal to Rs. 0.25 when availing cash back options. You also get 2.5% value back as you earn 10 reward points for every Rs. 100 spent in department and grocery stores.
When dining in select restaurants and using your card for groceries, you can even gain additional reward points. As a welcome bonus upon joining, you can earn a whopping 2,000 reward points!
Simply use your card for a single transaction of at least Rs. 2,000 within 60 days. Redeem your rewards for airline miles, hotel accommodations, and more!
With oil prices reaching an all-time high, you can drive in peace knowing you're free from paying the 2.5% fuel surcharge with your Federal Bank SBI Credit Card. Bear in mind that this is applicable only for transactions ranging from Rs. 500 to Rs. 3,000, with a maximum surcharge waiver of Rs. 100.
Likewise, the Federal Bank SBI Visa Gold N More Credit Card offers flexible installment plans that allow you to buy just about anything and repay in affordable monthly installments.
Applying for a Federal Bank Credit Card
Applying for Federal Bank SBI Visa Gold N More Credit Card is fairly straightforward. All you need to do is fill out the application form on their website and click on 'submit.' This will allow you to upload your supporting documents on the site.
Some of the documents you need to prepare include proof of identity, proof of income, proof of billing address, and your PAN card. Proof of income will need to be shown with a bank statement, payslip and most recent tax return.
If approved, the bank will set your credit limit based on your financial status at their own discretion.
Federal Bank Credit Card Fees and Charges
The annual fee for the Federal Bank SBI Visa Gold N More Credit Card is Rs. 499. However, you get 2,000 Reward Points, worth Rs 500, on your first purchase, which makes your card virtually free for 1st year.
You can also waive your annual fee from year 2 onwards if your card spending for the previous year amounted to Rs. 100,000.
The interest rate for this particular credit card is 3.35% per month or 40.2% per annum.
Other fees you need to consider include the cash advance fee of 2.5% of the transaction amount, the late payment charge ranging from Rs. 0 to 950, and the foreign currency transaction fee of 3.5%.
There is also an overlimit charge of  2.5% of overlimit amount subject to a minimum of Rs. 500.

How to Contact the Bank
If you would like to contact the bank about this offer, you can reach them at 1860 180 1290. Alternatively, you can visit their main office at  SBI Card, Correspondence Department, DLF Infinity Towers, Tower C, 10-12 Floor, Block 2, Bldg 3, DLF Cyber City, Gurgaon – 122002, Haryana, India.
Conclusion
Overall, the Federal Bank Credit Card is an excellent choice if you want a budget-friendly credit card that keeps up with the lifestyle you wish to lead.
Disclaimer: There are risks involved when applying for and using credit products. Ensure you consult the bank's terms and conditions page before agreeing to anything.