With tons of perks and privileges as well as a fantastic rewards program, an Axis Bank Credit Card will give you the financial flexibility and special treatment you deserve without the high fees. Read on to learn how to apply for an Axis Bank Credit Card. 
Traveling is a leisurely activity and a wonderful learning experience, but it can be hard to achieve without access to your financial accounts abroad. This is why you should always pick a credit card that not only lets you use your credit locally but also internationally.
Axis Bank offers a variety of credit cards you can choose from, but the Vistara Credit Card (available in VISA) is highly recommended for its rewards, perks and privileges. Read on to learn about the benefits of the Axis Bank Vistara Credit Card.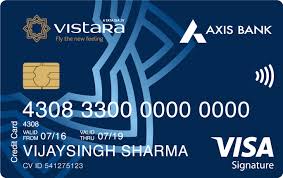 Axis Bank Credit Card
When choosing a credit card, choose one that gives you bang for your buck. The Axis Bank Vistara Credit Card offers the best value for money with its irresistible benefits.
Firstly, you'll receive one complimentary Economy class ticket as a welcome gift. Need I say more?
Secondly, you can enjoy an incredible reward point system. Upon registering, you will receive 1,000 points as a BONUS if you spend Rs 50,000 in 90 days. For more points, you'll get 2 CV points for every Rs 200 you spent.
You also get another BONUS of 1,000 points when you reach milestone spends. These points can be redeemed on transactions with the bank's partner stores and establishments!
Aside from points, you can also enjoy a 15% discount in partner restaurants all throughout the country, made possible by the Axis Bank Dining Delights. You can also take advantage of the select gifts only with the Axis Bank Extraordinary weekends. Moreover, you receive a complimentary Club Vistara Membership with your credit account, which entitles you to more exciting deals and offers.
Lastly, enjoy a range of insurance products, taking the hassle away from choosing the right insurance companies for your protection.
Apply For An Axis Bank Credit Card
If you are interested in applying for an Axis Bank Credit Card, fill out the online form on the Axis website and a representative will call you. Bear in mind that you must be 18 years old and above, as well as a resident of India to be eligible for application.
The bank also requires its applicants to have a stable credit statement and acceptable scores. A net income of 6 Lakhs annually is also a requirement, so prepare a proof of your annual income.
After your call, you may have to bring your supporting documents into a branch or there may be an option to upload online. For your documents, prepare proof of address (such as a utility bill) and ID with your address and signature.
Make it a point to bring your income tax statement, proof of salary or self-employment. Lastly, get 2 passport-sized photos for your application form.
Axis Bank Credit Card Fees
To explore the Axis Bank Credit Card fees, let's take a look at the Vistara Credit Card again.
Being the most affordable option from Axis Bank, the Vistara Credit Card only requires a joining fee or Rs 1,500 and an annual fee of the same amount.
The interest rate is a competitive 3.4% per month or 41.75% per annum. There is also a foreign currency transaction fee of 3.50% of the transaction value.
Cash withdrawals will be subject to a charge of 2.5% (Min. INR 500) of the cash amount. In addition, cardholders could pay up to Rs. 1200 in late payment fees, depending on what their balance is.
Axis Bank Credit Card & Travels
This card especially caters to frequent flyers. It offers a generous complimentary economy class ticket once you get your approval. Then, every milestone in your point accumulation journey warrants an economy class ticket as a gift. You can get this ticket once you've spent 1.25 lakhs and 2.5 lakhs.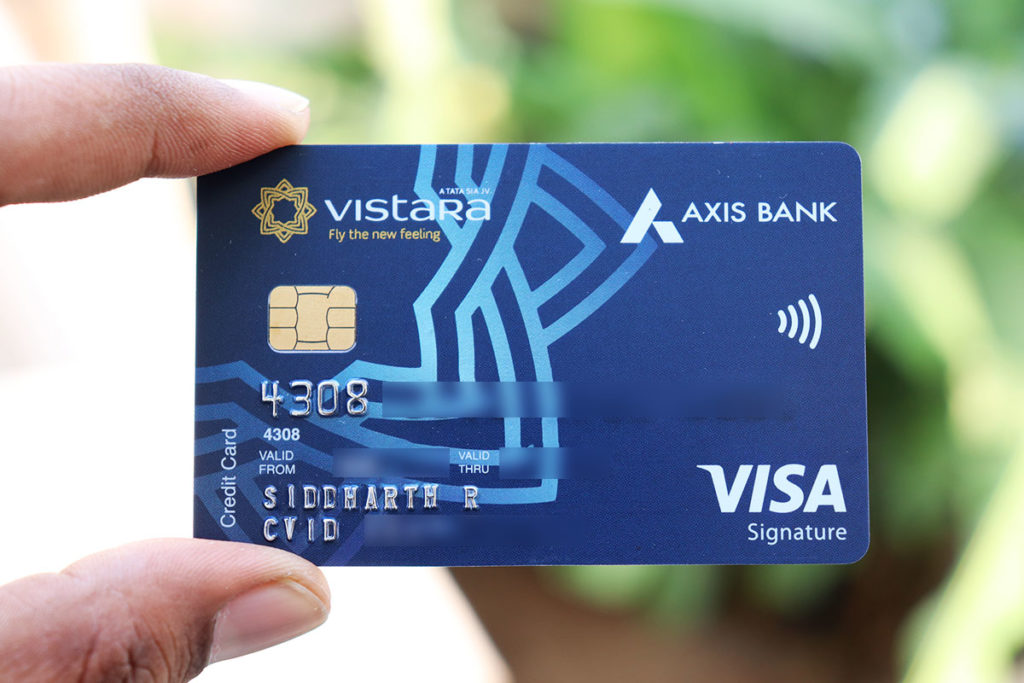 How to Contact the Bank
If you would like to contact the bank, you can call 00 91 22 6798 7700. You can also find their main office at C-2, Wadia International Centre, Pandurang Budhkar Marg, Worli, Mumbai – 400 025.
Conclusion
There is nothing better than knowing that every transaction you make amounts to something worthwhile. With the convenience, advantages and budget-friendliness of an Axis Bank Credit Card, it'll be your best friend when you travel locally or internationally.
Disclaimer: There are risks involved when applying for and using credit products. Ensure you consult the bank's terms and conditions page before agreeing to anything.