The Minaal Carry-on 2.0 Bag has certainly made it's mark in the digital nomad world since launching in September 2013, so we had to jump on board and see what all the fuss was all about…
The Almighty Minaal Carry-on 2.0 Bag Review
Pin this image on Pinterest for quick reference >>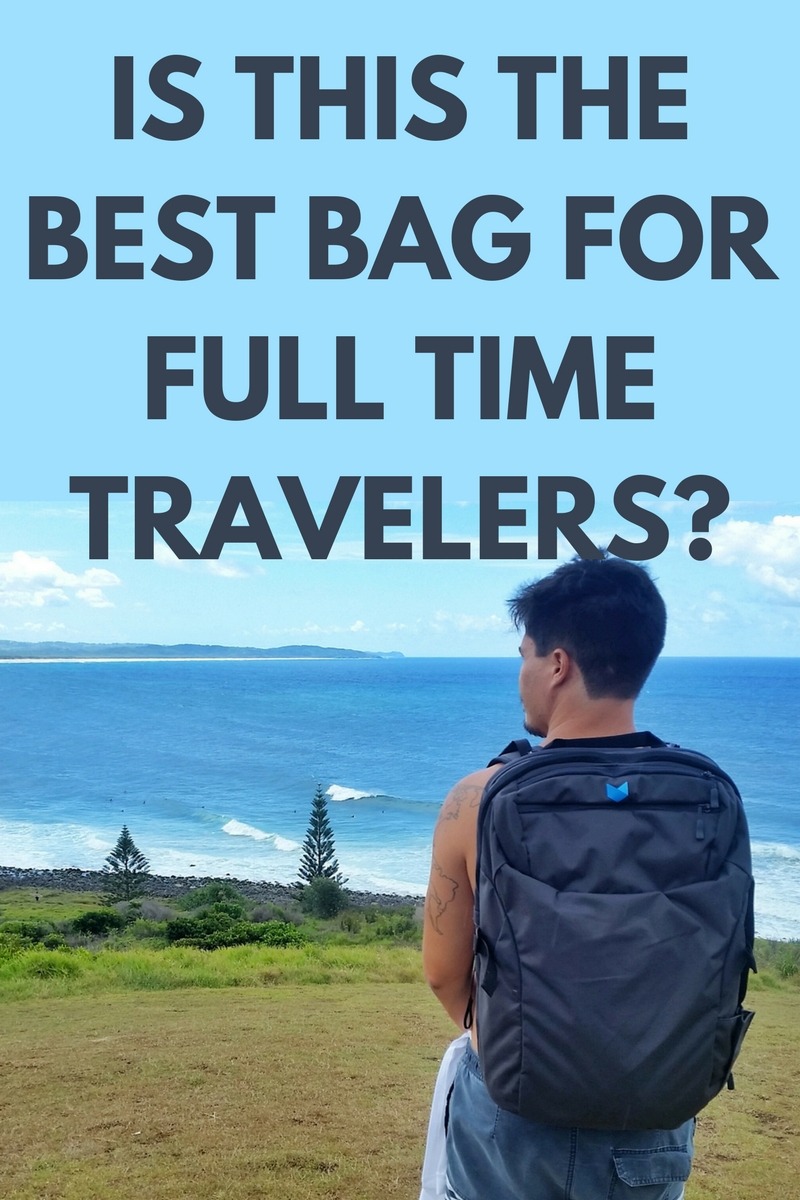 As you may know, Dan and I travel the world whilst simultaneously running our online business. Albeit slow, we needed a bag that would suit our nomadic lifestyle, yet still look sleek and professional enough to go straight from the airport and into a business meeting.
We're not backpackers anymore, in fact I'm not sure if Dan ever was one. He went from hippy Indian style satchels to bulky duffle bags to sharing a large roller duffle with me to now roaming the airport in style with his swanky Minaal Carry-on bag.
You see, the last thing we want these days is to be targeted as backpackers whilst walking through the streets of Bangkok…
Don't get me wrong, we love our backpacker buddies but our travel style has somewhat evolved since focusing more on the business, growing our travel blog and finding out that we have another little nomad on the way.
We've always been slow travelers and enjoy getting to know the culture and customs of each country we visit. Even if we haven't spent a great deal of time somewhere, we'll almost always plan to return…
So 9 times out of 10, we'll opt to rent an Airbnb apartment over staying in a hostel or hotel, as we can spend a month or more in one place. That said, there are times when we could do with some extra 'vacay vibes', and that's when a hotel comes in nice and handy (Bali here we come!).
Because of our all over the place lifestyle we needed a versatile bag that would suit us in any destination for a few days up to a few months at a time…
It needed to fit all of Dans belongings inside (admittedly, he doesn't carry a lot) but be small enough to look like a normal rucksack in social settings. This would then allow us to take our luggage anywhere without attracting much attention – convenience and efficiency was what we were after.
Another concern for Dan was the amount of time we spent waiting at the check-in counter and baggage claim when we could have been doing something more productive. So how did we think to solve this issue?
By going carry-on only.
But then there was the issue of airport security…
Have you ever experienced the sheer stress of having to remove your laptop in the airport security line?
You know, how you manage to squeeze it out from beneath a pile of books and phone chargers only to realise you've now got to get it back in somehow…
So you spend what feels like forever trying to force it back again with a queue of late passengers building up behind you…
They're getting closer, you're feeling tense, the pressure is on, and then it all gets too much so you pick up everything in a fluster, cords hanging out, passport mysteriously missing, and attempt to re-organise your life elsewhere…
Yeah, that's annoying. And, well, that pretty much summed up our lives for a very long time.
So we concluded that not only did this potentially awesome bag need to look professional and low-key, squeeze everything inside and fit into the overhead compartment, it also needed to provide easy access to Dans laptop and toiletries, so we could effortlessly cruise through security without a worry in the world.
#AirportBliss.
Without giving it much thought, I jumped online and immediately found the bag that would solve all of our problems (ok, not all, but close).
And that's when the Minaal Carry-on 2.0 bag entered our lives.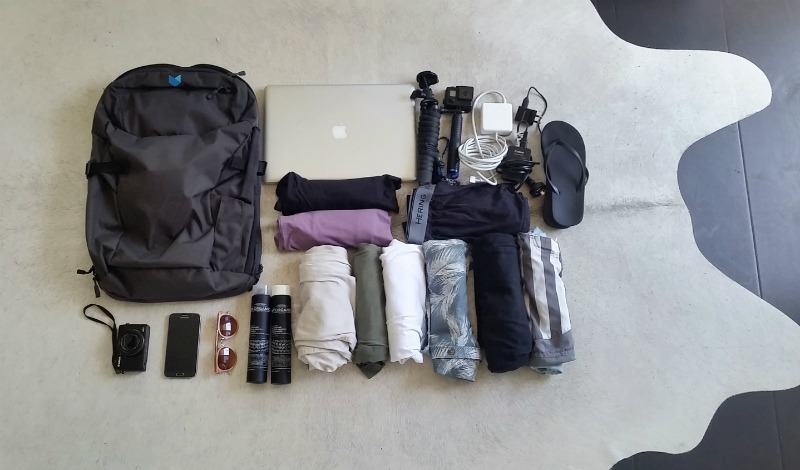 Unpacking & First Impressions Of The Minaal Carry-on 2.0 Bag
I reached out to Jimmy, the Co-founder of Minaal and within no time he had organised to send us the answer to most of our problems while we were still over in Australia. Less than 7 days later it was there waiting patiently at our doorstep.
Upon first impression, we thought it looked a bit small. I don't know how we thought anything larger would fit into the overhead compartment or look discreet enough to walk into a meeting with it but we just did, ok?
However, you know what they say, looks are deceiving. So we opened it up to take a closer look inside…
In this video, we take you behind the scenes (and into my dads backyard) where we unpack the Minaal Carry-on 2.0 and give it a good look over…
So far so good… It felt strong, sturdy and of good quality, but of course, without anything in the bag, it was hard to work out how much it would actually fit inside. So the next test was to take it traveling…
Taking Our Minaal Carry-on 2.0 For A Spin
First we thought we'd ease the bag into our existing luggage collection before going completely carry-on for our next big international trip from Australia to Brazil.
We opted for a 2 night getaway to one of Australia's most popular travel destinations, Byron Bay. This place doesn't really require you to wear anything other than a bikini and flip-flops throughout the day, so we still couldn't stretch the bag to it's full potential.
That said, it did look pretty good against this view…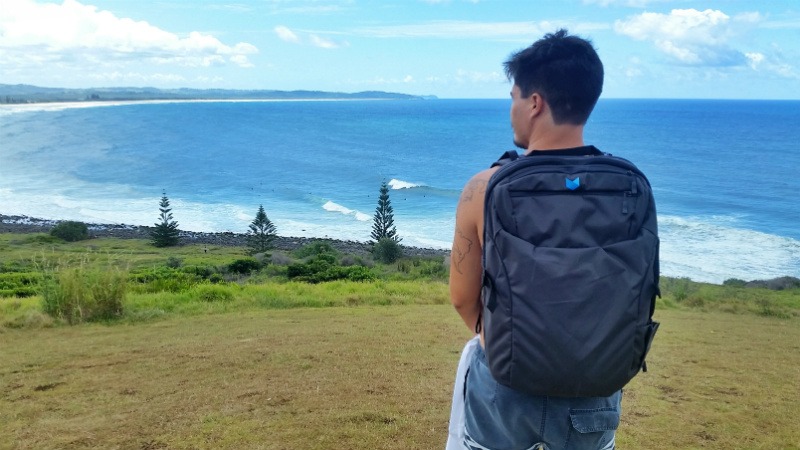 So for the next big trip, it was time to really push the Minaal Carry-on 2.0 to its limits and stuff as many of Dans belongings into it as possible.
How Much Can The Minaal Carry-on 2.0 Bag Fit Inside?
The result was quite surprising…
In this 55cm x 35cm x 20cm backpack we managed to fit something like:
13 t-shirts/shirts
6 pairs of shorts
3 pairs of jeans
10 pairs of underwear
4 pairs of socks
A pair of sneakers
A scarf
Toiletries (including shampoo, soap, facewash, toothbrush/toothpaste, moisturiser, deodorant and perfume
Two tubs of multi-vitamins
A lap-top
A laptop charger
A folder of documents
A book
Pretty good going, right? And what's more, it wasn't even a struggle to close the thing (which is something I'm still working on).
Packing The Minaal Carry-on 2.0
To fit everything in nice and neatly, we rolled each clothing item individually and stacked them top of each other. If you want to get even more space efficient, you can grab some of Minaal's packing cubes which come in sets of three.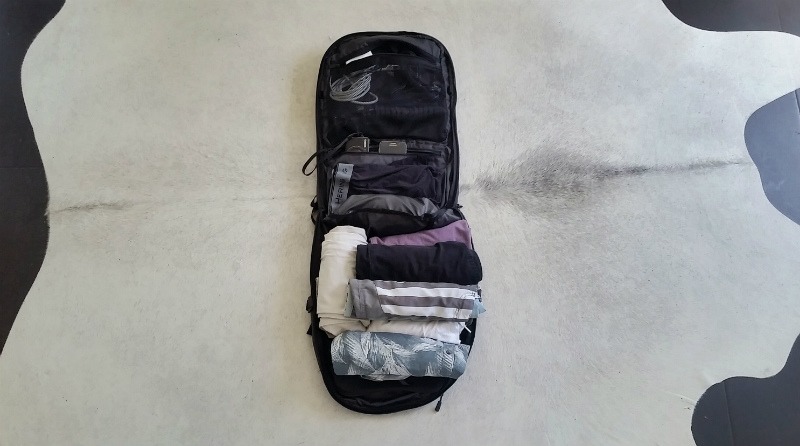 The best way to pack the bag is to open it up completely and stack your clothes into the soft front section of the bag. Then you can easily place your underwear and toiletries into the interior zip pockets and fold the back section of the bag down on top of your things to close.
When opening the bag, I recommend doing it this way around as well because the soft front part forms a nice little pocket for your clothes to sit in without spilling out everywhere.
Your laptop, charger and documents can then slip into the separate pocket at the back of the bag where elasticated velcro straps keep your laptop safe and secure without it getting bumped around.
I have to disclose that we did travel with an extra daypack each for easy access to our books, phones, and cosy flight socks, however, you can definitely get by without. And if you do want to take an extra little bag, that's fine, they'll still allow you on the plane with both.
Is The Minaal Carry-on 2.0 Comfortable?
In terms of wearability, the back padding on the Minaal Carry-on 2.0 adds a layer of soft cushioning between your back and belongings, which offers both comfort and protection.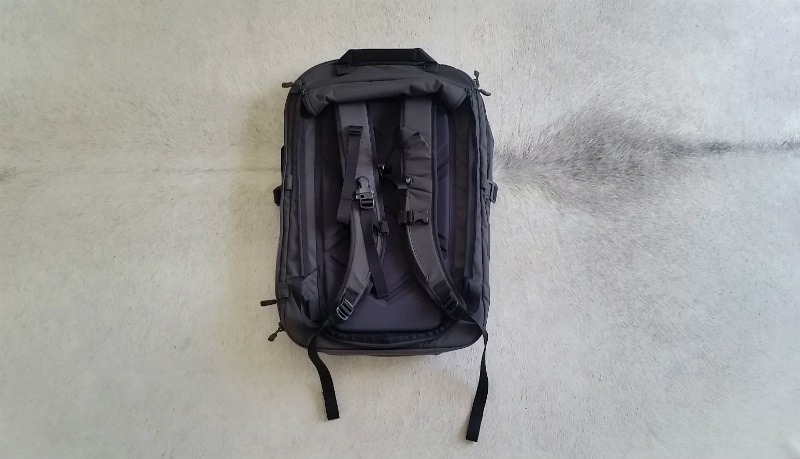 The bag's small size and rigid structure also provides support and helps you to maintain centre of gravity so it's easy to wear when standing for long periods of time…
Dan wears the Minaal most of the time, but when I gave it a go it didn't pull my shoulders back at all which is something I used to dread when wearing my old backpack.
However, if you carry heavier items than what I mentioned above, such as hiking boots, photography gear, supplements, etc, I would recommend investing in the optional Modular Hip Pads for added support (which can be easily removed).
The Minaal Carry-on 2.0 Put To The Real Test…
Arriving at the airport and heading through to security was a total breeze. Because we had already checked in online and didn't have any luggage to check in, we were able to walk straight up to the counter (skipping a line of about 50 people), grab our tickets and go.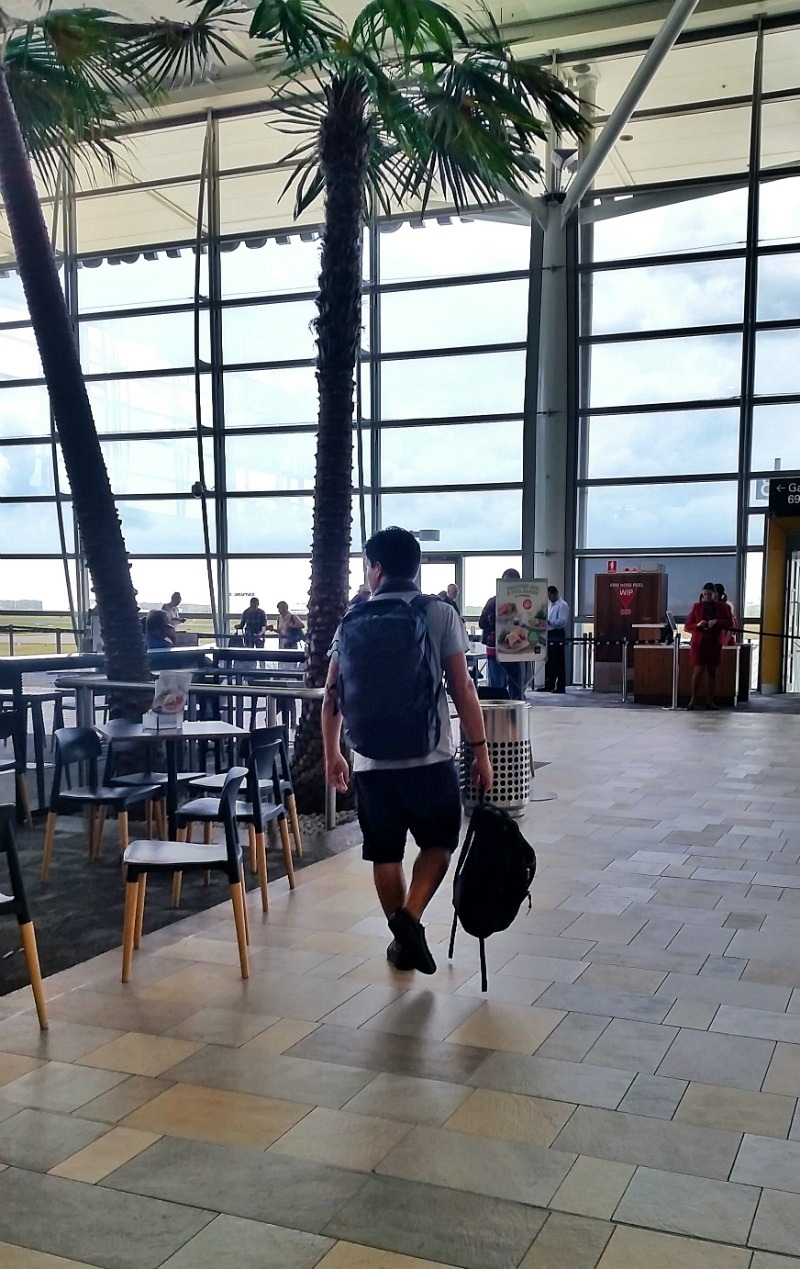 Then came the dreaded security line and laptop fluster. It was time to put the Minaal to the test…
How did it go?
Well, we certainly had no issues getting the laptop in and out in a hurry which was a relief, however we did get pulled up for having larger quantities of liquid than we were allowed…
So just a heads up – because you'll be traveling with all of your belongings in your carry on, you'll need to make sure that none of your toiletries exceed 100ml per bottle, otherwise they'll be taken off you (and it can get costly when perfume is involved).
Providing that you get on the plane early enough, the Minaal Carry-on fits nicely into the overhead compartment. Because it's not a bulky bag, we didn't have any problems lifting it above our heads or bringing it back down again (and I'm quite a little person).
Finally, it looks sharp. Charcoal in colour with a simple, straightforward design, the Minaal Carry-on 2.0 looks both professional and cool at the same time.
Not only that, you can take your clothes out, tuck the straps in and all of a sudden it becomes a low-key briefcase. Dan's not really a briefcase kinda guy but still, we've gotta give it to 'em – it's a nice touch.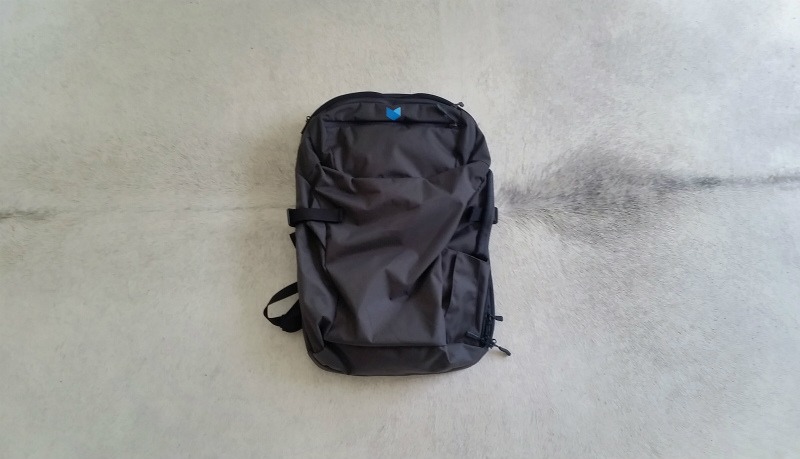 So let's finish up with the pros and cons of the Minaal Carry-on 2.0 bag for digital nomads to help you decide if this the bag for you…
Cons of the Minaal Carry-on 2.0 bag
It's pricier than your average bag of that size at $299 USD
It's not all that big
The laptop pocket at the back doesn't fully open
Could do with luggage straps on the inside
Pros of the Minaal Carry-on 2.0 bag
It's totally low-key and professional looking
It's carry-on size (no more queues and waiting)
It's extremely efficient
It's strong, sturdy and comfortable to wear
Overall, Dan and I highly recommend the Minaal Carry-on 2.0 bag and do believe it's one of the best bags for digital nomads.
Dan will be sporting his around the world for a long time yet and we hope to see some of you do the same!
If you want to check out the Minaal Carry-on 2.0 in more detail or view their range of luggage products, go to www.minaal.com.
Thank you to Jimmy and the team at Minaal for providing us with the Minaal Carry-on 2.0 bag for review. As always, all opinions are our own and we'd never recommend a product we didn't use and/or trust.