Looking for a low-fee credit card that offers elite features such as discounts and privileges on shopping, dining and travel? With the right credit card, you can easily manage your finances and soon, reach financial independence. A National Bank Limited Credit Card allows you to enjoy complete financial independence and lifestyle benefits at a low cost!
Suited for your personal and business needs, the National Bank Dual Credit Card is a fantastic option to get started with. Read on to find out how to apply for an NBL credit card…
NBL Credit Card Features and Benefits
The National Bank Limited Dual Credit Card (available in Visa and Mastercard) provides all the basic functions of a regular credit card with the added advantage of special perks, flexible payment options and interest-free days!
The interest-free transaction offering allows you to purchase big-ticket items and have it remain guaranteed interest-free for 15 days. Depending on the chosen partner establishment, you can enjoy interest-free transactions for up to 45 days!
If you find it difficult to wait in long lines just to pay your monthly bills, worry not. This card provides an auto debit payment facility on your credit card. Even better, you can avail of the fund transfer facility and move money to any other account for just a minimal processing fee of 1.5% of the transaction amount! Now, you won't have to wait in line just to fulfill all your monthly financial errands.
With worldwide acceptance, you can shop at over 1,000 partner establishments in Bangladesh and around the world! Using your Dual Credit Card, you can gain exclusive discounts and access to travel, shopping, and dining establishments!
Finally, enjoy the lowest credit card charges on the market with no pesky hidden fees!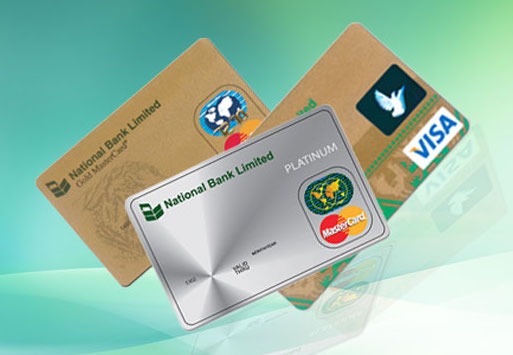 How to Apply for an NBL Credit Card
Applying for an NBL Dual Credit Card is easy. All you need to do is fill out the application form online found on the National Bank Limited website and send it to their email address along with your supporting documents. You also have the option to download the application form on their website and bring it into your nearest branch with your supporting documents.
Other supporting documents you will need to prepare include:
2 copies of your passport-sized photo
Copy of your NID
Copy of your e-TIN certificate
CIB undertaking
Utility bills (proof of address)
Proof of valid ID
Bank statement (proof of income)
Salary certificate (proof of income)
To be eligible for a National Bank Dual Credit Card, you must be at least 18 years of age and must have a good credit standing.
Once you have submitted these documents, the bank will assess if your credit card application is approved. If approved, they will determine your credit limit based on your financial standing. This could be anywhere from BDT 10,000 to BDT 200,000.
National Bank Limited Credit Card Fees and Charges
Owning your own NBL Credit Card comes with a lot of responsibility. For the NBL Dual Credit Card, some of the main charges include:
Low Annual Membership Fee of USD 20
Low Monthly Interest Rate of 2%.
Late payment charge of 2% of minimum dues or USD 10 (whichever is higher)
Cash advance fee of 2% of the amount due or USD 3 (whichever is higher)
Having the right credit card can give you the financial freedom you need. By availing a National Bank Limited Credit Card, particularly the Dual Credit Card, you'll enjoy that financial freedom along with a host of elite benefits like exclusive discounts around the world. Ready to get started? Apply today! Visit the NBL website for more information.