Whether you want to go diving, mountain climbing or even just sight-seeing, the Philippines is the perfect place to go. Packed with incredible natural wonders scattered all over its 7,107 islands, you can't go wrong with some time spent in this beautiful country, especially with its lovable people. Start collecting unforgettable memories with numerous sights to behold… These natural wonders of the Philippines will surely take your breath away!
10 Incredible Natural Wonders in the Philippines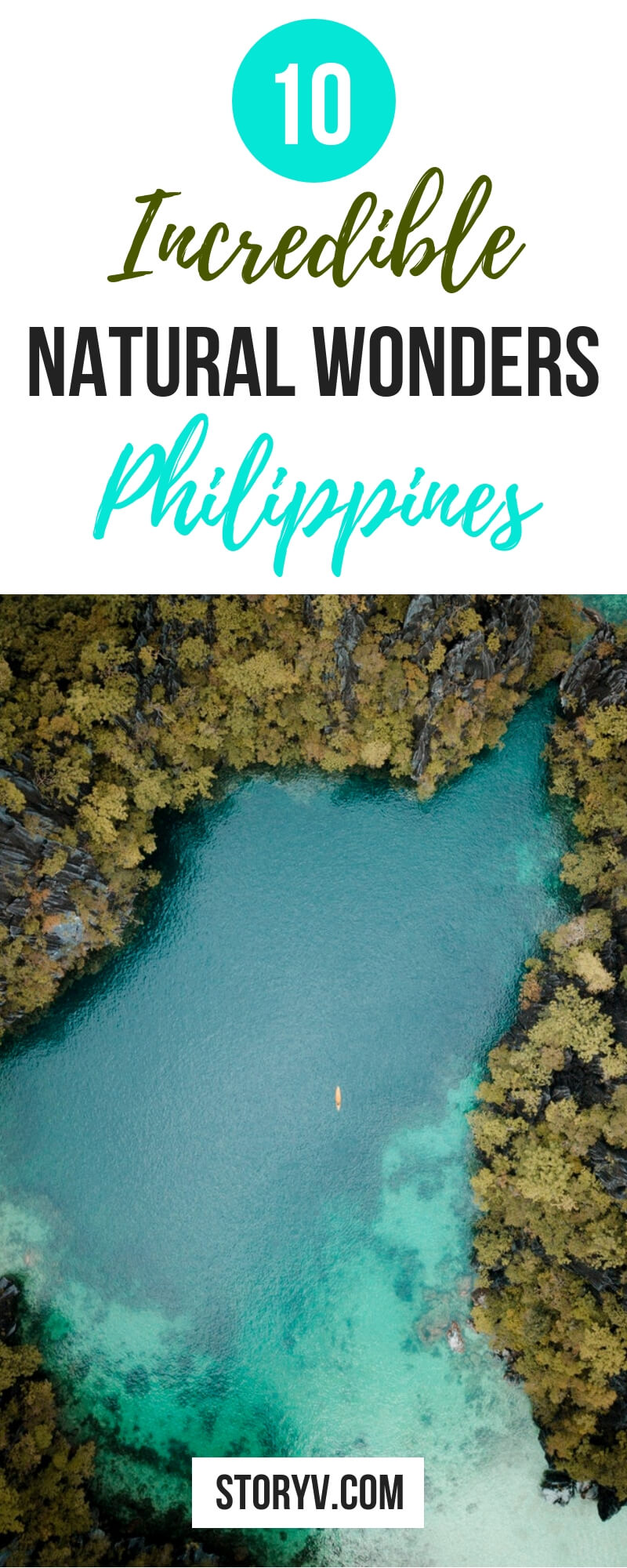 From volcanic crater lakes and enchanted turquoise rivers to spectacular rice terraces and chocolate coloured hills, don't miss these 10 incredible natural wonders in the Philippines…
1. Boracay Island, Aklan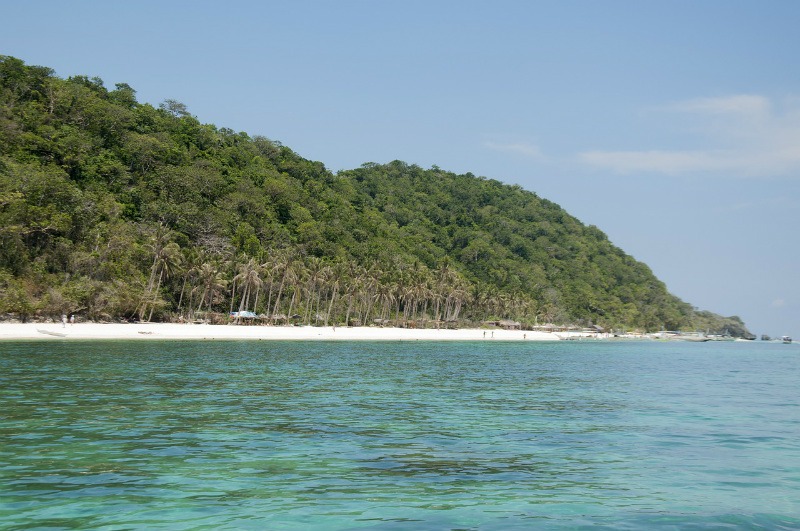 Named one of the world's best beaches, Boracay island is truly a paradise. From its powdery white sand to clear blue waters you'll definitely love to spend the whole day out on the beach. Recently, the island underwent restoration, making it more even more beautiful and tourist-friendly. Though the Boracay party days are over, you can still enjoy many different activities the island has to offer. Boracay is just one of the many natural wonders in the Philippines that the Filipinos are truly proud of.
2. Mount Mayon, Albay

Considered the world's most perfect cone volcano, Mount Mayon is one of the incredible natural wonders of the Philippines that every tourist must see. With a height of 2,400 meters above sea level, Mayon Volcano dominates the flat plains of the Albay. You can see the volcano peaking above the clouds wherever you go when you are in the province. Aside from its breathtaking view, there are also many different activities you can do around the volcano. This is must!
3. Coron Island, Palawan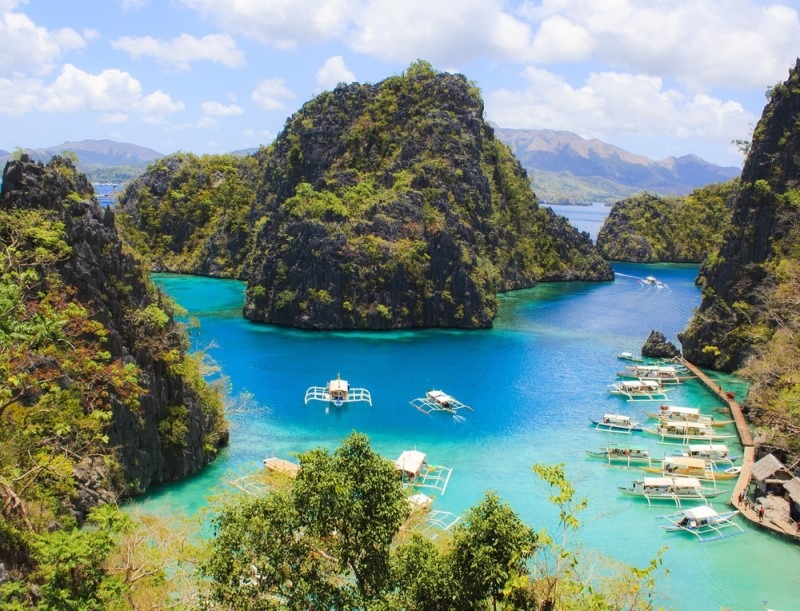 Another picturesque island in the Philippines is Coron Island. Located just off the large island of Palawan, Coron is an amazing spot in the Philippines you cannot miss. Famous for its remarkable marine life, Coron is also home to WWII Japanese shipwrecks surrounded by sea turtles, fish, and coral – definitely a sight to see. Coron is also known for Banol Beach and the beautiful Twin Lagoon, which are both hugely popular among tourists who visit Palawan.
4. Chocolate Hills, Bohol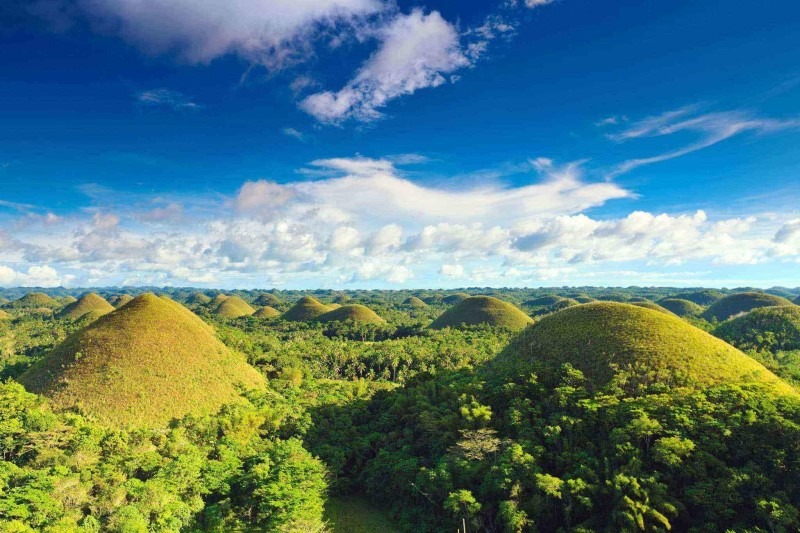 It may look artificial but it is not! The Chocolate Hills in Bohol is another magical natural wonder in the Philippines that will make you appreciate the real concept of nature's beauty. This extraordinary landscape is a group of unusually shaped hills covered with green grass that turns brown during dry season, hence the name. An absolute must-see when you visit the Philippines!
5. Hinatuan Enchanted River, Surigao del Sur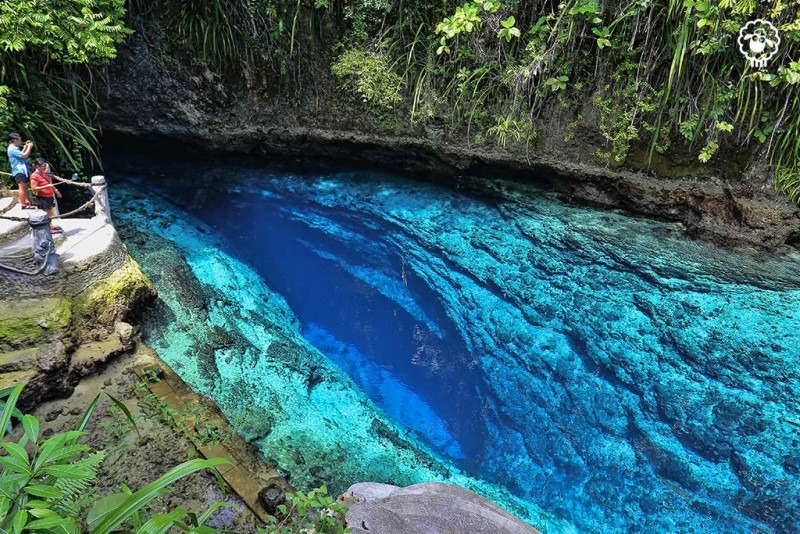 Hinatuan Enchanted River is a natural wonder found in the province of Surigao del Sur in Mindanao, Philippines. It's magical clear blue water surrounded by palm trees, as well as its amazing rock formation makes it a wonderful natural phenomenon you must see. With thousands of fish and other species swimming along, you'll really feel enchanted by the beauty of this river. And what really makes it even more enchanting is that up to this day there is no explanation as to how this river came about as it seems to spring from nowhere!
6. Rice Terraces of Ifugao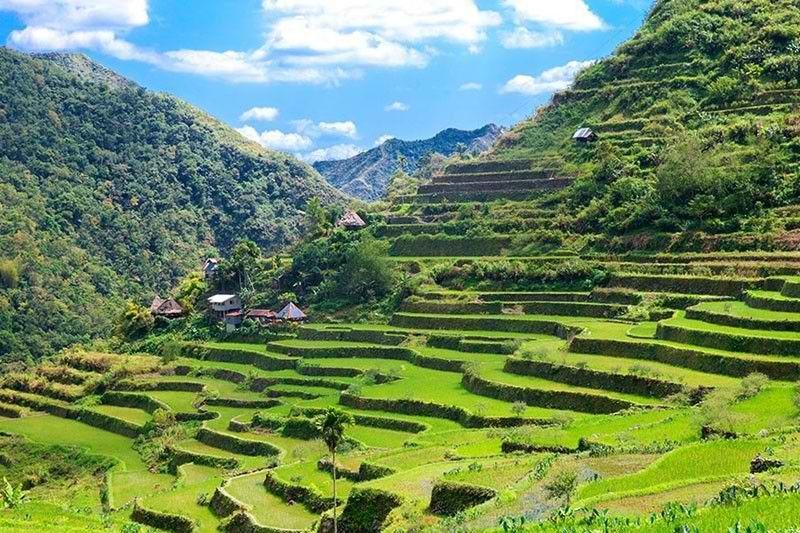 Your quest to discover all of the incredible natural wonders in the Philippines will not be complete without witnessing the spectacular rice terraces of Ifugao. This landscape of natural beauty was carved by the Ifugao tribes around 2,000 years ago. The rice terraces resemble giant steps that reach up to the sky – some call it "the stairways to heaven". Up until now, the Ifugao rice terraces stand as a testament of culture and tradition of the people from the Cordillera mountain region. The Ifugao Rice Terraces are also often referred to as the 8th Wonder of the World!
7. Puerto Prinsesa Underground River, Palawan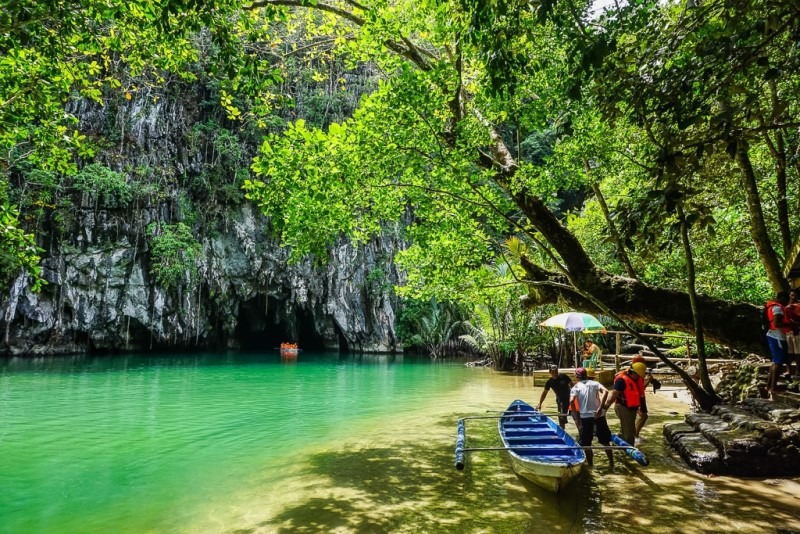 Not just one of Philippines' natural wonders, but also one of the Seven Wonders of Nature in the world is the Underground River in Puerto Prinsesa, Palawan. Being the longest navigable subterranean river, you will be delighted to witness clear blue green waters and natural rock formations on your way through the underground river. Puerto Prinsesa Underground River is also named a UNESCO World Heritage Site because of its natural and exceptional beauty. So surely this one has to be on your bucket list!
8. Tubbataha Reefs Natural Park, Palawan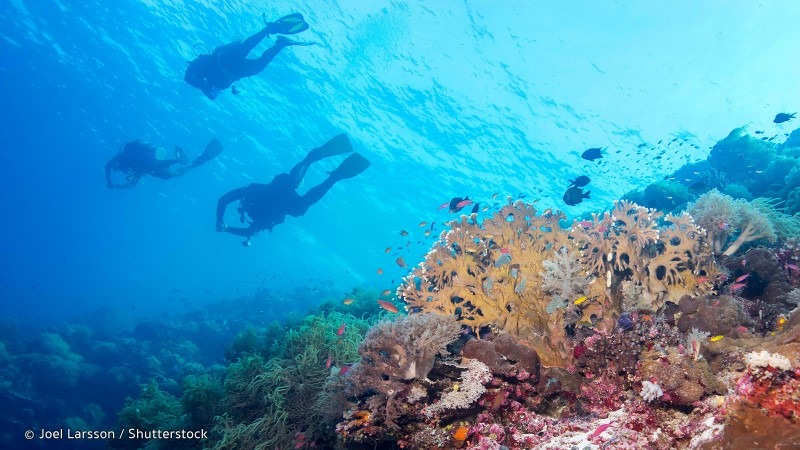 Palawan is such a beautiful island to boast another one of the natural wonders in the Philippines, the Tubbataha Reefs Natural Park.  It is also a UNESCO World Heritage Site and a dream paradise for any dive enthusiast with its clear waters and diverse marine life. The park has a dozen dive sites to explore where manta rays, whalesharks, barracuda and tuna thrive. Non-divers can also catch a glimpse of the beauty underwater by snorkeling or scan the skies with the endemic migratory birds flying around. Another must see beauty!
9. Taal Lake, Batangas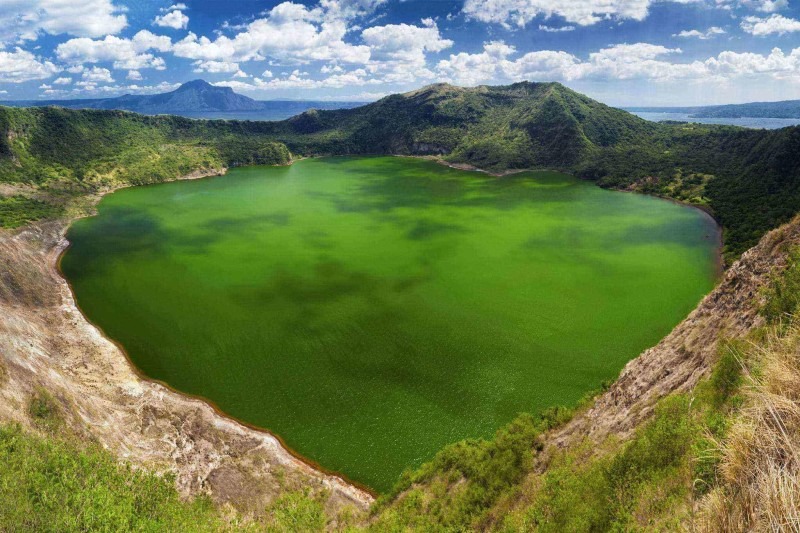 This next natural wonder in the Philippines is just a few hours away from the city of Manila. Taal Lake is a deep lake that harbors the world's smallest active volcano, the Taal Volcano. Its majestic view is a remarkable haven for every tourist to see. What makes Taal Lake very unique is that it occupies a volcanic crater and then within the lake is Volcano Island which contains another smaller crater called Yellow Lake! This volcano has erupted 25 times with the most recent occurring in 1970. The island of Taal Lake is a perfect place to explore nature and its attractions.
10. Hundred Islands, Pangasinan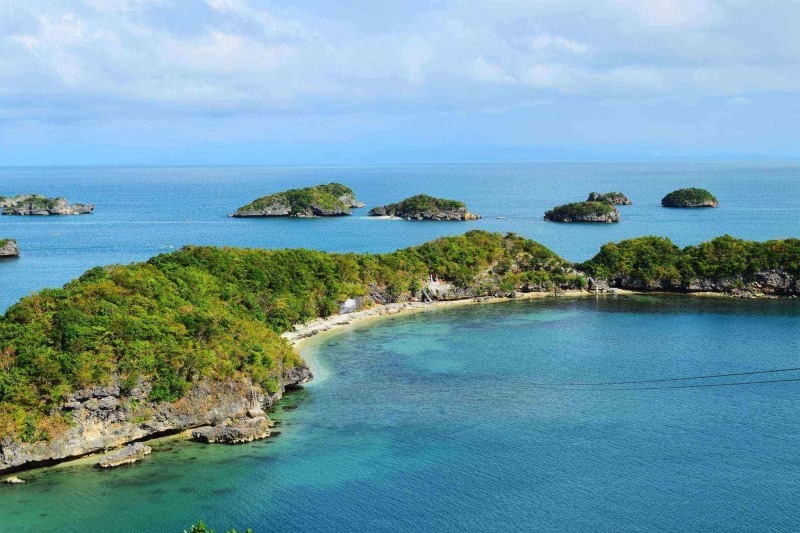 The last on our list of amazing natural wonders in the Philippines is the Hundred Islands in Pangasinan. Located in the northern part of the Philippines, the Hundred Islands is composed mainly of 124 islands. These islands feature white sand beaches and forested inland. It is also a protected area and known for its natural geological formations. But among the hundred islands, only three are developed for tourism. The rest are not commercialized and remain unspoiled.
Conclusion
While this list of incredible places will keep you both busy and in awe during your next trip to the Philippines, this is just a small taste of the breathtaking natural wonders the Philippines has to offer. Stay tuned for our next post detailing beautiful tourist destinations and more natural wonders you can witness in the Philippines!
Tired of the 9-5 rat race, trading your valuable time for money, just to build someone else's dream? Wish you could design a lifestyle that combined traveling and earning a living? Good news – You can! Learn how today by downloading our FREE eBook, 12 Steps to Full Time Travel. Click here to Download Now!