Having trouble finding a credit card that is not only accessible but affordable?
VP Bank can help you get an option that allows you to make transactions anywhere in the country without burning through your wallet.
They have a variety of offers that fits your needs and more! Read on to find out the most affordable and accessible card from their selection.
VP Bank Credit Card Features and Benefits
The VP Bank StepUp MasterCard allows you to pay for your purchases and other transaction at hundreds and thousands of establishments around the country and across the globe.  
This makes this credit account the best option for individuals looking for nationwide and worldwide accessibility.
To satisfy your affordability needs, this card offers a maximum cashback of up to VND 600,000. You can also enjoy a 2% refund at restaurants, cafes, bars, and cinemas nationwide. A refund of 6% also applies to online spending, as well as a refund of 0.3% for all other expenses.
Aside from these, you can enjoy exciting perks and worthwhile deals at thousands of stores around the country and the world.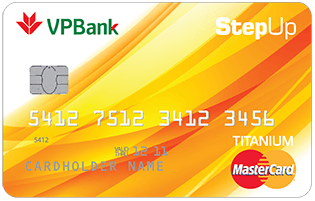 Getting a VP Bank Credit Card
When applying for this card, you can look forward to a smooth and straightforward application process. Whether you are a Vietnamese or a resident foreigner, you are welcome to order this credit card. One of the qualifications you must fulfil is the salary requirement. You must have a minimum income of 7 million / month. You must also be a minimum of 18 years old.
Visit the VP Bank website for the details. Before you start your application, make sure that you have all the required documents. Just download the VP MasterCard application form and fill out the required information. You also need a copy of your valid identification card and passport. Make sure to bring the original for verification.
To prove your residency status, you need to present a permanent household registration book (copy and original), as well as your latest utility bill (electricity, water, TV, internet invoices).
You also need to prove your employment and income, so bring a copy of your employment contract and a bank statement showing the last 3 months. Your credit limit (up to 500 million) can depend on this information.
VP Bank Credit Card Fees and Charges
There are annual fee waivers that apply in specific circumstances; see the website for more details. Keep in mind that fees and charges may apply for over-limit charges, foreign transactions, and more.
Interest Rate - 2.99% per month
Annual Primary Card Fee - VND 400,000
Annual Supplementary Card Fee - VND 200,000
Late Payment Fee - 5% of the minimum amount due (minimum VND 199,000)
Cash Advance Fee - 4% of the cash advance amount (minimum VND 50,000)
Card Replacement Fee - VND200,000 
Bank Contact Info and Address
The bank's head office address is 89 Lang Ha, Dong Da, Hanoi. 
You can contact the bank by calling 1900 545415. 
Conclusion
If you are interested in getting an accessible and worthwhile credit card, the VP Bank StepUp Credit Card might just the right one for you.
With this in your arsenal, you can go anywhere you need to be without worrying about access to your account and paying exorbitant prices.
Note: There are risks involved when applying for and using a credit card. Please see the bank's Terms and Conditions page for more information.