In today's dynamic financial landscape, credit cards have become indispensable tools for managing expenses, enjoying perks, and building credit.
Among the array of credit card options available, Bank of America stands out as a prominent player with a diverse range of offerings.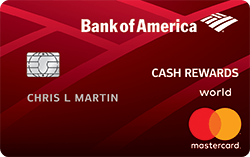 Bank of America's credit cards have gained immense popularity for their enticing rewards, robust cashback programs, exclusive travel benefits, and competitive interest rates.
If you are looking for an innovative credit card solution tailored to your distinct needs and lifestyle, keep reading. In this article, you're going to learn how to apply for Bank of America Credit Cards.
Why Choose a Bank of America Credit Card?
Imagine being rewarded for your everyday spending – whether it's fueling up at the pump, dining out with loved ones, or booking your dream vacation.
Bank of America's credit cards come equipped with enticing rewards programs that allow you to earn points, miles, or cash-back on eligible purchases.
For avid travelers, Bank of America's credit cards also unlock a realm of exclusive travel perks, from airport lounge access to travel insurance, ensuring your journeys are not only memorable but also secure.
Types of Bank of America Credit Cards
Bank of America takes pride in offering a diverse range of credit card options that cater to a wide spectrum of financial needs and preferences. Let's dive into it:
Cashback Cards: Bank of America's cashback cards are a great choice for those who want to earn rewards on their everyday spending. The "Cash Rewards" credit card lets you choose a category in which you can earn 3% cash back, such as gas, dining, or online shopping. This allows you to maximize rewards in areas that align with your lifestyle. The "Unlimited Cash Rewards" card, on the other hand, offers a flat 1.5% cash back on all purchases, making it a straightforward option for consistent rewards without category restrictions. And there are six more options for you to choose from. You can check them out on Bank of America's website.
Travel Cards: If you're a globetrotter or simply enjoy occasional getaways, Bank of America's travel cards are designed to make your journeys even more rewarding. The "Travel Rewards" credit card offers 1.5 points for every dollar spent on all purchases, which can be redeemed for flights, hotels, and more. With a generous online bonus points offer, this card provides an excellent opportunity to earn rewards towards your next adventure.
Rewards Cards: Bank of America's rewards cards provide a well-rounded balance between cash back and travel benefits. The "Premium Rewards" credit card offers 2 points per dollar spent on travel and dining purchases, along with 1.5 points per dollar on other purchases. This card also provides valuable perks like travel statement credits and airline incidental fee credits, enhancing your travel experience.
Secured Cards: For individuals looking to establish or rebuild their credit, Bank of America offers secured credit cards. These cards require a security deposit, which determines your credit limit. As you use the card responsibly and make on-time payments, you can gradually improve your credit score. Bank of America's secured cards come with the same benefits and features as their traditional credit cards, making them a smart choice for building credit while enjoying the perks of plastic.
Whether you're seeking cash back, travel rewards, or a path to better credit, Bank of America has a credit card category that aligns with your aspirations.
Factors to Consider Before Applying
Before embarking on the journey of applying for a Bank of America credit card, there are critical factors to assess that can significantly impact your credit card experience. One of the foremost considerations is your credit score.
A good credit score is essential as it showcases your creditworthiness and directly influences the terms and benefits you may qualify for.
Bank of America typically requires applicants to have a credit score within the "good" to "excellent" range, which generally falls between 670 and 850 on the FICO scale.
This range demonstrates a history of responsible credit management and enhances your chances of approval for premium credit card options.
Personal Finance
In addition to your credit score, your personal financial situation plays a pivotal role in determining the most suitable Bank of America credit card for you. It's imperative to evaluate your income, debt obligations, and spending habits before making a decision.
A higher income can potentially qualify you for cards with more generous rewards and higher credit limits, enabling you to fully capitalize on benefits and seize opportunities for earning rewards.
Conversely, if you have existing debts, opting for a credit card with a lower interest rate could be advantageous as it helps manage your debt more effectively.
Spending Habits
Analyzing your spending habits is paramount. If you're a frequent traveler, a travel rewards card could provide exceptional value through points or miles earned on your journeys.
On the other hand, if you primarily use your credit card for everyday purchases, a cashback card might be the perfect fit, allowing you to accumulate rewards on groceries, gas, and dining.
By aligning your card choice with your spending patterns, you can make the most of your credit card while optimizing your financial gains.
Ultimately, assessing these factors in tandem empowers you to select a Bank of America credit card that complements your financial circumstances and long-term goals.
Bank of America Credit Card Features
Bank of America offers a complete line of credit cards for different types of buyers. With all Bank of America cards, you can make hassle-free online and in-store shopping.
Moreover, you can avail of various travel and hotel accommodation perks, allowing you to further enjoy your vacations and business trips.
Bank of America's Credit cards offer an array of benefits, tailored for a variety of different needs and lifestyles. Analyze your habits and needs and compare the options available at their website.
Security Features
What's more, you don't need to worry about the security of your transactions. Cards from Bank of America incorporate a suite of security features. One of them is the ShopSafe service, which hides your real card number during online transactions.
Bank of America has additional perks and promos unique to each card. For simplicity, let's look at its entry-level Bank of America Cash Rewards Credit Card (Mastercard).
This credit card targets frequent shoppers who want to maximize their spending. Aside from ZERO annual fees, it has an exclusive set of perks.
Bank of America Cash Rewards Credit Card Benefits
As a Cash Rewards Credit cardholder, you can enjoy 0% APR for your first 15 billing cycles! This also applies to any balance transfers made within 60 days of receiving the card.
What's more, during the first 90 days of receiving your card, you can earn $200 in online cash rewards. Simply take advantage of this perk after making a minimum of $500 in purchases. You can even enjoy more rewards by becoming a Preferred Rewards client.
Moreover, you can earn cashback on every item you buy. For the first $2,500 total spending for each quarter, you can get 2% cashback on grocery items, 3% on your preferred category, and 1% on other purchases.
Apply for a Bank of America Credit Card
Applying for a Bank of America credit card is a straightforward process.
To get started, visit the Bank of America official website and navigate to the "Credit Cards" section. Here, you'll find a comprehensive list of credit card options, so you can find the one that suits you the most.
Once you've selected the credit card that aligns with your goals, click on the "Apply Now" button to initiate the application process. You'll be prompted to provide essential personal information, including your name, address, date of birth, and social security number. Additionally, be prepared to disclose your employment details and annual income, as these factors contribute to the card approval process.
As part of the application, Bank of America may also require documentation to verify your identity and financial information. This can include recent pay stubs, tax documents, or other forms of income verification. Ensuring the accuracy of the information you provide is crucial to expedite the application process and increase your chances of approval.
After submitting your application, you can expect a response within a short period. In some cases, you might receive an instant decision, while in others, Bank of America may require additional time to review your application.
Bank of America Credit Card Fees and Charges
For simplicity, let's take one more look at the Bank of America Cash Rewards Credit Card.
Annual Fee: $0
Annual Interest Rate: 0% for your first 15 billing cycles, 18.24% to 28.24% thereafter
Late Payment Fee: $38
Balance Transfer fee: 3% of each transaction or a minimum of $10
Contact the Bank
If you would like to learn more about the Bank of America Credit Card, you can contact the bak directly at 1 (800) 432-1000.
In addition, you can find their headquarters at 100 North Tryon Street, Charlotte, NC 28255.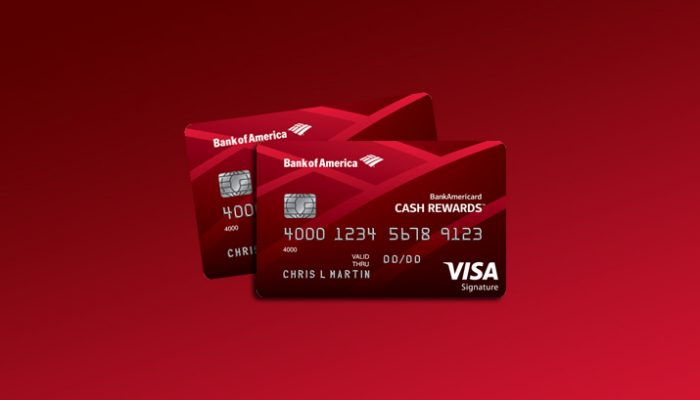 Conclusion
Overall, holding a Bank of America credit card, particularly the Cash Rewards Credit Card, increases your spending power, especially if you're a frequent buyer or traveler.
With its many rewards and cashback features, this is a great financial tool for your everyday needs. Apply today!
Note: There are risks involved when applying for and using credit. Consult the bank's terms and conditions page for more information.