Are you looking for a credit card with free travel insurance and has a longer interest-free period? You can enjoy these and more with the Nedbank Gold Credit Card. It offers ZERO transaction fees and premium rewards programme to help cardholders like you to earn points every time you swipe the card. What's more, Nedbank also provides automatic travel insurance when you purchase plane tickets.
Read on to find out how you can apply for this credit card.
Features of the Nedbank Gold Credit Card
Nedbank stays true to its promise of affordable and convenient banking. With its collection of credit cards that have low interest, you are surely in for a treat. In this article, we're going to focus on the benefits and perks that come with the Nedbank Gold Credit Card.
If you love shopping and traveling, this card is for you. No matter where you go, you can use this credit card to pay for your expenses and shopping spree. Because the Nedbank Gold Credit Card is powered by Mastercard, you can enjoy worldwide acceptance to up to 25 million stores internationally. This means you don't need to carry cash with you all the time because you've got something to cover for the whole trip. Plus, you can enjoy up to 30% discount on flights and accommodation. Sweet treat, right?
By being a cardholder, you can also join Nedbank Affinity Programmes. These are accounts that help preserve the environment, children and extend a helping hand to those in need. There are four major programmes you can join: Green Affinity, Arts Affinity, Children's Affinity and Sport Affinity. Every time you transact and invest at Nedbank, you are helping the community and raise more than Rs 2,000,000 for the benefit of different organizations. Note that this will cost you nothing and you only need to open an account that's linked to these programmes.
Another reason to love this credit card is the longer interest-free period. It's great to have a breathing space to settle your expenses each month, without getting late payment penalties and other additional fees.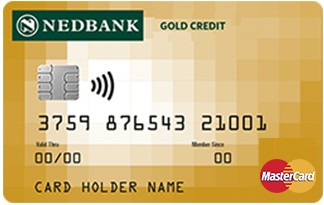 Nedbank Gold Credit Card Application
Applying for this credit card is incredibly easy just visit the Nedbank website and fill out the online application form. To ensure that you will be approved, you must be at least 18 years old, have a good credit rating, a South African resident and must be earning Rs 60,000 minimum. You will also need to have supporting documents at hand like a copy of ID document and proof of income or three months' bank statements or payslips.
For the credit limit, note that Nedbank will set a specific amount that is manageable to you. Depending on your credit rating and ability to pay, you will be given a credit limit between Rs 1,500 to Rs 25,000 or higher.
Fees and Charges of Nedbank Gold Credit Card
To enjoy the myriad of perks that come with this card, you need to pay the maintenance fee of Rs 30.00 per month. In addition, there is also a credit facility service fee of Rs 1,402 monthly and a subscription fee of Rs 1,614. APR for this card is at 19.65%.
Overall, the Nedbank Gold Credit Card is best suited for individuals with low to moderate spending. Take advantage of travel insurance and discounts to save more money!