Are you looking for a flexible, low fee credit card with NO pesky annual fees? Want something that allows you to shop online, choose your own payments schedule and earn rewards & privileges?
Well, you can stop the search because an AUB Credit Card is what you need. Read on to find out how you can apply for an AUB credit card.
In this article, we will tell you all about how to apply, what the rates and fees are, and what the benefits are of having this card.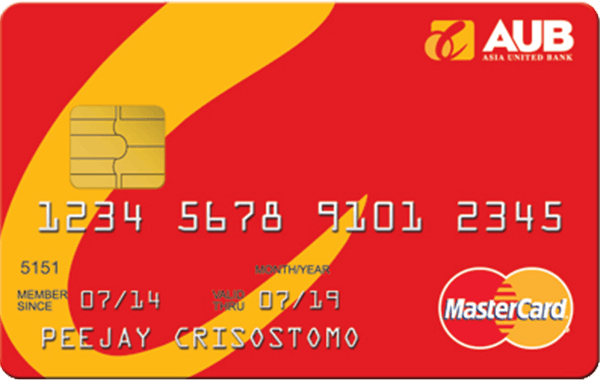 AUB Credit Card
Many people still question why the need for a credit card? In this modern era of online currency and cryptocurrency, why is credit on a plastic card still essential for our everyday lives?
The answer boils down to the pros and cons of credit in regards to our everyday finances. For many credit cards nowadays, the pros definitely outweigh the cons and the AUB Classic Mastercard Credit Card is one of them. Read on to learn exactly what this credit card can offer you…
AUB Classic Mastercard Credit Card Benefits & Features
To better understand the benefits that come with having an AUB credit card, let's take a deeper look at the AUB Classic Mastercard…
Firstly, with the AUB Classic Mastercard, you'll get ₱0 annual fees for life!
Secondly, it's the only credit card in the Philippines that allows you to choose your payment schedule and how much you would like to pay – it's totally flexible, meaning you can now pay your dues on your exact payday!
Thirdly, you pay 0% interest on all your New purchases, so you won't pay interest on an item you purchase for the first month of having it!
And pay attention to this – One of the best features of the AUB Classic Mastercard is the exclusive rewards program you get to be a part of. This earns you 1 Rewards Point for every ₱20 spend with your AUB credit card.
You can then transfer your Rewards Points to the Mabuhay Miles Frequent Flyer Program and enjoy free flights & service class upgrades on Philippine Airlines!
Want more? You've got it! How about exclusive access to special deals and discounts on shopping, dining, travel and entertainment around the world? How about worry-free, secure online shopping? How about convenient online banking? It's all available with an AUB Credit Card.
How To Apply For An AUB Credit Card?
There are many ways to apply and get approved for an AUB Credit Card, however the easiest way is to do it online via the credit card application form on the AUB website.
To apply you must be aged 21 to 55, have a Gross Annual Income (GAI) of at least ₱120,000 for Employed and ₱240,000 for Self-employed and have a valid landline phone number.
To prove you are eligible, you will need to upload the required supporting documents, which may include a valid form of ID, a recent ITR, payslips and Employment Certificate.
Approval and processing time may take 11 to 14 days and you can track the status of your application via the AUB website.
Once approved, your credit limit will be determined by the bank based on your financial status and creditworthiness. It can start at P5,000 and go all the way up to P300,000 depending on your income and other considerations.
AUB Credit Card Fees
With the benefits of owning an AUB Credit Card, do come the inevitable fees and charges. To better understand what you need to pay, let's look at the AUB Classic Mastercard again.
The great news is, your annual fee is waived for life – meaning you don't have to pay to own the credit card. Also, if you want a supplementary credit card for your spouse or loved ones, the annual fee is also waived for life.
The interest rate on the AUB Classic and Easy Mastercards is a standard 3.5%. There is no over limit fee with this card because the card will automatically be declined once you have reached your limit.
Other charges you should pay attention to may include: late payment fee of ₱500 and a Foreign Currency Transaction Service Fee of 1% of the money exchanged.
How to Reach the Bank
You can call 1-800-10-282–8888 if you would like to contact the bank directly. You can also visit their head office at 17 Adb Ave, Ortigas Center, City of Pasig, Metro Manila, Philippines.
Conclusion
Overall, the AUB credit card is an excellent choice if you're looking for a low-cost credit card that allows you to shop online, pay when you like and receive special perks.
Disclaimer: There are risks involved when applying for and using credit products. Ensure you consult the bank's terms and conditions page before agreeing to anything.