Home renovation sounds like something that should cost thousands of dollars and hours, but in fact there are easy home renovation projects you can do in a day. If you're willing to put in some effort, you can undertake plenty of DIY home improvement projects that can help revamp your space fast.
The trick to choosing the right home improvement plan is to concentrate first on what you are trying to achieve, and then decide how much time you want to spend doing it. While DIY tasks should be easy to complete, some are more time-intensive than others.
You want to make sure that before you get started, you know what you're getting into. We've come up with some great projects you can do all on your own. They're inexpensive and shouldn't take you more than a day, unless you want to spread it out over a weekend.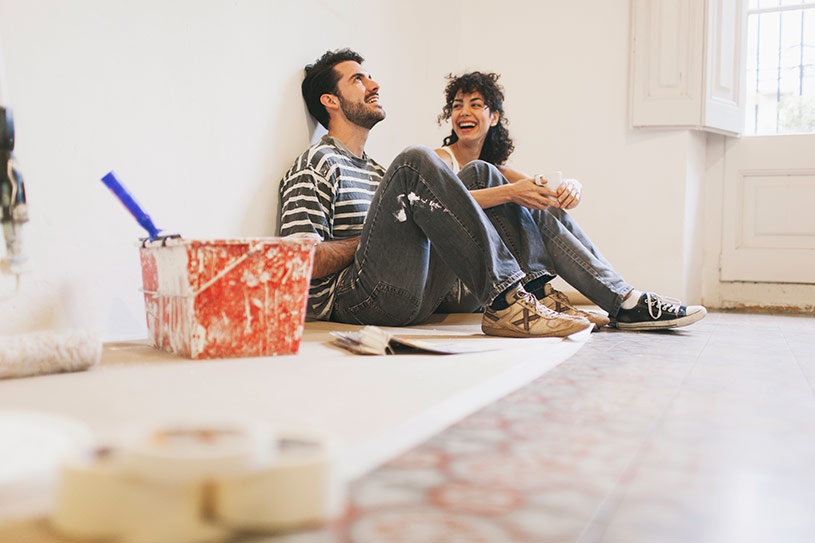 Renovation Projects You Can Start
Update Fixtures
What a new fixture can do for a room is astounding. Ditch those frosted glass pendants in the kitchen for contemporary glass globe fittings complete with Edison bulbs. Or hang a candlestick holder over the master bed. Get rid of your old ceiling fans and replace them with more sleek versions.
As long as you have the wires already in place, changing light fixtures is a simple project that will bring a significant improvement to any space.
Make Your Rooms Glow
Speaking of light fixtures, merely replacing some harsh white bulbs with calming yellow ones will entirely change the atmosphere in your home for the better. Make sure you opt for LEDs, so your new bulbs last long.
Another way to enhance the inner glow of your home: Add dimmers instead of existing light switches so you can adjust the brightness in each room depending on your mood and daytime.
Do Shelving
We all have corners that we don't quite know what to do within our homes. One quick DIY solution: add a few simple floating shelves, which will give you more storage space and, at the same time, look fantastic.
It takes a bit of woodwork, but taking a previously unused corner and turning it into a statement corner is worth it.
Upgrade Your Furniture
If you're sick of your old furniture, but you don't want to pay for the repair prices, go for the next best thing and update your current parts. There are a lot of innovative options for bringing new life to old furniture, including painting, reupholstering, and incorporating shapes and patterns using adhesive contact paper.
Experiment with Plants Inside
Few objects besides plants and flowers have the power to refresh bland or aged spaces. Just the simplest of potted plants can freshen up the air and bring to every area a dose of joy and vitality.
If you have more of a black thumb than a green one, it's easy to start by selecting a sturdy plant that is hard to destroy. When deciding to go with faux-greenery or flowers, you can also play the game, just be sure to buy high-quality ones, so they don't look fake.
Repaint the Walls
Where DIY home improvement projects are concerned, few things change your room more drastically than a couple of coats of paint. In your living room or bedroom, welcome a color burst with an accent wall; make a statement with a painted ceiling; paint your kitchen cabinets;
Go around your home while you're at it, and provide fast paint touch-ups anywhere existing paint is peeling or chipping.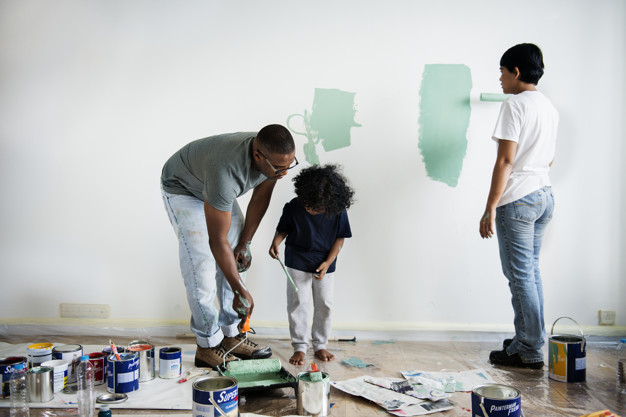 Upgrade To A Smart Home
Technology has brought much change to the home, so why not take advantage of it? From self-programmable thermostats to camera-enabled doorbells, there are a lot of smart home devices that fit seamlessly into your existing cables and systems.
They can offer significant transformations in terms of energy efficiency and design in your home. And when you make these adjustments, it makes it feel like you're living in a home of the future.
Pull-off A Grand Entrance
The interior entrance is one of the most used spaces in a house, but often also one of the most understated when it comes to design. Get more out of yours with a few simple upgrades, including installing a bench and hooks for a fast DIY mudroom or adding a new rug to enhance the space's comfort and style.
Look for pieces that include both fashion and purpose, and that mirror the rest of your home's aesthetics.
Conclusion
There you go, those are all simple projects you can do in a day that don't have to cost a ton of money. In fact the more creative you can get, the less money you'll spend and the more fun you'll have.