A roll of toilet paper is an opportunity for seasoned crafters. It's a piece of craft material that can be used in tons of various projects!
It's true! You can use rolls of toilet paper in all sorts of ways. Below, you'll find toilet paper roll crafts for kids, and even adults. These crafts will help keep you and your children occupied when stuck at home for long periods of time together.
It's time to bring together our Simple Toilet Paper Roll Craft ideas in one so you can have a creative fun time with your children. You'll find an eclectic mix of simple toilet paper roll craft ideas!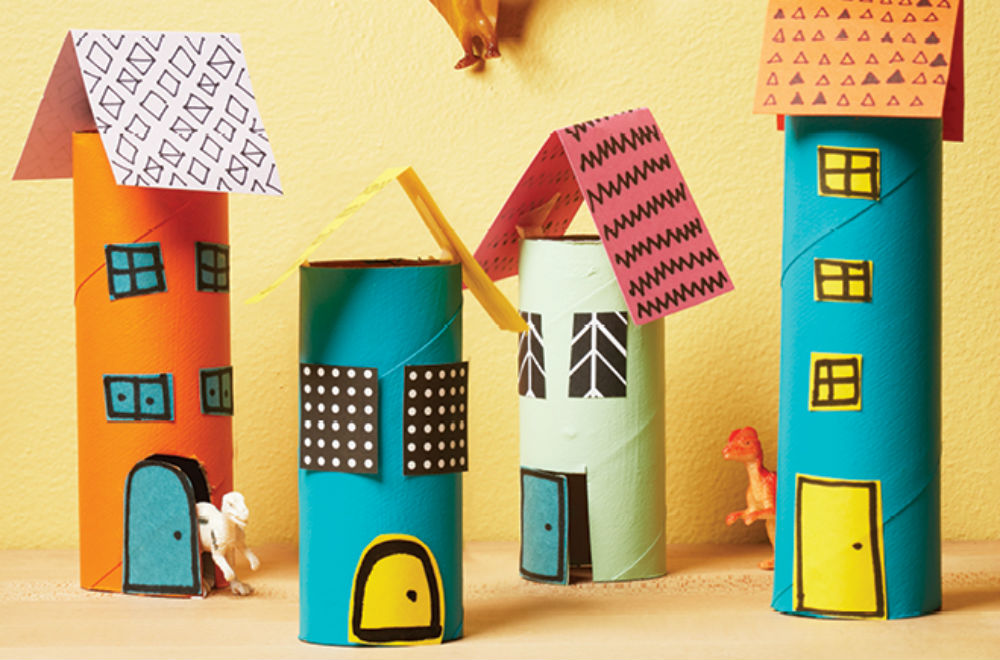 What You Can Do
Children love to craft TP rolls. They're abundant, and pretty much everyone has some cardboard laying around at home. And rolls of toilet paper are amazingly flexible!
What's great about these crafts is that they are sustainable. They are a fun way of being resourceful with a recyclable material that would have otherwise gone in the trash can! By doing this craft, you can teach your family the importance of sustainability.
Toilet Paper Roll Crafts for Kids
Rainbow Windsock Toilet Paper Roll
Materials
toilet paper roll
blue paint
white paper
scissors
black marker
tissue paper in rainbow colors
string for hanging
hole puncher
Instructions
Start by painting the toilet paper roll blue.
When you've finished painting, you should put the toilet paper roll aside so that the paint can absolutely drip away and you can move on to cloud formation.
Punch two holes in the paper roll (to loop the yarn for hanging), once the paint is fully dry.
Move thread/yarn into both holes.
Knead it up.
Draw a white paper shape of the cloud and cut it out.
By drawing eyes and ears, and pink cheeks, you can keep it as it is, or make a beautiful cloud.
Glue the toilet paper roll onto the disk.
Cut long strips out of tissue paper and place them inside the roll of toilet paper.
Glue them all the way, and you're done.
Toilet Paper Roll Owls
Materials
White, orange, and yellow paper
Toilet paper rolls
Glue
Scissors
Pipe cleaners
Paint and a paintbrush
Markers
Foam or colored cardboard
Wiggly eyes
Instructions
First, you'll have to paint rolls of toilet paper. You can pick any color you like. You can use an acrylic paint that dries away pretty quickly.
Take a roll of toilet paper once the paint is finished, and fold the top to form the owl's head.
Fix the owl's eyes. Use large wiggly eyes and hold them to the top of the folded roll of toilet paper. Alternatively, you can cut the form out of white and black paper if you don't have large eyes.
Break a very tiny triangle into the yellow paper and put it in just below the owl's eyes.
Once done with the nose, you'll need to fix the wings on each side of the paper roll of the toilet.
If you have foam or cardboard, you can cut out and stick a wing out of it. If you can't, then use a colored file.
That is the last step – cut two small ovals out of foam or cardboard and stick them for the legs of the owl to the bottom of the toilet paper roll.
Toilet Paper Roll Bunny
Materials
Paper rolls
White paint
Small googly eyes
Pipe cleaners
Small pom poms
White cardstock
Colored cardstock
Extra strong glue
Black sharpie
Instructions
First, you paint white rolls of toilet paper. A few coats of paint may be needed to make them clean. You should use acrylic paint for white painting because it decreases the number of layers that you need to do.
Create the bunny ears by drawing the ears on white cardstock and then making a smaller ear insert with some of your choice of colored paper.
Glue your paper roll with two googly little eyes. Then twist around three tiny pipe cleaners and glue this down to the roll of paper.
Glue the nose with a little pompom above the pipe cleaners.
Glue the hands to the end of your paper roll inwards. Then draw a black sharpie onto the mouth.
Toilet Paper Train
Materials
Toilet paper rolls
Skinny cardboard tube
Lids
Craft paint
Foam brushes
Yarn
Hole punch
Hot glue gun
Scissors
Instructions
Paint different bright colors on your cardboard tubes. Cut C-shapes from one of the tubes to create the top of both the engine and caboose. Those paint accordingly. Cut a C-shape from the thin cardboard tube and paint it the same color as the engine itself. The C-Shape pipes curve perfectly around the roll of toilet paper.
If the tops of the engine and caboose are clear, hot glue on the spot. Also, hot glue four plastic lids like your train wheels on each cardboard tube.
Punch tiny holes within each tube's four "corners". These are your Yarn Connection Points. Cut the length to thread.
Weave the thread into one tube and another tube to connect together two tubes. Tie a knot. Continue the cycle until all the train wagons are linked.
Toilet Paper Roll Fish
Materials
Toilet paper rolls
Paint
Googly eyes
Glue
Permanent marker
Scissors
Instructions
Flatten your cardboard tube.
Cut a rounded end for the head of the fish and two slits at an angle of approximately 45 degrees for the tail.
Fold the angled cut inwards, forwards, and backward and then tuck it inside the fish to create the tail.
Decorate the fish with paints and allow the glue to dry a googly eye on each side and draw a marker on for the mouth.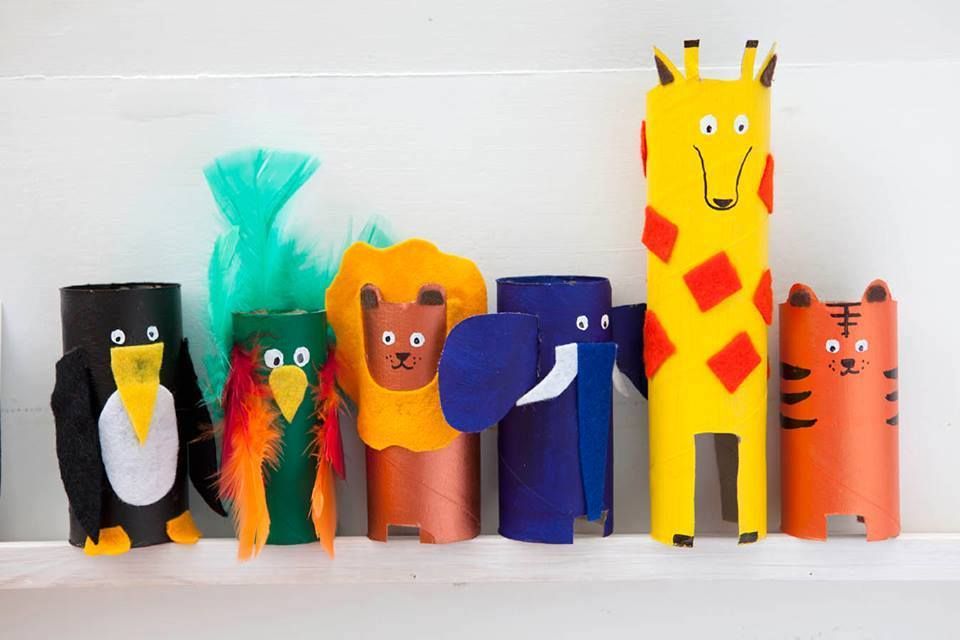 Conclusion
Activate your creativity with your kids at home. Try out these amazing crafts ideas you can enjoy.