If you are looking for a reliable credit card that rewards you for spending, a Yes Bank Credit Card might be for you. Let's not forget about that name overall, this bank is certainly a YES bank on a variety of fronts. You can use the card overseas and online while also sipping on some rewards.
Hold up though, before you get carried away, remember that all cards come with responsibilities. There is no such thing as free money, so be clear about why you want a new credit card. You should figure out what is the most important thing for you. That thing could be interest rates, payback terms or if you are the luck few, just the rewards.
Whatever your purpose, there are many cards waiting to be yours. So make your decision wisely. Our editors have dived into the Yes Bank Credit Card and come up with some juicy details you need to know. Check out everything below before you decide whether or not this card is for you.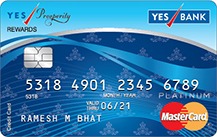 What are the Benefits of a Yes Bank Credit Card?
Of the various choices offered by Yes Bank, the Yes Prosperity Rewards Credit Card, (available in Mastercard) is favorable for a beneficial yet budget-friendly choice. One of the most attractive pros it has to offer is the Welcome Rewards you'll receive after application approval. When you spend a total of Rs 2,500 in not more than 30 days of the approval, you'll get 1,000 worth of reward points!
Accumulation of these points is much faster for purchases made on your birthday, as well as for dining, international & online transactions. You can also earn 10,000 Bonus Reward Points if you spend INR 1.8 Lakhs and up every year.
If you have a salary or savings account with Yes Bank you only pay 2.99% interest, whilst those who are yet to have these accounts will have a 3.22% interest rate. Other benefits you can enjoy include a security plan, quick loan option, and a fuel surcharge waiver.
Yes Bank Credit Cards & Travel
One of the most valuable travel advantages of this account is the accelerated rates for reward points on international spends. You will get 3 reward points for every INR 100 purchase overseas. Aside from this, the mere convenience of having an credit card that is usable for your out-of-the-country travels saves you a lot of trouble and stress.
With the advantages and accessibility offered by the Yes Bank Credit Cards, they can be a perfect choice for frequent travel and personal transactions alike. If you find these privileges appealing, get your application started and you'll enjoying your credit card perks in no time.
What are the Fees of a Yes Bank Credit Card?
When you register for the Yes Bank Prosperity Rewards Credit Card, you can expect to pay Rs 250 for the first year of your membership, which will be reversed when you spend RS 5,000 within 90 days of registration. For your renewals, a fee of Rs 250 is applicable which is reversible after Rs 15,000 worth of purchases within 12 months before the renewal.

How to Apply for a Yes Bank Credit Card
Interested in applying for a Yes Bank Credit Card? Visit their website and simply fill out the online application form. There are a few documents you need to prepare. You need to present proof stating you are within the age of eligibility (from 21 to 60 years of age). Whether you are salaried or self-employed, you also need to show proof of income amounting to a minimum net salary of INR 25,000 monthly or an INR 5 Lakhs and above worth of income tax return.
Head office
YES BANK Tower, IFC – 2,
15th Floor, Senapati Bapat Marg, Elphinstone (W)
Mumbai 400 013, India 
Telephone: 1 800 103 121
Note: There are risks involved when applying for and using a credit card. Consult the bank's terms and conditions page for more information.