If you're a frequent flyer or travel enthusiast you can really benefit from having a credit card that not only functions worldwide, but also offers perks and rewards to help you travel more. A Punjab National Bank Global Classic Credit Card is fantastic for this. To help you decide if this is the right credit card for you, here are some things you should know, including how to apply…
PNB Credit Card Features & Benefits
The Punjab National Bank offers a variety of credit cards, but the Global Classic Credit Card stands out as a preferable option, offering good value for money. This is a truly international Credit Card, accepted at over 29 million merchant establishments & 1 million Visa ATMs worldwide.
One of the most convenient features of this card is its ability to eliminate traveler cheques and physical foreign currencies. When you travel with this credit card, you have access to your account abroad, giving you financial flexibility wherever you are.
What's more appealing about this credit card is its reward system. Every Rs 100 you spend guarantees you 1 reward point. You can then redeem these points for exciting offers on shopping, dining, travel and even fuel.
Aside from point redemption, you can enjoy exclusive discounts and deals on shopping, dining, travel, railway tickets and fuel as well.
When you need to check on your credit limit or pay some bills while you're abroad, the PNB online banking service gives you access to your account whenever and wherever you are, giving you total peace of mind.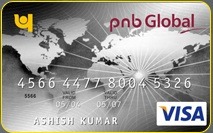 Applying for a PNB Credit Card
Applying for the PNB Global Classic Credit Card is very straightforward. You just have to fill out the PNB Credit Card application form, prepare your supporting documents and you are good to go. Your documents must include proof of age (eg. passport, PAN), income (eg. tax return, payslip) and residence (eg. bank statement, Aadhaar card).
Make sure that you are of eligible age, between 21 to 65 years of age. For supplementary cardholders, the age restriction is 18 to 65 years old. Moreover, you have to show that you are earning a minimum of Rs 250,000 per year and that you are an Indian resident.
Lastly, to be eligible for this card, you should have good banking relations with Punjab National Bank for at least 6 months. Once the bank completes a full background check and financial analysis they will determine whether your application is approved or not. If approved, your credit limit will be set based on your income, creditworthiness and spending patterns.
PNB Credit Card Fees
An even bigger reason this card is preferable is because of the Rs. 0 joining and annual fees for primary and supplementary cardholders!
Your interest rate for this card is 29.81% per annum.
PNB Credit Cards & Travel
As a travel card, this the PNB Global Classic Credit Card gives you discounts on your excess baggage allowance. You can also use it for overseas trips with a 3.5% foreign currency transaction charge.
Traveling has never been more convenient with travel credit cards like the PNB Global Classic Credit Card. With this in your hands, you can go wherever you like with financial flexibility, reward points and exclusive discounts!