Cristián Faúndez is an advertising professional who lives and works in the colourful port city of Valparaíso, Chile.
Working with local brands, Cristián is really able to explore the best of Valparaíso and seek out the most unique places to visit.
With the city's main economic activities being shipping and tourism, we were curious to find out what it is exactly that's continuing to inspire foreigners to visit.
So we turned to a local, the best possible person to give us answers.
Here Cristián shares a ton of insights and helpful Valparaíso travel tips that'll be sure to help you during your trip…
Valparaíso Travel Tips Shared By A Local…
Don't forget these important Valparaíso travel tips, pin this to Pinterest >>
To start, could you please give us a short introduction about yourself, where you're from and what you do?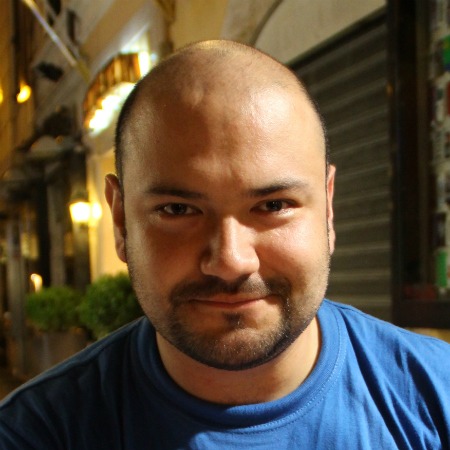 My name is Cristián Faúndez, I'm a 35 year old Chilean advertising professional who works with local brands in the Great Valparaíso metropolitan area.
I also teach marketing and consumer research at the DuocUC Institut at Viña del Mar.
I'm passionate about photography, especially in urban environments.
I traveled across Europe in 2013 and that beautiful experience gave me the chance to compare the realities of those countries and Chile from a tourist point of view.
On social networks you can reach me through Instagram or Twitter: @FaundezLafarga.
How long have you been living near Valparaíso, Chile?
I have lived in Viña del Mar all my life, which is Chile's tourism capital and the third largest city if the country.
It is located just 8.84 km (5.5 miles) north of Valparaíso, one of the oldest cities in Chile (f. 1536).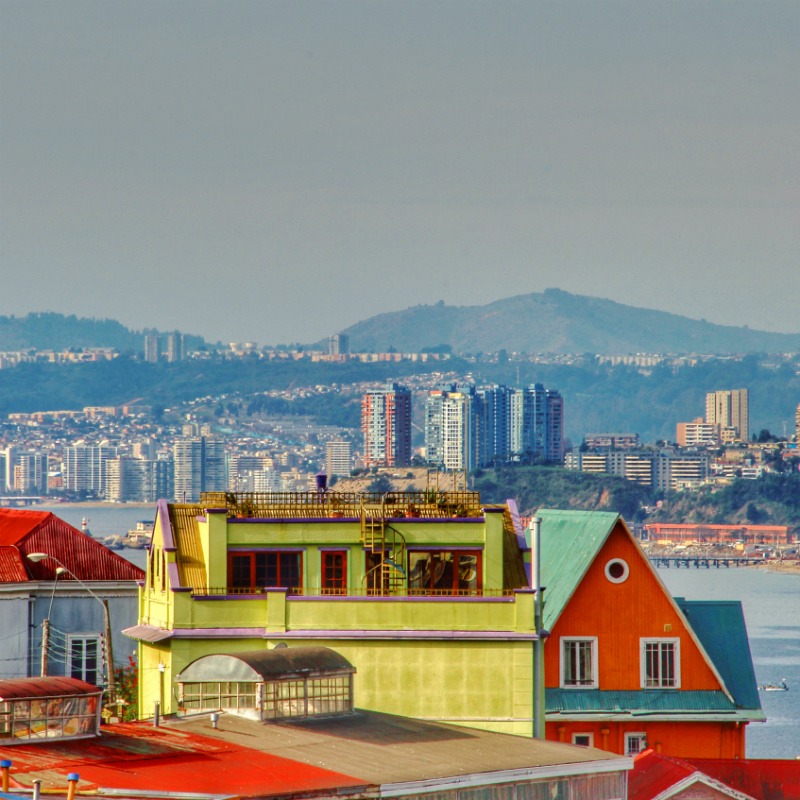 What is it that you love about Valparaíso and has it inspired you to travel more around the country?
Valparaíso is Chile's most iconic city.
It's composed of 42 hills that surround the small flat downtown and the bay area.
This natural amphitheater has witnessed a history filled with wars, successes, epic natural disasters and above all, the indomitable spirit of the Porteños (Valparaíso people) to overcome their fate and rebuild a city that we all love over and over again.
Valpo, as the habitants call it, was the main gate to the country for a long time, so it has a very rich multicultural heritage, which is seen in the eclectic architecture of Italian, French, British, German and Spanish style.
Moreover it has become the cultural centre of Chile, due to all of it's museums, galleries, theatres, festivals and universities, transforming the city from a port based economy to a boosting tourism centre.
Valparaíso is known as "La Joya del Pacífico" ("The Jewel of the Pacific") and in every corner it has beautiful secrets to be found by travelers.
A great advantage of visiting Valparaíso is that it is not far from Casablanca, the wine country, the sky centres in the Andes and Santiago, Chile's capital (115.95 km/ 72 miles).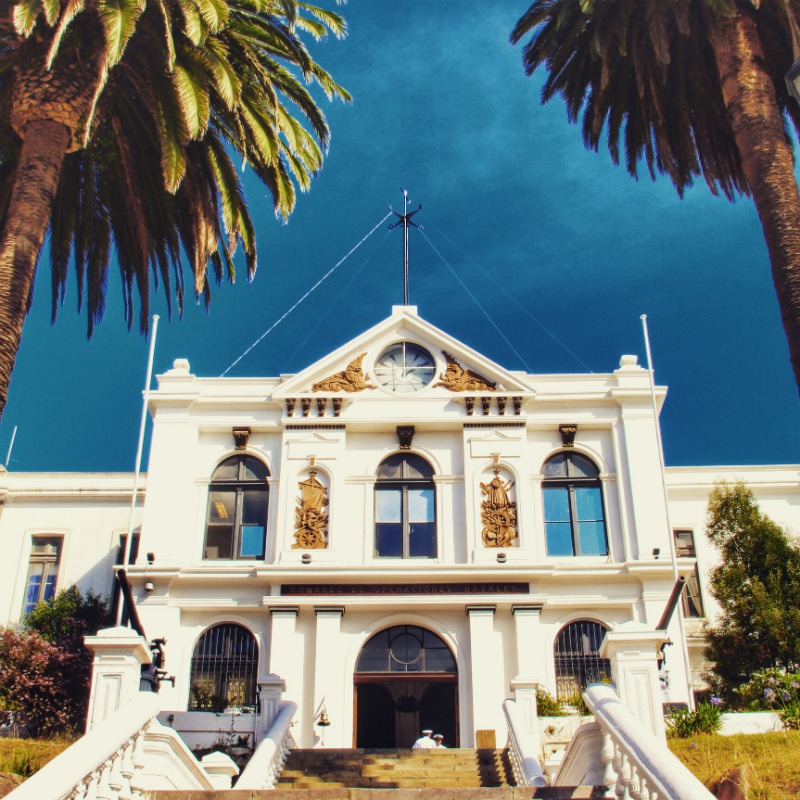 Which places in Valparaíso are your favourite and why? Would you recommend these as travel destinations? If so, where do you recommend staying?
I highly recommend visiting el Barrio Histórico (the historic quarter) which is part of the UNESCO World Heritage Sites.
It includes magnificent buildings such as:
Valparaíso's stock exchange, the oldest building in Latin America
The El Mercurio building which holds the oldest Spanish newspaper in the world
The Biblioteca Severín, which is Chile's first public library
The cultural park at Cerro Cárcel, which is a former jail transformed into a state-of-the-art artistic gallery
And several others
Besides these, a visit to the iconic hills of the city are a must.
The hills, Cerro Alegre and Cerro Concepción are two of the most famous ones, with spectacular views of the city and the entire bay area.
They also have very rich cultural sites which include art galleries, museums, open air museums with street art paintings and a vast offering of restaurants for all tastes.
I recommend staying in the hotels of Cerro Alegre or Cerro Concepción.
Travelers can find small cozy B&B's and some highly stylish boutique hotels.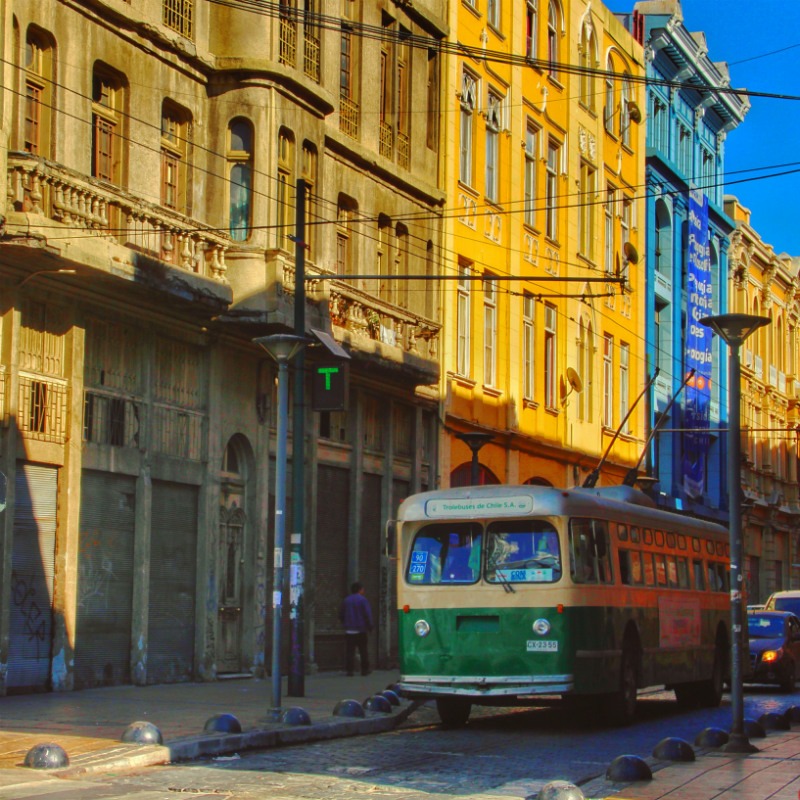 Your absolute top things to do in Valparaíso, Chile?
As I said before the historic quarter is a must, especially the hills, Alegre and Concepción.
Travelers can also enjoy the views of the bay from the hill dock of Cerro Artillería and then visit the nearby old Naval Academy, transformed into a naval museum.
If you like wandering through the streets, you should go and find the beautiful Baburizza Palace, a building which encompasses the perfect mix of art nouveau and art deco style.
This is the base of the fine arts museum, possessing gorgeous painting collections and photography expositions.
For foodie travelers, Valparaíso is the perfect destination.
The huge gastronomic scene gives the city a very international flavour mixed with rich local cuisine.
Add to that a glass of Chilean wine or Chilean pisco and you'll have a fully sybarite experience.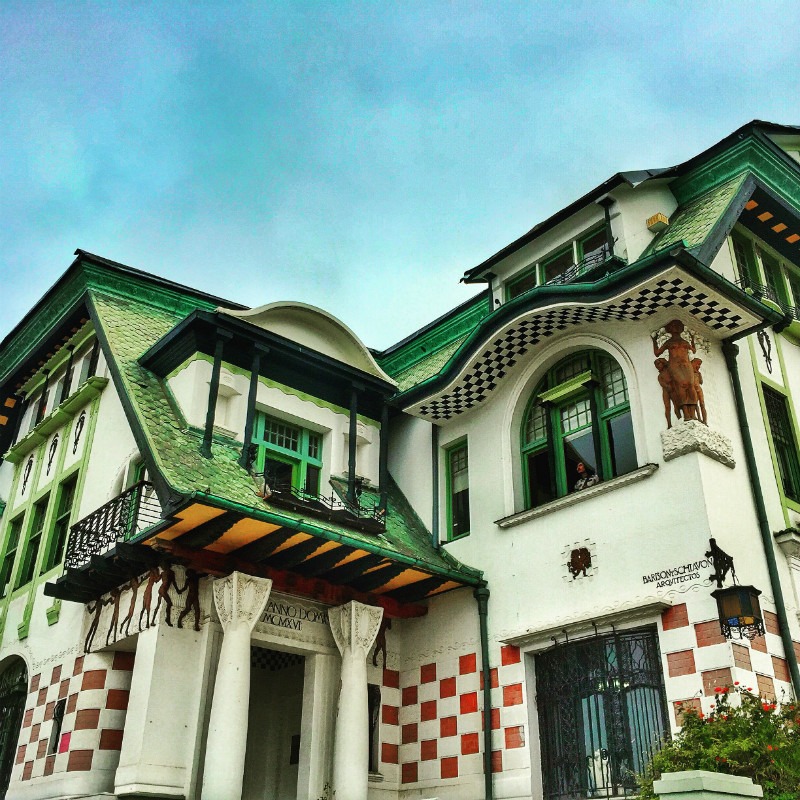 What challenges do you face in Valparaiso and how do you overcome them? Should people planning to visit Valparaíso be aware of these challenges?
Although tourism has become an important matter in Valparaíso, the reality is that not many people speak English, so communication may be a challenge if travelers do not manage basic Spanish.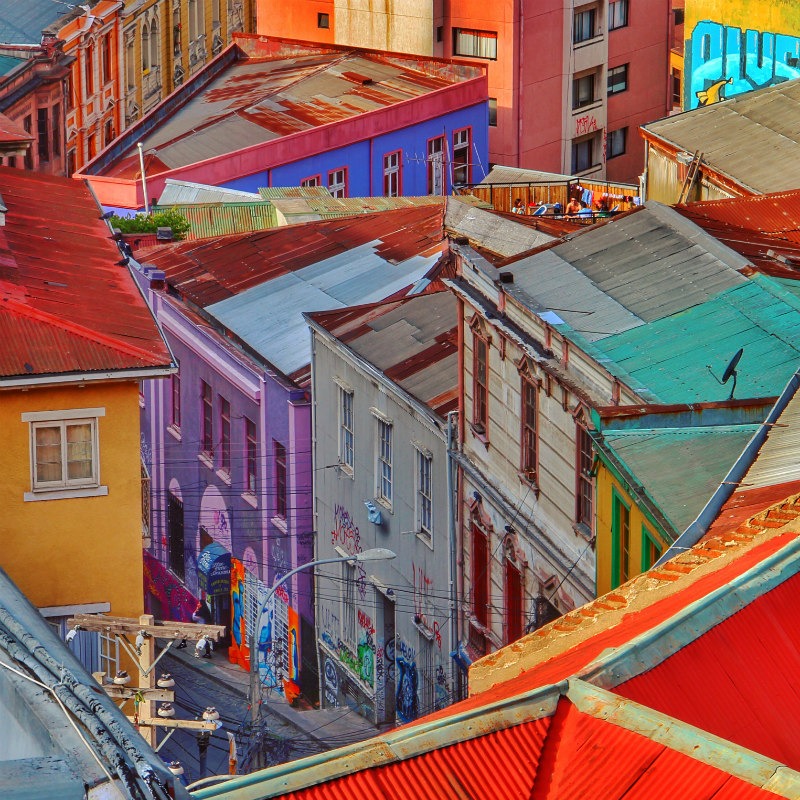 In your opinion, what is the best way to travel in Valparaíso and why?
For travelers from West Europe, Australia, Japan or the US, Chile is a cheap country.
Bringing a few extra bucks will give visitors the possibility to increase the luxury level and, for instance, change from a B&B to a boutique hotel.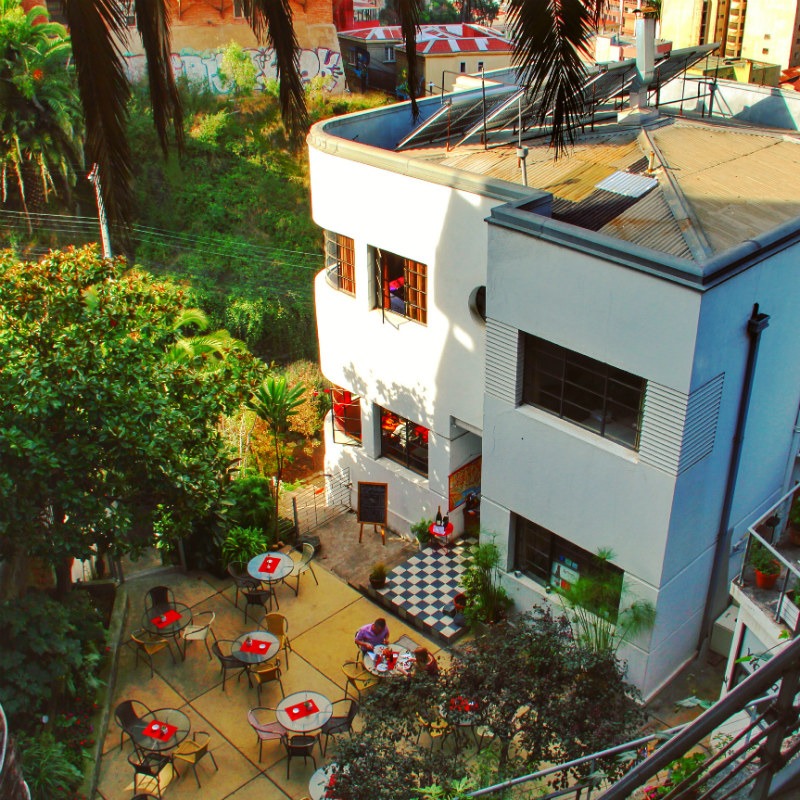 Based on this, what is the approximate cost of traveling in Valparaíso?
As I said above, the total cost depends on the experience you want, because accommodation can range from €30 to €130 per night per person.
Transport across the city and to neighbouring Viña del Mar is quite cheap by bus (€0.60), subway (€0.60) or by Uber/Cabify.
Taxi's are more expensive so I do not recommend this.
Buses from and to Santiago cost approximately €8.40.
Food can go from as cheap as €4 in picadas (small low cost restaurants) to €18 in gourmet restaurants.
The variety is quite big and visitors should always ask for a menu option, even in gourmet restaurants, which is in my opinion, is the best choice.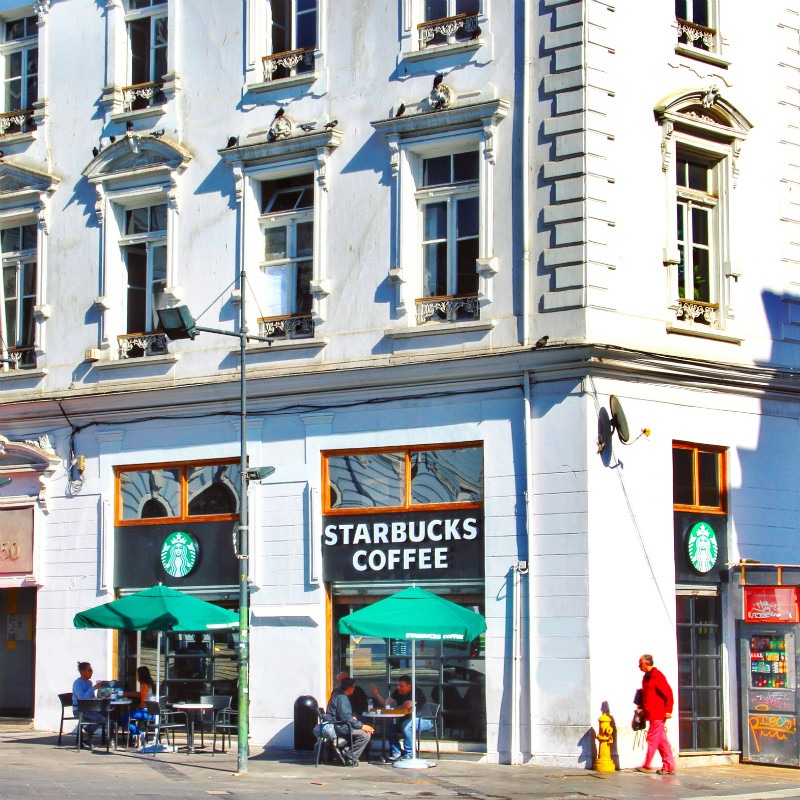 What are the best resources for booking flights, accommodation and tours in Valparaíso, Chile?
To travel to Chile, the main option is going with Chile's largest airline company, Latam Airlines or their One World Alliance partners.
Flights arrive to Santiago's airport and then you need to take a one hour, 15 minute trip by bus to Valparaíso.
There is a lot of information about accommodations on Booking.com, Airbnb, Foursquare and Trip Advisor.
If you click the link below and enter your dates, Hotels Combined will scan all of the top booking sites (such as Booking.com, Hotels.com and Expedia) to find the cheapest deals possible:
–> Click here to find the best accommodation deals in Valparaíso
If you can spend €85 a night, I highly recommend the Fauna Hotel. It has amazing views of the city, a great restaurant and beautifully decorated rooms.
If you cannot spend that kind of money, any other hotel or B&B on the Alegre or Concepción hills should be fine.
For tour information I recommend Turistik. With them, you can schedule city sightseeing in Santiago, Valparaíso and other nearby places.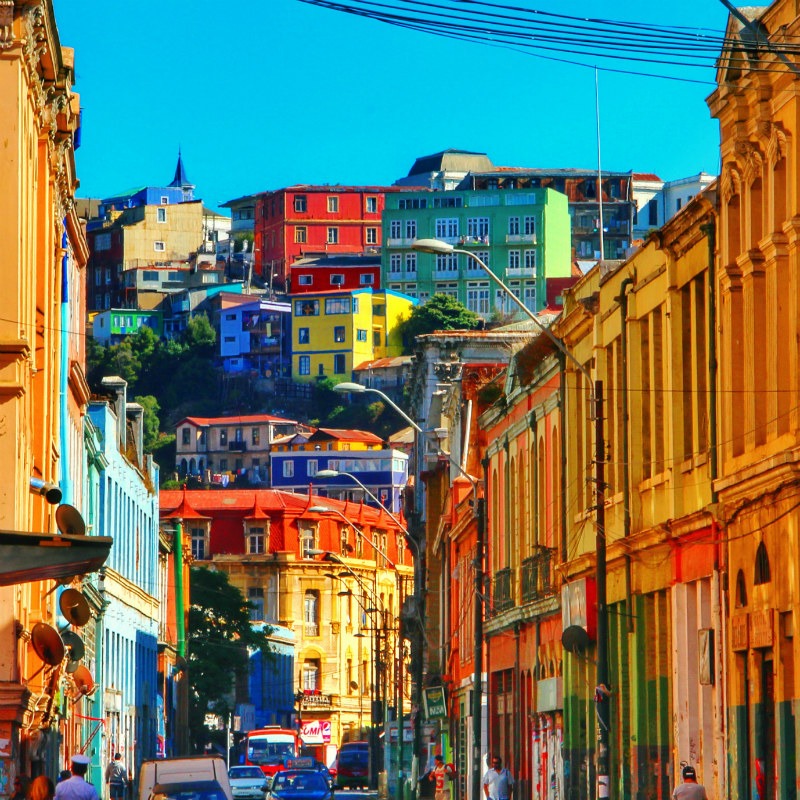 Can you share with us three important Valparaíso travel tips to know before visiting?
Tipping is important in Chile.
Most restaurants include a 10% tip in the check.
If you go to a supermarket, the people working in packing also receive tips, so the usual thing to do is give them between €0.20 and €0.70, according to how much you spend.
One of the biggest historic challenges of the city, and the country, is facing big earthquakes.
The city is ready to deal with this kind of event, from the architectural point of view to emergency procedures.
In case of a tsunami warning, visitors will find evacuation signs across the city.
Be calm and you'll be fine, just follow the officers orders.
On the other hand, even though Chile is the safest county in the region, there are parts of the city that aren't advised to visit.
This information is given by the local police and tourism authorities to the visitors.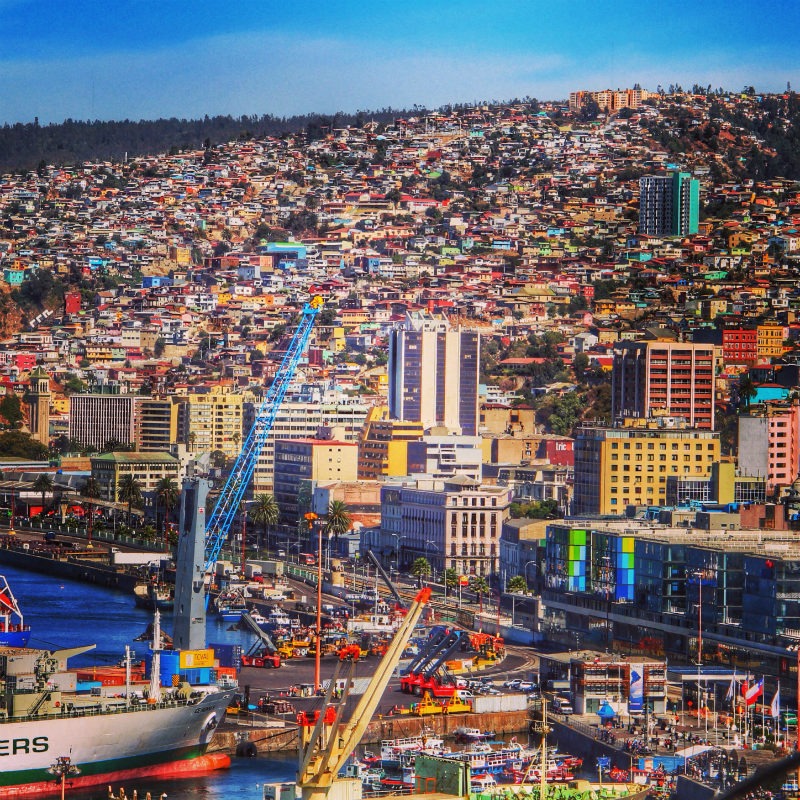 And finally, do you have any last words to inspire everyone reading this to travel to Valparaíso, Chile?
Although it's becoming an important tourist destination, Valparaíso has the charm of a small city with the advantages of a big one.
The cultural and artistic offerings are great experiences for locals and visitors, and you'll be able to feel the history of the seaport city on every corner.
Valparaíso is truly a magical city that will enchant all your senses.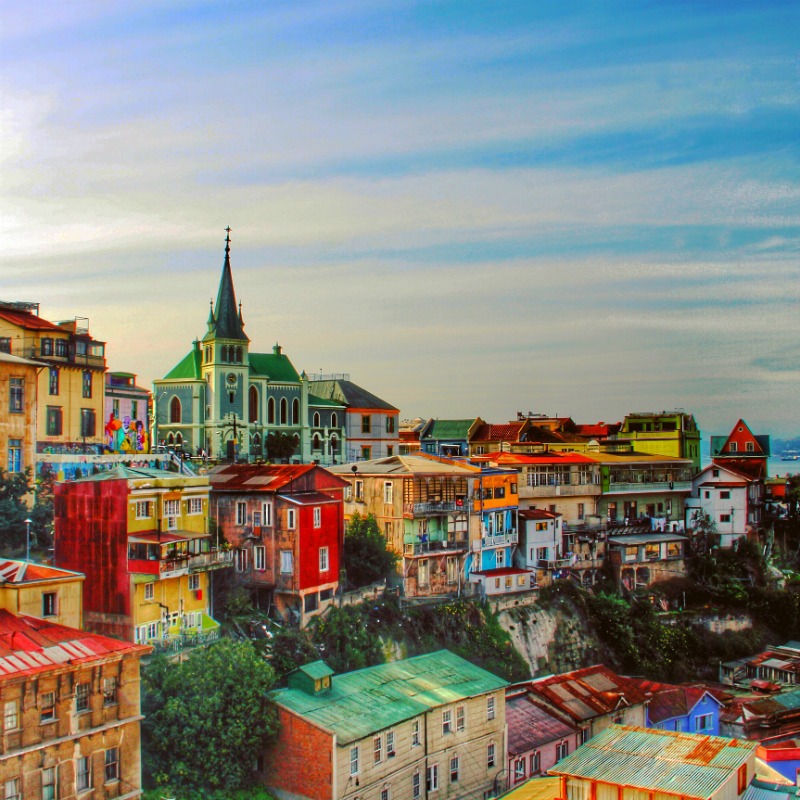 Cristián, thank you for sharing your insightful Valparaíso travel tips!
To get tons more Valparaíso travel inspiration, remember to follow Cristián on his Instagram and Twitter accounts: @FaundezLafarga
---
Valparaíso Travel Resources
Valparaíso Accommodation:
To start looking at your accommodation options in Valparaíso, Chile, choose Hostelworld for budget, Hotels Combined for comfort or Airbnb for local (and get $25 off).
Want stylish accommodation you can afford? Enter your dates and Hotels Combined will scan all the top booking sites (Booking.com, Hotels.com, Expedia, etc) for the cheapest prices possible:
Chile Flights:
If you are traveling to Chile, it is beneficial to use a flight compare site to find the cheapest flights. We recommend and use Cheapflights.com.
Click here to compare and book cheap flights to Chile
---
Now it's over to you reading this! Leave your answers in the comments section below…
Are you planning a trip to Chile and looking for more Valparaíso travel tips? Leave your questions below and we'll help you out!
Have you already been to Chile and know some more Valparaíso travel tips to add to the list? Let us know!
---
Are you interested in being a featured traveler and sharing your travel tips?
Click here to send an email to us
Share a few words about yourself and your travel experience as well as a link to your blog or favourite social media channel
We'll be in contact!