Are you looking for Caribbean Islands to be the destination for your direct flight from New York? Well, look no further. In this article, we have carefully selected for you the best Caribbean Islands that are a direct flight away from New York.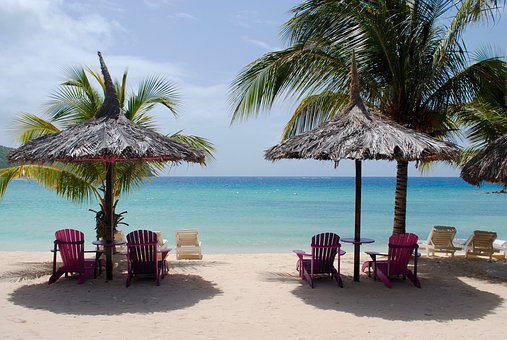 Turks and Caicos
The most significant percentage of people who fly to Turks and Caicos head to the island of Providenciales. This is home to some of the most luxurious shops, restaurants, villas, and boutiques. If you are looking for the best beaches and resorts, this is the place to be. Currently, four airlines provide direct flights from New York to Turks and Caicos. These include United, JetBlue, Delta, and Caribbean Airlines, and the flight only takes 4 hours.
You will find most of these hotels on the famous Grace Bay Beach. No wonder it has been nominated as one of the best Caribbean beaches by multiple sources. Here, you will find perfect white sands and the clearest waters on the island. They also offer outdoor activities, such as water sports, scuba diving, snorkeling, and fishing.
Barbados
Barbados is another famous Caribbean island, and you can access it easily both from the Newark and JFK airports. This island is renowned for its breathtaking white sandy beaches, celebrity visitors, 5-star hotels, Mount Gay Rum, and luxurious homes.
Most luxurious residences are situated along the West Coast, which is a 40 minute drive from the Grantley Adams Airport. The only direct flight available from NYC to Barbados is through JetBlue, and it takes only 4 hours and 35 minutes.
St. Lucia
St. Lucia happens to be the number one destination for couples on honeymoon. This romantic island has been voted among the best honeymoon destinations in the Caribbean. With its beautiful sunsets, lush landscape, beaches, rich culture, and of course its famous pitons, this island is a must-visit.
Most of these luxurious things are located towards the north of the island, and it only takes about one hour to get there from Hewanorra Airport. Direct flights are through United and JetBlue, and it only takes 4 hours and 30 minutes to get to your destination.
Jamaica
Who wouldn't want to visit Jamaica? Home to the famous Bob Marley, the moment you step down at the airport, you are welcomed by reggae music. Jamaicans are very warm and welcoming and always willing to share their breath-taking island with you.
Jamaica is like a home away from home. You will get to learn more about their culture, enjoy their famous jerk chicken, fried plantains, and their delicious ackee salt fish. Flights available include ones through United, JetBlue, Delta, and Caribbean Airlines, and it only takes 3 hours and 45 minutes from New York to Jamaica.
Conclusion
Traveling by plane from New York to the Caribbean Islands has never been any easier. No matter the time or season of the year you decide to travel, you will surely be able to find a wide selection of flights connecting straight there. What's more, most of these flights are all less than 5 hours, most of them taking between 3 to 4 hours. We wish you a happy stay in the Caribbean Islands.