There are a couple of personality traits that are required to take up traveling for an extended period of time. Some are plainly obvious; a sense of adventure, outgoingness, and a want to consistently change your surroundings. Other qualities might not seem so obvious. Frugality, inventiveness and the ability to think on your feet are excellent qualities to have if you're thinking about hitting the road for the foreseeable future, especially the former.
When I've spoken to friends and colleagues about travel, the main barrier that I'm told prevents them from spending time away from home is money. It make sense as a reason too, and I'd never hold wanting to save money against anyone as their reason for staying tied to the same location. Over the last couple of years, however, those folk who have the right attitude for traveling have used their inventiveness and ability to think of their feet to solve this problem.
If you're thinking about traveling around Europe, for example, you have a number of options for how you get from place to place. Airport networks are good, but prices are quite literally sky-high. A more common approach is to travel via train with month long inter-railing passes. Again, these are quite pricey, and are sometimes not the most flexible way to travel. Every journey you make has to be preceded by a call to a number of hostels in the area to see what's available when you arrive.
Over the last couple of years, innovative travelers have managed to tackle this problem twofold by investing in vans as a means of transport and accommodation. Travel blogs have shot up all over the internet showing people from all walks of life choosing to undertake their travels in second hand (or in some cases, third, fourth, and fifth hand) goods vehicles.
The storage space in these vans is typically converted into a living area, and thus a mobile home is created. There are loads of examples to show how people have been innovative with what they have, and it's hard not to be inspired with how they have been able to make do with what they have.
I was able to catch up on this style of travel with a friend of mine, Stacy. She spent some time traveling New Zealand by van back in 2013. Having spoken to her about her experiences she has compiled a list of top tips for the discerning traveler who might be thinking of living this lifestyle.
Continue on to read the best tips for traveling by van…
Traveling By Van: How To See The World At Your Own Pace
Are you thinking about traveling by van? Pin this to your travel board on Pinterest so you can come back later >>
1. Remember that a van can be a temporary investment
What a lot of people don't realise in the travel van game is that the money you spend on a vehicle should be seen as a temporary investment, rather than a one-off whack to the bank account. The market is one that is growing considerable and there are a lot of people looking for used vehicles for travel purchases.
When I arrived in New Zealand to start my travels, I spent $4,000 on my trusty converted minibus. By the time the trip was over, I was able to sell again for $3,500, making the use of the van essentially cost £500. Just be sure to treat your new wheels with respect and ensure you have something worth selling at the end of the trip…
2. Don't favour cheapness over reliability and road worthiness
Obviously, one of the main draws for this way of traveling is to bring the costs down against using train or air travel. However, and I cannot stress this enough, do not compromise on the quality of your van to save a couple of hundred dollars. It's vitally important to have a van that is legal to drive and road worthy.
You'd be surprised at how many things can cause a van to fail its MOT, so make sure you're up to date on the local law about vehicle roadworthiness. The other option is you buy something that doesn't meet the standard and you're left arguing with local law enforcement.
3. Avoid a clunker
Ensuring your van is up to scratch legally is one thing, but you also want to look out for certain things to ensure it is safe. Always take a test drive before putting an offer in. This way you can ensure you won't be hit with problems further down the road.
Test the brakes to ensure the pedal is responsive. If they feel 'spongy' you might be leaking brake fluid which could require a full line to be refitted. Test the steering by (carefully) taking your hands off the wheel while drive in a straight line. If the van pulls to one side you could have break problems, axel problems, worn out tires, or a combination of all three.
Rusty body work is also a big no-no. This could be hiding bigger problems with the chassis of the van and even holes in the under carriage. Shabby chic may be in right now, but just not for your van.
Use other fixable problems to your advantage. Broken bulbs can be used to drive down the initial price, but can be easily replaced. Just make sure you remember to do it, unless you want pulled over for having non-functional brake lights!
4. Keep your eye out for thrown in extras
In places such as New Zealand, there certainly is an established culture of people buying and selling vans for traveling purposes. This means that vans can have multiple owners over the course of short periods of time.
When it was my turn to source a trusty van to explore the Southern hemisphere, I was surprised at how much was thrown in with what I bought. I got a couple of paper maps (an utter godsend!), some fold out camping chairs and a fresh bottle of gas for the two ringed hob! Always start with purchasing the van before looking for extras. You'll be surprised at what you might find.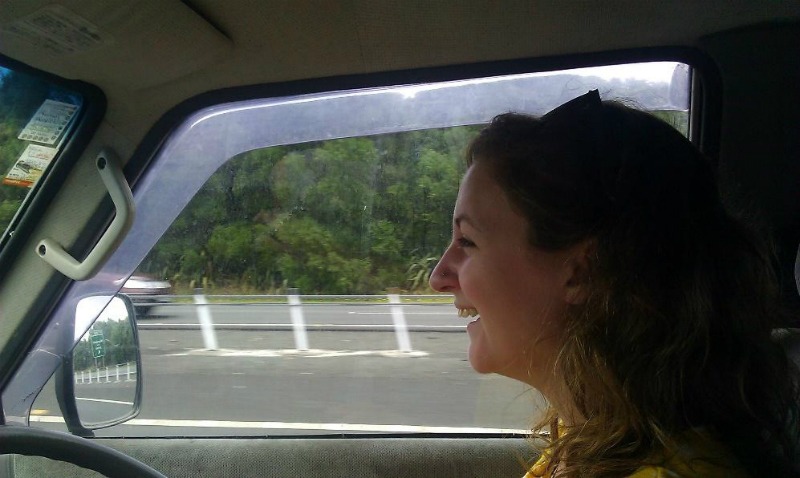 So there you have it. Some expertly sourced top tips from a person who's been through it themselves. When it comes to traveling by van, you take out as much as you put in. If you simply want a bed on wheels, there's plenty on the market to allow you to do it on the cheap. If, however, you are looking for your own portable home, be sure to take inspiration from some from other van travelers to make something that works for you!
---
Over to you! Leave your answers in the comment section below…
Are you thinking about traveling by van and have more questions about getting started? Leave a comment below and we'll help you out!
Have you been or are you currently traveling by van? Do you have more tips to add? We'd love to know them! Leave a reply below…