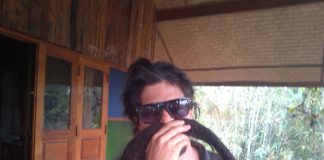 What to do with your beloved dreadlocks once you've taken the scissors to them? Why make epic moustaches out of them of course!

Picture: Today's view from the office It's been a bit of a miserable, wet day today but in spite of frizzy hair and soggy socks...

Picture: Our teeny-tiny room in Hong Kong After 24 (long) hours of café hopping in search of a comfy chair and free WiFi, waiting in...
The Chesnut Trio telling their story at Tangor, a popular French inspired restaurant in Luang Prapang, Laos. The song was recorded on a ZOOM H6. The...