Are you planning a trip to Colombia and looking for the best Caribbean beaches to visit? Playa Blanca on Isla Barú is said to be one of the most beautiful beaches in Colombia. We went and checked it out and this is a recap of our experience...
What To Expect On A Day Trip To Playa Blanca Colombia
No time? No worries! Pin this to your Colombia travel board on Pinterest and come back to it later >>
Where Is Playa Blanca Colombia?
Playa Blanca is located on Isla Barú, which sits just 40 minutes off the city of Cartagena, Colombia in the Caribbean sea.
If you're wondering where Cartagena is, it's situated in the northwest of Colombia, approximately 8 hours away from the Venezuelan border.
Booking Your Playa Blanca Tour
There are a couple of ways to visit Playa Blanca Colombia: You can either go for a day trip or you can stay overnight.
As we had a month's worth of luggage and were a little strapped for time, we decided to take a day trip.
If you want to go for a few days then I highly recommend storing most of your luggage at your hostel or hotel in Cartagena and taking a smaller bag instead because you will need to walk across water and sand.
Booking your trip to Playa Blanca Colombia is easy in Cartagena or Santa Marta because there are many agencies offering different deals.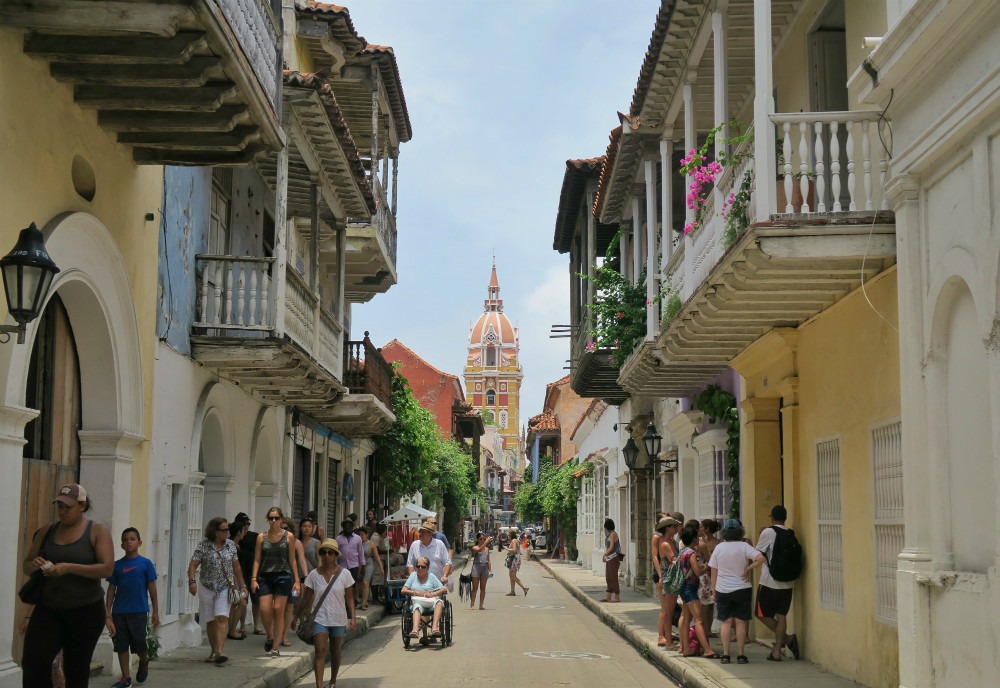 We walked into an agency to enquire about an island day trip and the lady presented us with the brochures of three different resorts.
You can choose to book a day trip to an exclusive island resort and use their facilities, such as the swimming pool, kids club and restaurant, or you can simply book a trip to Playa Blanca, where you will spend the day on the beach.
Most of the island resorts are located a little further away in the Rosario Islands and the majority of them are situated on their own island, making them completely exclusive.
You can book to stay overnight in the resort or you can go for the day. From the reviews I've read of these places, they can be loud and full on during the day but when all the day trippers go home at around 4pm, you're left to relax in paradise.
We chose to go for the day trip to Playa Blanca as the locals had told us that it was a beautiful beach and we didn't want to miss it in lieu of sitting in a resort (as nice as it might have been).
This day tour cost us 65,000 COP ($22 USD) each and included transportation and lunch. We paid by debit card at the agency and then the lady called the tour company to book, one day in advance.
In high season (mainly June, July and long weekends) I recommend booking at least 3 days in advance and try to go on a weekday as the beach will be much less packed.
Preparing For Your Playa Blanca Tour
Before you set off to Playa Blanca for the day there are a few things you need to prepare for...
It gets very hot on the beach and there isn't a lot of shade to sit under when it's busy. For this reason it is important to pack and wear plenty of sunscreen, a hat and protective clothing.
Your best option for footwear is flip-flops. When you jump off the boat, you'll have to step through some water before you get to dry land, so flip-flops are the way to go. Alternatively, you could wear reef shoes, which are also sold at the port before you get on the boat.
Water... Bring plenty of water. One, because it's hot and you'll get dehydrated fast and two, because water is expensive on the island. You may also want to pack some snacks as you'll be at the beach from 10am to 3pm with only lunch included.
Last but definitely not least, get cash out! They don't except cards on the island so if you want to pay for drinks, snacks, beach chairs or massages, you need to pay in cash.
We decided to have a relaxing day and splurge a little on massages and cocktails so 75,000 COP ($25 USD) each covered our costs on the beach (barely a splurge really) plus we had to pay 14,000 COP ($5 USD) each in tax at the port.
Getting To Playa Blanca Colombia
First you need to get to Cartagena. You can look at flight prices here.
Then, on the morning of your trip to Playa Blanca Colombia you will probably get picked up from your hotel in Cartagena (depending on what company your agency booked through) and brought to the main port of Cartagena.
We were told to be waiting in the lobby between 8:10am and 8:30am for pick-up. One hour and 3 phone calls later, a guy comes to pick us up in a teeny tiny taxi! Needless to say, we'd been forgotten about.
Colombian tour guides are known to be late during the morning pick-ups but if nobody has come to get you 15 minutes after the time stated on your itinerary, call the company.
Most of the customer service staff members speak English so all you need to do is tell them your name, hotel and the tour you're going on.
Unfortunately for us it took 3 phone calls before someone came to pick us up. The guy was already at the port with our group and had to hail down a taxi to come and collect our poor forgotten souls.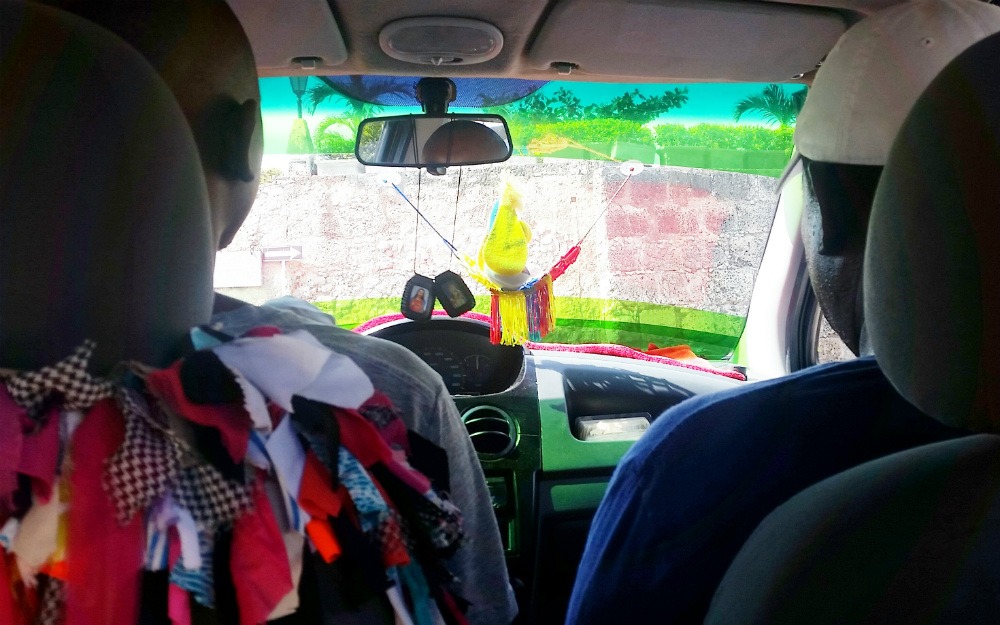 It was actually hilarious... Definitely one of those 'this is why I love traveling' moments.
Once you arrive at the port, which is just 5-10 minutes away from the walled city, you will be brought over to someone who marks off your name on a role and prompts you to go and pay the port tax. This tax is 14,000 cop ($5 USD) each on top of the tour cost.
Just a warning - the port is extremely crowded with many different groups wandering around trying to find their boat and guide. The best you can do is listen out for your name (they'll probably yell it out a few times) and go and sit where they point you towards.
Once they have the whole group together, then they will start sending you onto the speedboat. Depending on the company you go with, these speedboats can seem very small and crowded but they do have a capacity of 40 people (which the tour companies are not allowed to go over).
It may not be the same for you but after we'd sat down right at the back of the boat and put our lifejackets on, a staff member rushed over to the edge of the pontoon to hand out our 'complimentary lunch' tickets.
One by one the tickets were passed around the boat until everyone received the one with their name on, kind of like pass the parcel.
Another one of those 'this is annoying but also really funny at the same time' moments.
Once everyone has their lunch tickets and are seated with their lifejackets on, the boat will leave.
It takes just 40 minutes to get to Playa Blanca from Cartagena on these little speedboats as they do go pretty fast. On the way we stopped at a little fishing village to pick up some supplies (as they do) and were greeted by the local children who popped up out of the water to say hello.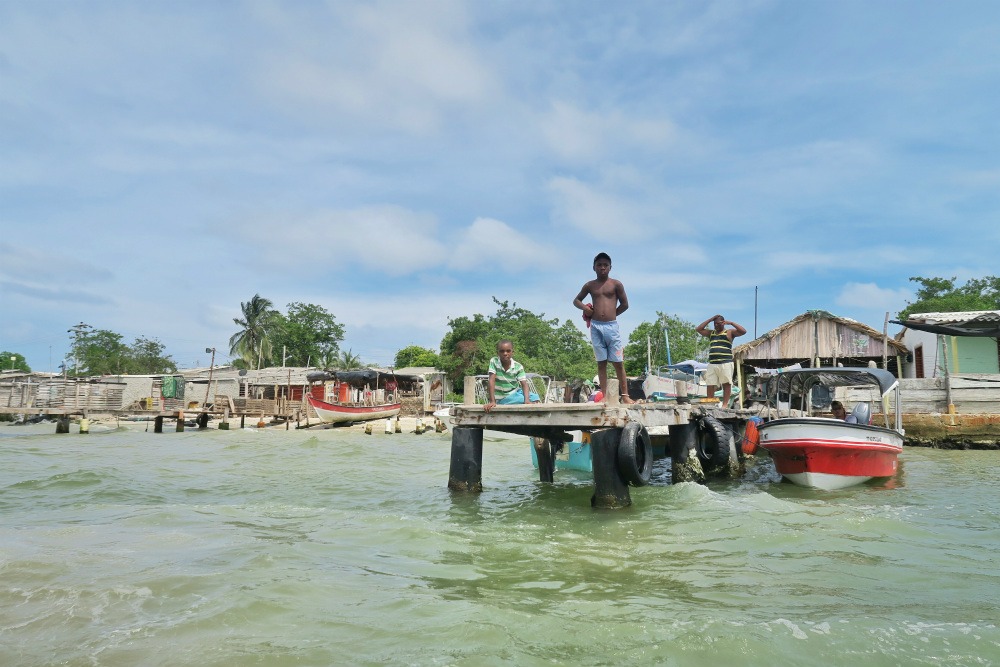 The ride wasn't too bumpy for us, although Dan wasn't having a good time. I've finally figured out his fear - boats and water. Mine is flying. Ironic, isn't it? A nomadic couple who are afraid of two of the most popular forms of transportation...
Once you arrive at Playa Blanca, the boat will stop just a metre or so off the shore. Your boat guide will give you instructions on where to eat and what time to meet back up and then you can go off and explore or find somewhere to sit.
Bartering For Somewhere To Sit
When you arrive, you'll probably be approached by bar staff offering beach chairs, umbrellas or even fancy day beds but I'm going to let you in on a secret...
They are open to negotiation.
At first, they tried completely ripping us off but after 5 minutes of negotiation they agreed to charge us nothing for chairs as long as we spent money at the bar. Simple!
It's important to know some Spanish in this case because most people don't speak a lot of English.
What Is Playa Blanca Colombia like?
Playa Blanca Colombia is a beautiful long white sand beach with crystal clear, turquoise coloured water.
The sea is warm and calm which means you can bring a blow up ring along with you and float around until you've had enough of the sun (believe me, it is possible).
Now here's where I'm going to say what I personally thought of Playa Blanca at the time we went there. It doesn't necessarily mean that you'll have the same experience but just so you know...
We went on a Sunday which was a total rookie error. The beach was absolutely filled with tourists, mostly Colombian. Because of this, it didn't feel so relaxing.
We tried to take a walk up the beach but it was just too difficult between dodging other tourists, vendors and hot sand.
We did, however, make the most of our time at Playa Blanca by enjoying a one hour full body massage each, sipping on piña coladas and swimming in the beautiful warm Caribbean Sea.
Dotted all along Playa Blanca are rustic beach bars, ceviche stands and cabanas (basic hostels/bamboo shacks). You can choose to stay around the touristic area (where the boat will drop you off) or you can attempt to make your way up to the quieter end of the beach.
While the quieter end is more idyllic, the only problem is that if your tour includes lunch at one of the restaurants, you'll have to walk all the way back (and it can take some time).
If you are expecting a paradise location with few people, I would recommend visiting Playa Blanca Colombia in the middle of the week as the majority of tourists will be back at work.

Food At Playa Blanca Colombia
If you book a tour with lunch included you can expect to receive typical comida Colombiana with a Caribbean spin.
You may have the option to choose from chicken or fresh fish and they will likely serve it up with coconut rice, salad, arepas and a fresh juice. I personally thought that the fish was really tasty and went well with the coconut rice.
Some other food options available along the beach include ceviche, fruits and ice cream.

How Much Should You Pay For Things?
As I said before, the bar staff are open to negotiation on the chairs but this can also go for the drinks as well...
We ordered two piña coladas and they wanted to charge us 30,000 COP ($10.50 USD) each, which is expensive for Colombia. After some negotiation, we were charged 20,000 COP ($7.00 USD) each.
Of course, throughout the day we became friendly with our waiter and he was really attentive towards us too so it was smiles all round.
If you want a massage, the ladies will do it where you're sitting. Again, engage in a little negotiation and you'll get it for a fair price. We paid 75,000 COP ($25.00 USD) for the two of us to receive a one hour full body massage each.
Playa Blanca Accommodation
As I mentioned at the beginning of this post, there is plenty of accommodation on Playa Blanca but most of it comes in the form of cabanas, which are typically rustic style hostels with hammocks or foam mattresses.
You probably won't have running water or WiFi in a cabana so you will need to take bucket showers and read a book instead.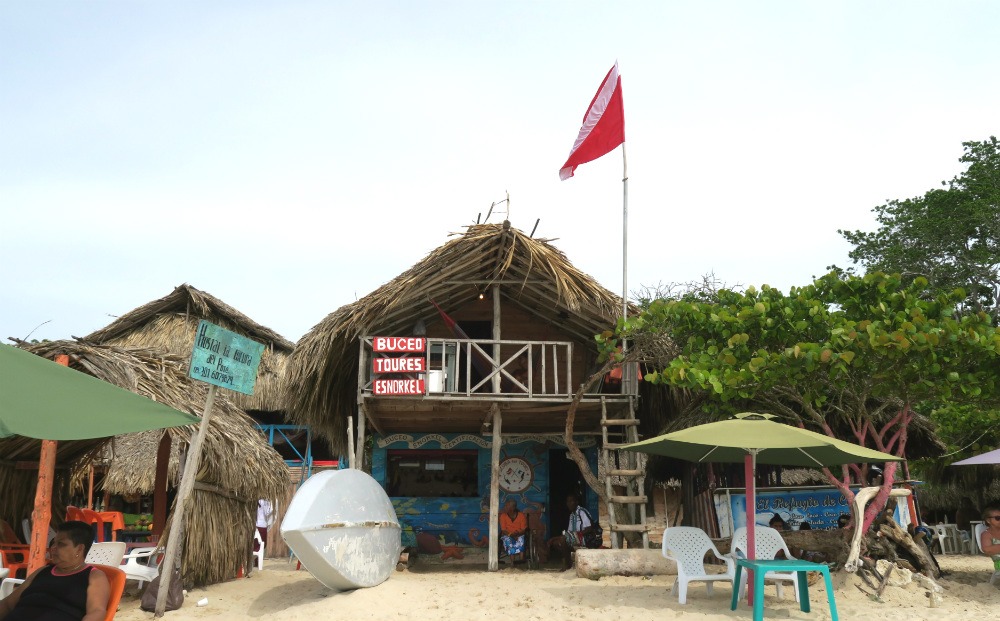 If you are looking for something more comfortable, there are a few hotels and eco-resorts dotted around the Rosario Islands, including the Royal Decameron Barú Beach Resort which can be seen from Playa Blanca.
To look at your accommodation options in and around Playa Blanca Colombia, click here.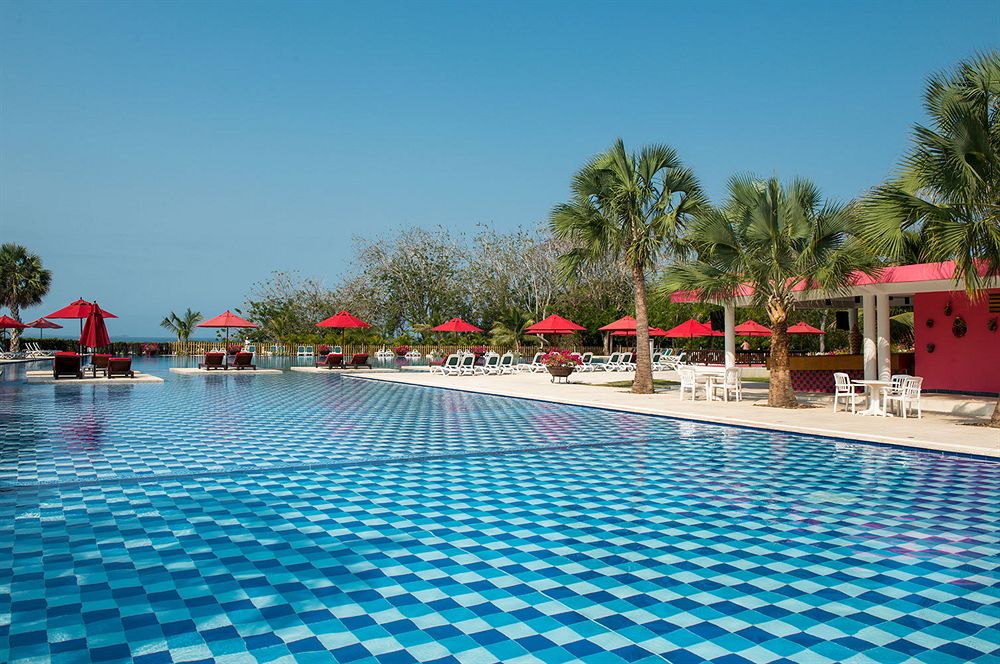 Let's Wrap It Up
I hope this guide to Playa Blanca Colombia has helped you to understand what you can expect on a day tour from Cartagena.
It really is a beautiful part of the world but more so when there are less people so try to go on a weekday.
Have an amazing time in Cartagena and beyond!
---
Over to you! Leave your answers in the comments section below...
Are you planning a trip to Playa Blanca Colombia and have more questions? Shoot!
Have you already been to Playa Blanca Colombia and have some more travel tips to add? Let me know!